全新设计的Lectora Inspire 11版拥有多达112项新功能和全新的人性化界面,是迄今为止最为强大并且易用的e-Learning课件制作工具。这将是课件制作工具一次质的飞跃。
Lectora Inspire 11支持下一代SCORM标准(Tin Can API),让你记录和追踪学员的学习记录更加轻松。Lectora11不用添加插件,可直接支持PPT的导入,并支持各种移动设备及HTML5。
Lectora Inspire 11还包含完整版本的Flypaper(傻瓜式Flash制作工具),Camtasia(方便易用,并且强大专业的录屏,视频制作工具),Snagit(功能强大,专业的截屏工具)。
Lectora Inspire 11.1.8914 | 924.4 MB
Lectora Inspire v11 delivers. The power of Lectora® authoring bundled with Camtasia®, SnagIt® and Flypaper™ give you the world's most innovative eLearning tool. Create rich eLearning experiences and outstanding edutainment with the industry's top multimedia products and keep pace with changing eLearning requirements.
Have It All. Everything you need to create dynamic video and Flash eLearning content. 
Easily add dynamic videos with Camtasia for Lectora
Launch Camtasia within Lectora Inspire and capture real world video, Flash animations or 3D design software in courses. Creating professional screen or video tutorials is simple with Camtasia's powerful editing capabilities for zooming and panning, audio handling, transitions and more.
Make an impression with screen illustrations from SnagIt for Lectora
SnagIt premium software for screen capture allows users to choose exactly how much of a screen to shoot. Images can be combined, spotlighted or magnified, edited with special effects, and inserted into Lectora projects.
Easily create Flash animations and interactive activities with Flypaper
With Flypaper, users can create professional-quality, interactive content complete with animations, special effects, transitions and much more within Lectora files. 
The Perfect Package of Simplicity and Power
Loaded with easy-to-use authoring tools and enough power to create anything you imagine, you'll never out grow Lectora.
Ease of use
It's easy to get started quickly with Lectora. Whether you're experienced or just starting out, Lectora makes your job simple.
Templates & Themes
Just getting started? In a time crunch? Lectora has hundreds of professionally-designed, customizable templates and themes to help you build your course quickly — even for mobile devices.
Title Explorer
The Title Explorer view allows you to take a step back and see the entire structure of your course. With one small change, you can make a big impact like adding global navigation to your course with just a few clicks.
Thumbnail View
View, navigate and edit your course in no time. Easily locate, reorder, rename, copy, paste, delete and manage pages in your course using the Thumbnail View.
Multi-Object Editing
Easily edit, update and move multiple objects at once to save tons of development time.
Keyboard and Configurable Shortcuts
Quickly use the Tab key to quickly navigate between options on object Properties ribbons.
Timesaving Tools and Wizards
Why spend more time than you need to? Let our tools and wizards guide you through the most efficient ways to develop at rapid speeds.
Intuitive Interface
View, navigate and edit your course easily. Quickly locate, reorder, rename, copy, paste, delete and manage pages in your course using the Thumbnail View.
Design Wizard
If you need to create content quickly, the Design Wizard is the fast route to a professional-looking course. In just a few steps, you'll have the basic structure, look and feel of your course.
PowerPoint Import
Have PowerPoint content? Use it! Import your file right from Lectora and transform your presentation into an interactive e-Learning experience.
Button Wizards
Create great looking buttons quickly. Choose from our stock of pre-designed buttons or use your own image to match your organizations' brand.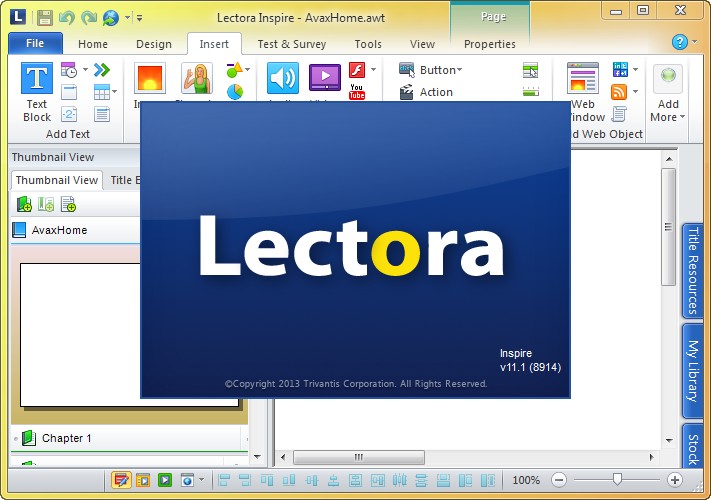 OS : Windows XP/Vista/7/8 (x86/x64)
Language : English
Home Page – http://lectora.com
---
Download filefactory and Crack
http://www.filefactory.com/file/4ivg0w5m0337/0daydown.com_Lectora.Inspire.11.1.8914.rar
Download freakshare and Crack
http://freakshare.com/files/ff51ls46/0daydown.com_Lectora.Inspire.11.1.8914.rar.html
Download Uploaded and Crack
http://uploaded.net/file/rc854oz0/0daydown.com_Lectora.Inspire.11.1.8914.rar
Download 城通网盘 and Crack
http://www.400gb.com/file/22319513
转载请注明:0daytown » Lectora Inspire 11.1.8914