FloTHERM XT是业内独一无二的热仿真解决方案,它被设计用于电子设计过程的全阶段-从概念设计阶段至生产,提高产品品质、可靠性和缩短上市时间。通过让EDA和MCAD设计流程更密切,FloTHERM XT使工程师能够用 相同设计数据来贯穿设计流程,确保最新的和最稳定的数据总是在设计过程中心。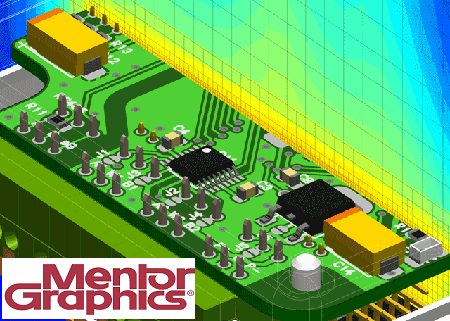 利用FloTHERM的电子散热DNA和FloEFD的CFD技术,FloTHERM XT具有仿真大型复杂电子系统的能力和性能,并给热学专家和结构工程师提供前所未有的仿真能力。相比传统的通用仿真产品,FloTHERM XT大量缩短流程时间,使得设计师和热学专家能快速、有效地获得最优化解决方案。
特点和优势
独立的电子散热仿真软件工具,给用户提供了处理大型复杂电子系统的专业工具
基于CAD的用户界面,以及几何引擎和控制方式使可提高用户的使用效率并缩短软件的学习过程
几何和非几何SmartParts及库功能,使用户能够快速准确的建立全套最新型的元器件模型
集成了求解进度显示以及动态信息窗口的单窗口应用程序
支持直接与所有主要MCAD以及Expedition Enterprise EDA 软件进行轻松和准确的数据传输

---
Mentor Graphics FloTHERM XT v1.1 Build 13.1.3 Win64 ISO-SSQ | 2.51GB
FloTHERM XT is an industry unique thermal simulation solution designed to be used during all stages of the electronics design process – from conceptual design to manufacturing, improving product quality, reliability and time-to-market. By bringing the EDA and the MCAD design flows closer, FloTHERM XT enables engineers to use the same design data throughout the design flow assuring the latest and most consistent data is always at the center of the design process. 
Leveraging the electronic cooling DNA from FloTHERM and CFD technology from FloEFD, FloTHERM XT possesses the power and performance for large, complex electronic systems and provides unprecedented capabilities to both thermal experts and mechanical engineers. In comparison to traditional general-purpose simulation products, FloTHERM XT cuts process times significantly and enables designers and thermal specialists to quickly and efficiently arrive at an optimum solution.
Features and Benefits
Stand-alone software tool for electronics cooling simulation offers users specialized tool for solving large, complex electronics systems
CAD-centric user interface as well as geometry engine and controls enable users to become productive fast and with a very short learning curve
Full geometric and non-geometric SmartParts and Library capability enable users to access a full set of the most popular components for fast and accurate model creation
Single window application offers integrated solution progress and dynamic messaging windows
Supports direct interfaces with all major MCAD as well as Expedition Enterprise EDA software for effortless and accurate data transfer
Download 百度云
转载请注明:0daytown » Mentor Graphics FloTHERM XT v1.1 Build 13.1.3 Win64 热仿真