Advanced Installer 是一款功能强大、可生成符合 MS Windows 认证的 Windows Installer 的 MSI 安装包制作工具,具有友好的图形用户界面,直观而且非常简单的界面,创建 MSI 文件包非常方便,用户只需添加文件,修改名称,添加按钮就可以了,无需任何脚本方面的知识,并且生成的安装文件保证符合 Windows 最佳操作建议。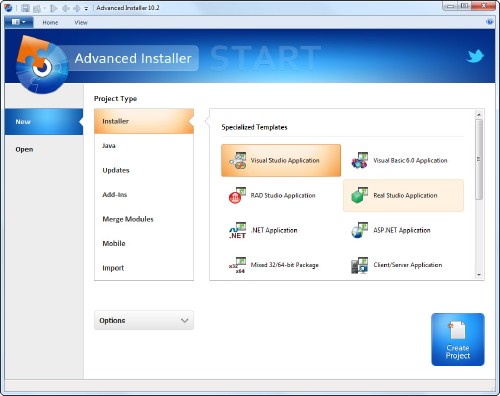 主要特点有: 
– 具有完全安装、注册和卸载组成你应用程序的文件、部件及资源的功能; 
– 完全自定义 MSI 安装包 -具有添加、删除文件及文件夹功能; 
– 添加或移除内、外部文件或 URL 快捷方式; 
– 添加或移除注册表键或项目; 
– 添加或移除环境变量; 
– 安装时可设置文件属性 -只读、隐藏等; 
– 强制安装完毕系统重启动; 
– 支持使用 64 位 CPU 的系统中安装包制作; 
– Windows系统下安装过程完整日志; 
– 支持 Java 应用程序; 
– 旧版本自动升级; 
– 支持合并模块的安装制作; 
– 支持对话框编辑。
---
Advanced Installer 10.2 Build 51488 | 51.2 Mb
Advanced Installer is a Windows Installer authoring tool which enables developers and system administrators to easily build reliable MSI packages. Advanced Installer is a useful tool for administrators and developers which allows them to create reliable MSI packages.
Windows Installer is becoming the "de facto" software installation technology on Windows. Being preinstalled on the latest Microsoft operating systems, and also bundled with the most popular productivity packages (Office, etc.) this software installer provides a significant number of power features that improve application management and administration.
This power doesn't come without pitfalls, and the most important of them all is the complexity. Creating an MSI file requires careful planning and editing of dozens of database tables.
Hundreds of pages of documentation must be read, countless lists of rules must be followed. Building a Windows Installer package may take days or even weeks. This is where a MSI creation tool comes to help.
Advanced Installer makes MSI creation a snap
Advanced Installer integrates in automated build tools
Install and register the resources composing your application
Search, download and install Prerequisites
Organize your application in modules and components
Secure and choose your package's presentations
Extend the installation process with Custom Actions
Customize the installation User Interface
Home Page – http://www.advancedinstaller.com
转载请注明:0daytown » Advanced Installer 10.2 Build 51488 MSI安装包制作工具