P2P user MRC brings us newest Angry Birds Seasons update – Abra-Ca-Bacon. Enjoy!
Description: This is a new season of the arcade game, which has made a noise few years ago – Angry Birds Seasons – Abra-Ca-Bacon! Yes, it seems that Rovio isn't going to give up, and, looking at this game, we only are glad to such combination of circumstances. This time color birds together with green pigs reached circus. Pigs as if scoffing over feathery, showed focus with disappearance of eggs, and birds are even angrier. Birds didn't begin to deviate the program of representation and found excellent application for the focuses in war under a circus dome.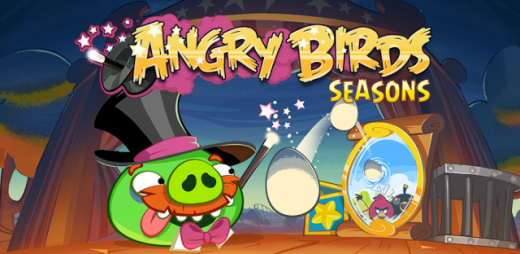 Features:
XXX30 new levels centered around the magical, summertime experience of the circus. Walkthroughs are already being recorded and should be live soon.
6 bonus levels! Star-based bonus levels are unlocked at 30, 50, and 70 stars accrued in the episode; Feather-based bonus level is unlocked at 10. There's one Golden Egg hidden in-game (we aren't going to say where quite yet, but keep an eye out!), and the Big Juggling Pins level will unlock by 3-starring all 30 levels.
New portal element! If you have played Cut the Rope or PORTALS, you have an idea of how this works. If anything passes into one portal, it comes out of the matching-colored portal somewhere else in the level. The first few levels of Abra-Ca-Bacon will get you used to the concept.
New power-up! Called "Allaka-BAM", the Power Up places three TNT crates around the level to help your birdies blast the piggies!
Two new achievements for iOS! This is very unexpected. We've been saying that GameCenter reached it's limit, which wasn't quite true. Before today, Seasons had used 980 out of 1000 points; this update adds 16 more points, which means there's still a tiny bit of room left.
Pro Tips! Juggling pins are worth 3000 points, and gold tokens are worth 1000 points!
In-game Power Up distinction! Yes, now your in-game "High Score" will differentiate your best score with and best score without use of Power Ups, similar to Angry Birds Space. It's what we have really wanted since the inception of Power Ups into the apps, and we are grateful to Rovio for heeding our request. Thanks guys!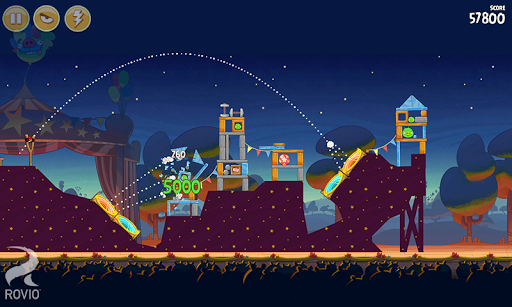 Release name: Angry.Birds.Seasons.Abra.Ca.Bacon.Android-P2P
Requirements: Android 2.2 and up
Size: 42.3 MB


转载请注明:0daytown » Angry Birds Seasons Abra Ca Bacon Android-P2P