7-Data Recovery Suite是一款多功能一体化数据恢复软件,界面风格是Win8风格,程序几乎可以抢救您在任何条件下所导至丢失的文件。可以从硬盘、 内存卡、 闪存驱动器和移动电话中恢复已丢失/已删除的照片、 文件、 分区,和更多的相关文件。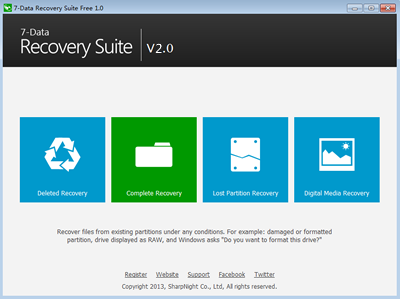 功能特点:
7-Data Recovery Suite支持各种存储介质:DE HDD, SATA HDD, SCSI HDD, FireWire HDD, SSD, USB HDD, External HDD, Hardware RAID, Floppy等。
7-Data Recovery Suite支持格式:EXFAT、 NTFS5、 NTFS、 FAT32、 FAT16、 FAT12
1.意外删除文件恢复:设计用于恢复意外删除的数据和文件。使用先进的扫描技术和目录重组算法,7-Data Recovery Suite可以帮助您恢复已删除的数据,如从回收站清空的文件和通过使用 SHIFT + DELETE 键删除的文件。
2.从本地和外部驱动器的恢复:可以恢复已损坏或已格式化的硬盘或未知原因而不可访问的驱动器。换句话说,只要该分区存在,你可以使用此数据恢复模块来恢复数据的分区或记忆棒、 内存卡、 闪存驱动器,不管什么情况导致外部存储设备的数据丢失等。
3.从丢失和被删除的分区中恢复数据:恢复分区中丢失或删除的数据。这是最常见的数据丢失的原因。此数据恢复模块可以帮助您恢复您的数据
4.恢复照片、 图像、 视频和音频:7-Data Recovery Suite提供独家媒体恢复选项,允许您从硬盘、 USB 驱动器、 SD 卡、 相机和其他内存卡中恢复丢失的图像、 音频和视频文件。
5.内存卡恢复:数码相机或移动电话所使用的内存卡,如各种内存卡类型包括: SD 卡、 MicroSD,SDHC,(紧凑式闪存) 的 CF 卡,xD 图片卡、 记忆棒和更多7-Data Recovery Suite可以有效地恢复丢失、 删除、 损坏或格式化的照片和视频文件。
---
7-Data Recovery Suite 2.0.0.1 | 2.5 Mb
Complete and capable data recovery software for rescuing files under almost any conditions including: accidentally deleted files; damaged or formatted hard drive; lost/deleted partition; photo or video lost from local drive, memory card, or camera; file lost from mobile phones, etc.
Recover data from both local drives and mobile storage devices
Recover documents, emails, photos, videos, audio files and more
Recover 1 GB data for free with the Free Edition
Accidentally Deleted Files Recovery
Designed for the recovery of accidently deleted data and files. Using advanced scanning technology and directory restructuring algorithm, 7-Data Recovery Suite can assist you to recover deleted data and files emptied from Recycle Bin and files deleted by using SHIFT+DELETE key, etc.
Complete Recovery from Local & External Drive
The most powerful file recovery ability for recovering data from damaged or formatted hard drive or the hard drive is inaccessible for unknown reason. In other words, as long as the partition exists, you can use this data recovery module to recover data from the partition or external storage devices like memory stick, memory card and flash drive, of whatever happened to cause the data loss.
Recover Data from Lost and Deleted Partitions
Recover data from lost or deleted partitions. This is the most common data lost reason. And also, this data recovery module could help you to recover your data when hard drive crashed, MBR corrupted, disk repartitioned (fdisk) and partition be overwritten when you use data backup software to restore the disk image.
Recovery Photo, Image, Video and Audio
7-Data Recovery Suite provides an exclusive media recovery option that allows you to recover lost image, audio, and video files from hard drives, USB drives, SD cards, Camera, and other memory cards. It runs a full hard drive scan to safely recover images and media files in any event of accidental photo deletion, virus infection, or disk formatting. 
Mobile Phone Recovery on Windows
Mobile phones process and store huge amount of data on daily basis. However, many times the memory card of the mobile phone gets corrupt, inaccessible leading to vital data loss. 7-Data Recovery Suite can recover deleted data/photos/videos from the inaccessible or formatted memory card of your mobile phones. 
Memory Card Recovery
For memory card used by digital camera or mobile phone, 7-Data Recovery Suite can effectively recover lost, deleted, corrupted or formatted photos and video files from various memory cards types including SD Card, MicroSD, SDHC, CF (Compact Flash) Card, xD Picture Card, Memory Stick and more.
Home Page – 7datarecovery.com