The Bat!是一个强大易用的E-mail客户程序,支持多用户环境,不受限制的E-mail帐号的安全和非安全的消息 访问,全面的消息过滤,多语种界面,MIME标准和UUEncode,带消息模板的相当不错的文本编辑器,以及其他很多小的实用特色。国际语言包包含:英语, 德语,意大利语,葡萄牙语,俄语,土耳其语等。拼写检查程序词典为英国英语,荷兰语,法国语,德语和意大利语。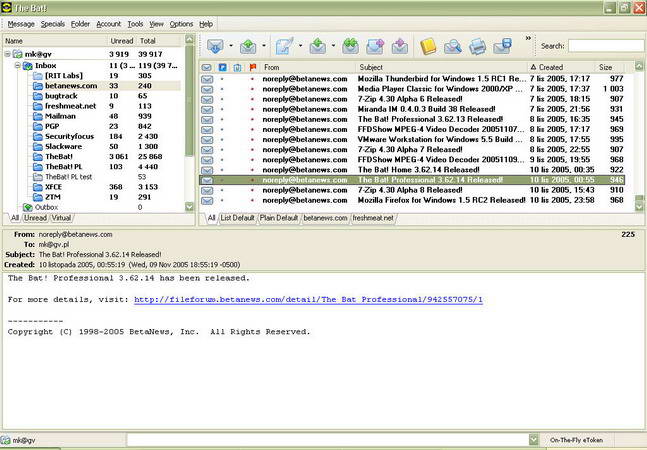 The Bat! 5.3.10 Professional Edition | 25.2 Mb
The Bat! mail client has a lot of vital benefits and useful features that make your email experience simple and convenient. All these features perfectly fit any Windows OS. Moreover, The Bat! is the first and only email client Certified for Windows Vista by Microsoft Corporation. "Certified for Vista" logo guarantees the highest level of compatibility between Vista and The Bat!
Home Page – http://www.ritlabs.com
转载请注明:0daytown » The Bat! 5.3.10 Professional Edition 强大易用的E-mail客户程序