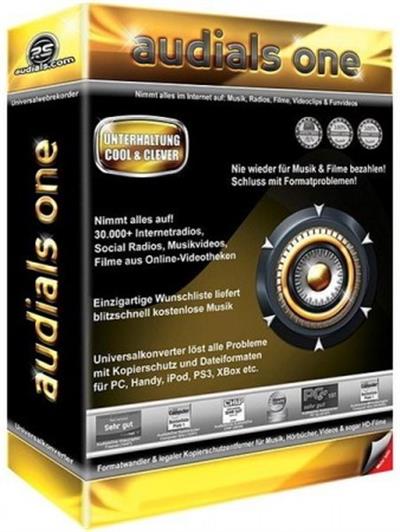 Audials One是一款可从互联网上免费下载音乐;清除拷贝保护;podcasts、歌词、唱片封面的ID3 标签的软件。可搜索超过 14000 个特定网站的网络收音机,也可以在网上电台收听歌曲或直接从网上下载您所喜爱的歌曲。
---
Audials One 10.2.20811.1100|size: 94 MB
Millions of tracks from 80 genres are just a click away from you. Thousands of Internet radio stations and the intelligent Internet direct search leave no musical desire unfulfilled. You also get the full package of options with videos, movies and online TV. Only Audials One can offer you the best free entertainment in the best quality.
Many easy-to-use Options
Discover the many options and ease-of-use offered by Audials One by looking at our screenshots. No other software offers such a huge number of benefits for your entertainment!
Audials One is the Best Software for your Free Entertainment
You can compare the functions of all Audials editions using the overview. Only Audials One offers all of the functions at the best price. You can only get the best free entertainment with all of the functions relating to your music, audio books, podcasts, videos, movies and online TV with Audials One.
Download Music from your Favorite Stars for Free off the Internet
You can gain 10,000,000 MP3s from 1,000,000 albums by 750,000 artists for free with Audials One. With targeted Internet radio recording, downloading from websites and the converting of video to MP3, Audials One offers the most and best options for gaining free MP3s quickly.
Radio, Music Services and Podcasts
Find your favorite stations easily from 50,000 of the best radio stations, listen using a range of convenient functions and also record in top quality just like a music subscription service. You also gain even more entertainment with podcasts.
Videos, Movies and TV from the Internet
Audials enables you to record everything online on the Web and on your PC. Audials can record movies from online Video on Demand services, series highlights from media libraries and videos from websites for you with the highest level of quality and in any file format you desire.
Universal Audio and Video Converter
Audials contains one of the worlds best universal audio and video file converter. Even for files which only play back in certain player software and with which other converter fail, Audials provides a solution: If files cannot be converted directly, they are played back in the original player software and automatically re-recorded as highest quality video files for you in a free format of your choice, like MP3, MP4, H.264 or WMV.