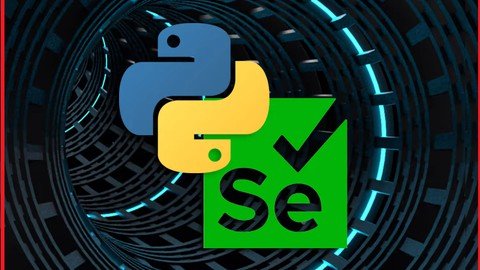 Genre: eLearning | MP4 | Video: h264, 1280×720 | Audio: AAC, 44.1 KHz
Language: English | Size: 38.1 GB | Duration: 361 lectures • 91h 44m
Practical Manual Testing | Bug Reporting and Task Management with JIRA | Database Testing | Selenium with Python
What you'll learn
Basic to Expert level Python Programming for Automation
Automate Realtime Web Application using Selenium and Python
Ready to Develop Data Driven and BDD Framework using Selenium Python
Ready to face experienced level Automation Interview Questions
Able to show experience in Selenium & Python with frameworks
Requirements
Basic understanding of Manual Testing Concepts
Basic understanding of Automation & Need of Automation Testing
Description
This course is specially designed by keeping manual tester/ freshers in focus, here we give coverage starting from Manual Testing Concepts to Database Testing, API Testing & Selenium WebDriver Basics to Advanced level and also gives detailed outlook of Python Programming.
High Level Agenda of the course
– Detail of Manual Testing
– Bug Tracking and Task Management using JIRA
– Database Testing & API Testing
– Basic to Expert level Python Programming Concepts
– Test Execution/ Reporting/ Execution Control using readymade Pytest Framework
– Manual Testing Interview Preparation with programming coverage
– Detailed Python Programming for each and every concept with programming exercise
End to End Automation Frameworks
– Detailed Data Driven Framework using Excel
– End to End Implementation of BDD(Behavior Driver Development) framework with Behave
Course is designed in such a way that the user does not required to have any prior understanding of python scripting
Low Level Course Coverage
➖Basic Python Programming (Condition Handling, Looping, String Handling, File Handling, Json Handling)
➖Advance Python Programming (WebScrapping, Working with JSON, Config File Handling, OOPS Conepts)
➖Step by Step Installation
➖Pycharm Editor & Pytest Framework
➖Record and Play (Selenium IDE)
➖Element locators (Detailed understanding and Practical Approach to write Element Locators)
·➖Webdriver API
➖Data driven Framework
➖BDD framework with Behave with Page Object Model Design Pattern
➖HTML Reporting
➖End to End Frameworks: Data Driven, BDD Framework
➖CI/ CD implementation using GIT and Jenkins Integration
➖Selenium python – Real time project implementation
➖Selenium with python – Complete End to End Code
➖python with selenium : Best Practices
➖python with selenium : Architecture & Framework Design
➖python selenium webdriver : Realtime Practices
By the End of this Course you will able to understand best automation practice and write all kind of automation testcases using Selenium
This course is very useful for professional who are working in Manual and Automation Testing.
BDD Concepts and Framework Implementation
Behave is one of the most popular BDD Library.
To the testers point of view, we can use this library to implement BDD approach with Selenium, Calabash, Watir etc.
In this course we prepare student for all BDD automation challenges, it gives coverage of almost all basic and advance concepts of Gherkin Scripting
Who this course is for
Automation tester looking to design automation framework from scratch
Manual tester looking opportunity in Selenium Automation with Python
Automation Testers looking to learn BDD | Data Driven Frameworks step by step
Freshers looking to start Career in Web Automation
---
Password/解压密码www.tbtos.com
转载请注明:0daytown » Practical Software Testing 2022-Manual+JIRA+API+DB+Selenium