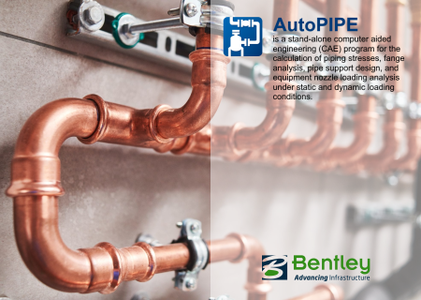 AutoPIPE CONNECT Edition V12 Update 8 | 876.9 mb
The Bentley development team is pleased to announce the availability of AutoPIPE CONNECT Edition V12 Update 8 (12.08.00.063) is design and analysis application for calculating piping code stresses, loads, and defl ections under static and dynamic load conditions to meet the highest nuclear standards.
Bentley AutoPIPE CONNECT Edition v12.8 (Commercial Release – v12.08.00.063)
The following outline identifies new features and enhancements in the AutoPIPE CONNECT Edition version 12.08.00.063.
Piping Codes
– Added ASME B31.3 2020 – Process Piping. This edition of B31.3 piping code mandates the use of ASME B31J for SIF and Flexibility calculations. A new option is now available in the Result Model Options that allows the use of ASME B31J Table 1.1 General Note (d) for sustained moment indices calculations. For branch connections, the use of effective section modulus (Ze) is now removed.
Reports
– When importing an Aveva E3D pipe stress file, Tags (from Supports, Valves, and Flanges) and Attachment IDs (from Supports) are now supported.
– Microsoft Word Report templates have been updated to improve overall quality.
General
– A Model Explorer utility has been implemented to enable easier location of specific models. Search criteria and filter controls are also available.
– The Tee Point dialog has been modified to automatically populate dynamic fields upon data entry.
Notes
– Features related to the DGN file format removed in v12.07.00.346 have been reinstated.
Bentley AutoPIPE Nozzle 08.11.08.38 Readme – Date: 04/05/2022
Following is a list of new features in the Bentley AutoPIPE Nozzle:
– AutoPIPE Nozzle ASME Code 2007 and database updates
– Update KHK code to 2006
– Update KHK material library to 2003
– Update JIS material library in JIS B 8265
– Average membrane and M+B allowables forDiv 2 allowable
– Filter material list according to selected design code
– Provide a check box to include or exclude the 1.2 increase factor for occasional loads
– Provide a check box to use averaged or non-averaged values for calculation of stress allowables e.g. evaluating cyclic loads for fatigue.
– Include different nozzle attachment types
– Allow importing loads from AutoPIPE v9.1
– Change apnozzle.map file format to CSV to support long filenames
– Consolidate AutoPIPE Nozzle design code licenses into one license
AutoPIPE is a stand-alone computer aided engineering (CAE) program for calculation of piping stresses, flange analysis, pipe support design, and equipment nozzle loading analysis under static and dynamic loading conditions. In addition to 24 piping codes, AutoPIPE incorporates ASME, British Standard, API, NEMA, ANSI, ASCE, AISC, UBC, and WRC guidelines and design limits to provide a comprehensive analysis of the entire system.
AutoPIPE Nozzle is a stand-alone, engineering application used for calculating local stresses at nozzle/vessel junctions, trunnion attachment points, clip connections and lug attachments on the vessel shell. Based on well-known engineering design standards like WRC, KHK, API and PD, AutoPIPE Nozzle helps engineers and designers quickly determine whether or not the wall of a pressure vessel, exchanger or tank can withstand piping loads on the nozzle or at clip and lug connections.
AutoPIPE provides you with a comprehensive and advanced software tool specialized in pipe stress analysis. Increase your productivity and improve quality control with an intuitive modeling environment and advanced analysis capabilities. Ensure efficient workflows between pipe stress engineers, structural engineers, and CAD designers through interoperability with leading plant design applications.
Bentley Systems, Incorporated. is the global leader dedicated to providing architects, engineers, constructors, and owner-operators with comprehensive architecture and engineering software solutions for sustaining infrastructure. Founded in 1984, Bentley has nearly 3,000 colleagues in more than 45 countries, $500 million in annual revenues, and, since 2001, has invested more than $1 billion in research, development, and acquisitions.
Product: AutoPIPE
Version: CONNECT Edition V12 Update 8 (12.08.00.063)
Supported Architectures: x64
Website Home Page : http://www.bentley.com
Languages Supported: english
System Requirements: Windows *
Size: 876.9 mb
---
Password/解压密码www.tbtos.com