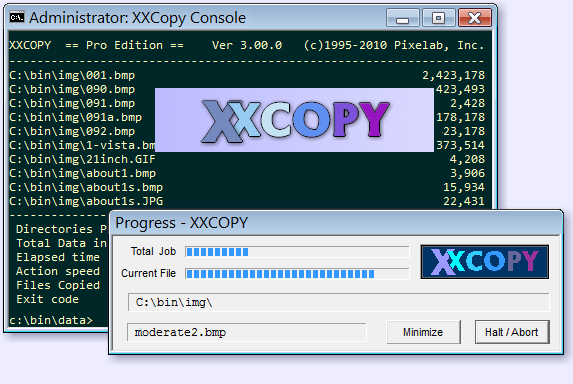 Pixelab XXcopy Pro是一款命令行操作的文件复制备份工具,XXCOPY 使用跟 XCOPY 一样的语法,它可以复制、移除、搜寻及列出文件/文件夹,能够完全复制(Clone)可开机磁碟,该软件须于 DOS 底下以语法操作,而所有语法于 DOS 底下启动该程序时,会有列表说明。
---
Pixelab XXcopy Pro 3.21.4 Retail | 3.4 MB
XXCOPY is a command line file management solution, that provides a logical extension to XCOPY and adds many innovative features including file removal as well as search and list. It can preserver short-names during the copy process, making it ideal to clone a system disk which can be made bootable. Furthermore, XXCOPY can be used to synchronize files, create directory structures, perform incremental backups and much more. Pixelab is also known as the publisher of XXCLONE, a disk-cloning utility of Windows XP which is extremely easy to use by anyone. XXCOPY's predecessors were developed as a utility for a one-of-a-kind tape control software, DATMAN, which made tape drive behave like a disk. XXCOPY is a culmination of years of experience by our engineering staff.

What is XXCOPY?
– A versatile file management tool for Microsoft Windows®.
– It is a command-line program (without graphical user interface).
– Supports all Windows versions (except Windows CE).
– It has more command switches (>230) than any other tool of its kind.
– An ideal component for batch files for simple and complex scripting.
– Accesses remote (networked) computer storage and local external USB drives.
– Command syntax compatible with Microsoft's XCOPY with few exceptions.
– Competes with (supersedes) Microsoft's RoboCopy.
– One download package contains both the 32-bit and 64-bit XXCOPY versions.
– Extremely rich in file-selection mechanism (by filedate, size, attrib, etc.).
– Wild-Wildcard (specify a path with wildcard anywhere for any number of times).
– Functions for Copy, List, Gather, Delete, Move, Flatten-Dir, and more …
– A very mature product (the first XXCOPY version was published in 1999).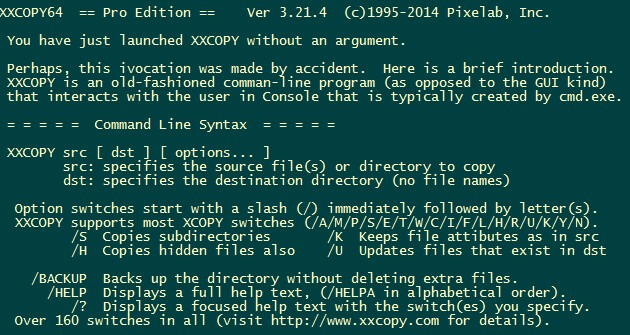 OS : Win XP/Vista/2003/Win7/Win8/2008
Language : English

Home Page – http://www.xxcopy.com/
---
Download uploaded
http://uploaded.net/file/vrmuiyrv/Pixelab.XXcopy.Pro.3.21.4.Retail.rar
Download rapidgator
http://rg.to/file/166241689587d64bc70f3386d8ad580b/Pixelab.XXcopy.Pro.3.21.4.Retail.rar.html
Download firedrive
http://www.firedrive.com/file/56C5294E4571ED9B
Download 城通网盘
http://www.400gb.com/file/64154461
Download 百度云
http://pan.baidu.com/s/1pJNkS8V