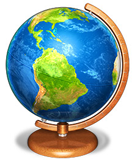 EarthDesk可以让你的桌面变成即时地球图片,用动态的影像替换你静态的桌面图片,在你的桌面上跟踪地球的卫星云图和白昼黑日区域,在你工作时在后台默默的按地球的运转变换着你的桌面布景图案。非常有趣的软件,支持不同地图显示效果,使用当前太阳,月亮和城市照明以及实时云层的地球高分辨率彩色显示图像替换静态壁纸。提供了多个用于配置地图图像的不同的选项。
EarthDesk 5.2.1 | 26 Mb
EarthDesk converts your Windows wallpaper into a beautiful, real-time image of our planet, continuously updating in the background while you work. With four maps and eleven projections to choose from, these stunning images are the perfect addition to your computer. 
THE WORLD ON YOUR DESKTOP
Imagine gazing through the window of an orbiting spaceship. Now imagine that view on your desktop. Welcome to EarthDesk.
EarthDesk features near real-time clouds, accurate sun, moon, and city lighting, moonlight reflection, and high-quality twilight shading. Choose from eleven map projections, four maps (satellite and political), and 10,000 centering locations.
EarthDesk updates automatically when waking from sleep and can span multiple screens. 
GLOBAL CLOUD COVER
EarthDesk displays near real-time global cloud cover (internet access required), letting you track storms and volcanic eruptions, or simply admire our beautiful planet. You can also adjust the overall transparency of the cloud layer. 
GAZETTEER
EarthDesk uses the same database as Time Palette, providing detailed geographical information for 10,000 cities throughout the world. 
CRISP, REALISTIC IMAGES
Unique to EarthDesk is accurate rendering of moonlight on the Living Earth satellite map. To create this stunning effect, the phase of the moon and reflectiveness of the Earth's surface are used to determine correct coloring of the image, ensuring a realistic view of the Earth from space. 
CUSTOMIZABLE
You can configure map images in multiple ways.
Maps can be centered on a city so that the map remains stationary while the sun and moon move. Alternatively, the map center may be locked to the position of the sun (subsolar point) or moon (sublunar point) so that the shadow remains fixed, while the map moves. You can also center the map on the subsolar and sublunar antipodes. 
NEW IN VERSION 5 FOR WINDOWS
Faster performance and lower processor usage.
Snow and vegetation change month-to-month.
Automatic detection of local time zone.
Higher resolution cloud data available.
Improved moonlight rendering in Natural map.
Political map shows city lights and moonlight.
Adjustable desktop contrast level.
New Shaded Relief map.
Softer evaluation watermark during trial period.
Supports monitor attach/detach while running.
Improved detection of corrupt cloud images.
Full support for XP, Vista and Windows 7.
Home Page – http://www.xericdesign.com/earthdesk-win.php
转载请注明:0daytown » EarthDesk 5.2.1 动态桌面