GiliSoft Privacy Protector是由GiliSoft公司出品的一款强大和可靠的隐私保护软件,也算是一款安全软件。GiliSoft Privacy Protector可以有效地防止黑客或恶意软件(如病毒,木马和间谍软件)可能破坏或窃取数据的非法操作。
GiliSoft Privacy Protector可以安全地清理计算机活动的所有痕迹,可以从硬盘驱动器上安全删除敏感数据。GiliSoft Privacy Protector可以隐藏数据,锁定数据,建立私人磁盘,安全删除数据,清除历史记录,具有密码保护功能,其用户界面友好,使用方便。支持FAT/NTFS/exFAT文件系统,支持Windows 2000/2003/XP/Vista/Windows 7/8 (32&64)操作系统。
LAXiTY has released the updated version of "Privacy Protector". Privacy Protector is an advanced security application designed to help you completely eliminate sensitive data from your computer and protect your computer and Internet privacy.
Description: Privacy Protector is designed to protect you by cleaning up all the unwanted history data on your computer. With simply one click, Privacy Protector allows you to erase the cache, cookies, history, typed URLs, autocomplete memory, and Window's temp folder, run history, search history, open/save history, recent documents, etc.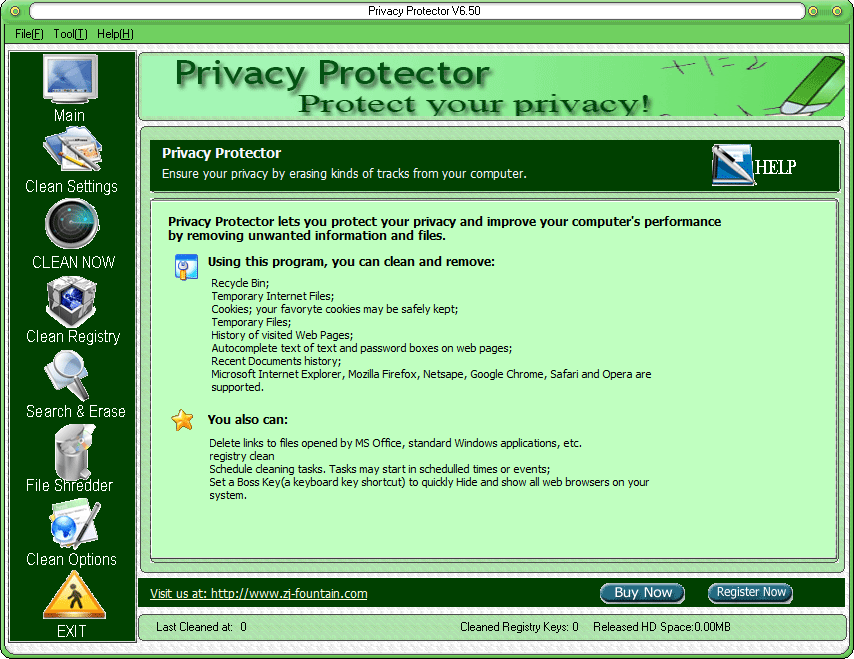 Features:-
Erases Internet location bar history list.
Erases selected Internet cookies.
Delete Internet cache – Temporary Internet files.
Erases Internet history files and lists.
Erases Internet autocomplete history list.
Erases unused Internet plug-ins.
Cleans Internet index.dat file.
Erases all traces of your Internet activity!
Erases recent documents opened list.
Protects your homepage from being overwritten!
Erases start menu search history list.
Release Name: Privacy.Protector.v6.5.130428-LAXiTY
Size: 3.00 MB
Links: Homepage 
Download: Uploaded.net – Cloudzer.net