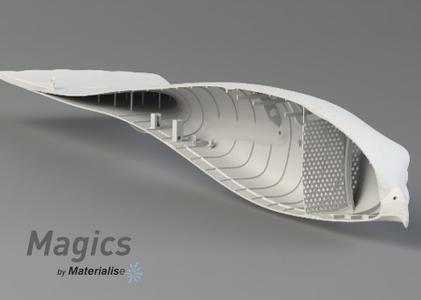 对于使用STL文件工作的人们,Magics是理想的、完美的软件解决方案。Magics为处理平面数据的简单易用性和高效性确立了标准。它提供先进的、高度自动化的STL操作。这使我们在强大的互动帮助工具帮助下,能够在几分钟内改正具有瑕疵三角的STL文件
Magics使您完全控制STL文件。在它提供的功能之中您会发现:
– 可视化、测量和处理STL文件
– 安装STL文件、整合外形、表面修整、双重三角检测器
– 剪切STL文件、穿孔、挤压表面、挖空、偏移处理
– 布尔运算、三角缩减、光滑处理、标记
– 嵌套、碰撞检测
– 着色STL文件
你从事快速成型吗?如果是的话,Magics是您必不可缺少的软件。它是完全针对快速成型工序特征需求的唯一软件。Magics的强大高效3D工具,使您可以用最短的前置时间提供高质量样品,同时在此过程中提供给您和您的客户全部的文件。
---
Materialise Magics v23 | 501.3 mb
Materialise, has announced the release of its Magics 23 software platform for increased productivity and efficiency for 3D printing. The company says the software update will enable manufacturers and businesses to scale up their operations, utilize resources more efficiently and bring manufacturing costs down.
What's new in Materialise Magics 23:
With Magics 23, the latest release of the company's data and build preparation software, Materialise introduces innovations to increase productivity and efficiency. By offering users more control and better integrated features, they can process large data sets faster; spend less time on data preparation; and enjoy reduced powder consumption. Users can easily create self-supporting honeycomb structures, preview and analyze the structure and get full control over its orientation on the build platform. Part quality is improved using fillets, which can be generated on a single edge.
Materialise Magics 23 also introduces Data Matrix Label, an advanced labeling feature that converts the alphanumeric data from standard 3D printed labels into a data matrix code that can be applied to individual parts. These smart tags are smaller and can be read by conventional data matrix scanners. Machine-readable tags reduce human error and further automate the post-production process, which supports mass-customization.
Materialise offers multiple additional modules, which have been upgraded as part of the new release. The simulation module reduces the number of failed metal builds by showing potential build errors before they occur, without making users switch to a separate specialized application. Users of other 3D printing technologies can rely on the improved lap joint cut to easily assemble cut parts and generate e-Stage support in SG mode.
Materialise offers a range of software solutions to companies with varying 3D printing needs; an Essentials version for entry-level users; an Expert version for advanced data and build preparation; and an Enterprise offering to help industrial print factories manage their entire 3D printing process. Magics 23 is an extensive and easy-to-manage software suite for expert and enterprise users.
Materialise brings simulation to the production floor
The Materialise Magics Simulation module aims to make simulation easy to manage and accessible to a wider audience. The module is focused on optimizing the production process without the need for expert knowledge. In combination with Magics 23, it brings high-end simulation capabilities for 3D printing to the production floor. Users can apply simulation results directly to the support generation and orientation tools in their trusted Materialise Magics environment. It supports fast reruns on a standard workstation without the need for high-end processing power, and can also be used in combination with other computer-aided engineering (CAE) solutions for highly certified metal production. The module also includes an integrated calibration feature which guides users to the correct simulation settings for their metal machine.
With its simulation module, Materialise offers easier access to simulation for companies using 3D printing as an alternative manufacturing technology. For service bureaus that want to scale their operations, the module presents an opportunity to optimize their machine operations and get builds right the first time.
Integrated generation of support structures for metal 3D printing
With Magics 23, Materialise introduces improved automatic support generation for metal 3D printing. By integrating the new support generation module, users can automatically generate e-Stage support based on the defined profile; more easily edit, move or delete points; and receive immediate feedback on support volumes. Manually designing support structures for metal parts requires expert knowledge, is time consuming, and carries the risk of overusing expensive material. By generating the supports automatically, users can reduce data preparation time by 90 percent, cut support removal time by 50 percent and achieve a powder recuperation of nearly 100 percent, compared to manual support generation. The automated process also limits the risk of human error and related build crashes. This is especially relevant for metal 3D printing and the production of high-value, customizable metal components with complex geometries.
New materials broaden potential applications for prototyping and manufacturing
In addition to better, faster machines and increased automation, the development of new materials provides new impulses to the 3D printing industry. For manufacturers in the automotive, aerospace and consumer goods industries, new materials are a driver for accelerated adoption of 3D printing with the potential to create new and significant business opportunities. At Formnext, Materialise extends its 3D printing services offering with the introduction of three new materials: polypropylene (PP), one of the most commonly used production plastics; Taurus, a Stereolithography material aimed at automotive prototyping applications; and Inconel (IN718), a metal alloy used in the aerospace and automotive industries for both prototyping and end-part production.
About Materialise Magics. Materialise Magics is a smart, versatile data preparation and stl editor software for 3D Printing and Additive Manufacturing equipped with a customizable, intuitive user interface. This industry-leading software efficiently guides you through every step of your Additive Manufacturing (AM) or 3D printing workflow.
Materialise Magics introduces 3D printing innovations that increase productivity and efficiency in the 3D printing process. While technological improvements and material advances are driving the development of new applications, industrial print factories are looking for ways to raise output while reducing costs.
About Materialise. Materialise incorporates nearly three decades of 3D printing experience into a range of software solutions and 3D printing services, which together form the backbone of the 3D printing industry. Materialise's open and flexible solutions enable players in a wide variety of industries, including healthcare, automotive, aerospace, art and design, and consumer goods, to build innovative 3D printing applications that aim to make the world a better and healthier place. Headquartered in Belgium, with branches worldwide, Materialise combines the largest group of software developers in the industry with one of the largest 3D printing facilities in the world.
Product: Materialise Magics
Version: 23.01
Supported Architectures: x64
Website Home Page : http://www.materialise.com
Language: english
System Requirements: PC
Supported Operating Systems: Windows 7even or newer
Size: 489.0 mb
---
Password/解压密码-0daydown
Download rapidgator
https://rg.to/file/7052b869d46259076e813cde8d3d3396/terMaV2301.rar.html
Download nitroflare
http://nitroflare.com/view/D76830EF5059094/terMaV2301.rar
Download 百度云