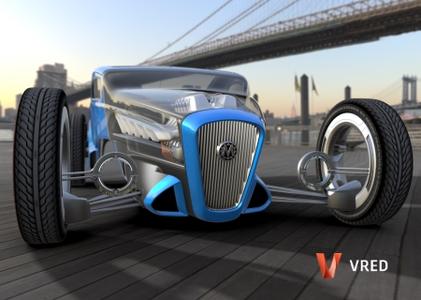 Autodesk VRED Render Node 2020 | 909.2 mb
Autodesk Inc. is pleased to announce the availability of VRED Render Node 2020 is an optional add-on for VRED Professional that provides real-time rendering using cluster processors.
What's New in VRED Products 2020:
What's New

Here are the new features and enhancements found in VRED 2020 products:
– Rounded edges shader effect: Simulate a smooth edge between adjoining faces with this effect.
– Import additional CATIA Axis Systems with new Import Files option: Import additional Axis Systems from CATIA by enabling the Import Coordinate Systems import option or preference. VRED will create a transformation group with a coordinate cross for a better representation in the viewport.
– Cryptomatte: Added Cryptomatte support for creating masks during the rendering post-process.
– Web Shops: Log into a store, find a substance or environment backplate, then purchase and import the content into VRED. When the Substance Web Shop dialog is closed, you are still temporarily logged into the store.
– Web Shops Preference: Set the online store download path for the Substance Source Store.
– Perspective Camera Matching: Match the camera focal length and rotation matrix parameters to a backplate to integrate your model into the scene.
– Improved Python functionality for constraints: Use vrConstraintService, as well as vrdConstraintNode, when working with constraints via Python.
– Export file type settings: Set the export render file type in Render Settings > File Output > Image.
– Shotgun for VRED: Support for Shotgun integration to manage digital assets, the review process, and teams involved with the creation of assets and more. The Shotgun Engine for VRED creates a bridge between the Shotgun Pipeline Toolkit apps and VRED.
Autodesk VRED 2020 on NVIDIA RTX Server with 8x Quadro RTX 8000
A single NVIDIA RTX SERVER equipped with 8 NVIDIA Quadro RTX 8000 can replace 32 dual XEON 24 core servers, in real time rendering and visualizing a car model, with accelerated ray-tracing and AI denoiser! Quadro RTX GTC 19.
About VRED Render Node. By adding a rendering cluster module, offline for VRED Design and online for VRED Professional, you can speed up rendering. VRED Render Node (aka VRED Raytracing Cluster) is an optional add-on for VRED Professional that provides real-time rendering using cluster processors. To speed up interactive presentations while enjoying high-quality ray tracing output, use multiple workstations or clustered server hardware to distribute the rendering. All rendering modes available in ray cast mode are supported.
Product: Autodesk VRED Render Node
Version: 2020
Supported Architectures: x64
Website Home Page : http://www.autodesk.com
Language: english
System Requirements: PC
Supported Operating Systems: Windows 7even or newer
Size: 909.2 mb
---
Password/解压密码-0daydown
Download rapidgator
https://rg.to/file/009bbab0b4f7bf41870d9be9af5524ea/EdoDeReN20.rar.html
Download nitroflare
http://nitroflare.com/view/FE370CA22240AC8/EdoDeReN20.rar
Download 百度云