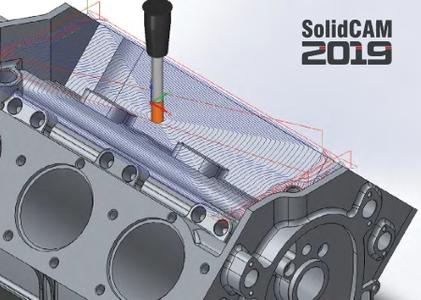 SolidCAM 2019 Documents and Training Materials | 4.6 Gb
SolidCAM Inc., a world leader in advanced tool path generation technology (CAM) running directly inside SolidWorks, has launched SolidCAM 2019 Documents and Training Materials.
Dear reader,
In recent years, technological advancements in the machine tool industry has grown exponentially. This acceleration of advancements is a challenge for vocational education. The VDW-Nachwuchsstiftung (foundation for secondary education) aims to strengthen and improve the transfer of knowledge between industry and vocational education.This task-based educational training manual was created by the collaboration of vocational educators and industry trained personnel.The intention of this manual is to introduce the techniques used in the design and manufacturing process. It is important that you exercise self-organization throughout the learning process. This manual also includes some additional information on the technical and methodical aspects of CAD/CAM.
This training manual was developed for you as both an informational and instructional booklet. It is provided to teach you the basics of CAD/CAM technology. The structure of this manual not only conforms to the teaching methods and curriculum guidelines required by schools and universities, but also the methodologies used by design and manufacturing professionals alike. For each task-based lesson, the final process is shown using part and assembly drawings. A general explanation accompanies each task to be performed, which should not be used as a direct solution. The process of determining an answer to each problem should be solved individually. In the same way, the content in this manual was created to help you develop the skills necessary to apply best practices related to CAD/CAM business operations.Like in today's manufacturing departments, you will have to produce the components and final assembled part for an adjustable workpiece stop (vise stop). Each lesson is comprised of the following tasks: Analysis of the task in relation to the final goal Planning of a workflowImplementation of the workflow in the design, manufacturing and documentation Presentation of the results followed by discussion Reflection of the procedures and the end result
About SolidCAM. SolidCAM is the de-facto standard Gold-Certified integrated CAM-Engine for SOLIDWORKS. SolidCAM, including the revolutionary iMachining, is seamlessly integrated in SolidWorks with full tool path associativity to the SolidWorks model. With the single-window integration in SolidWorks, all machining operations can be defined, calculated and verified without leaving the parametric SolidWorks assembly environment.
SolidCAM plus SOLIDWORKS provides a powerful, easy-to-use integrated CAD/ CAM solution that support the complete range of major manufacturing applications including iMachining 2D, iMachining 3D, 2.5D Milling, High Speed Surface Machining (HSS), 3D Mill High Speed Machining (HSR/HSM), Indexial Multiaxis Machining, Simultaneous 5-Axis Machining, Turning, MillTurn and even Solid Probe.
All 2D and 3D geometries used for machining are fully associative to the SolidWorks design model. If you make any changes to your SolidWorks model, all of your CAM operations are updated automatically.
About SolidCAM Inc. SolidCAM Inc. is a world leader in advanced tool path generation technology (CAM) running directly inside SolidWorks. SolidCAM features a full line of CNC machine programming software solutions ranging from 2 axis lathes and 3 axis mills to extremely complex multi-axis MillTurn machines and Wire Edm. All products run directly inside SolidWorks and provide the user with a true "SolidWorks look and feel" for ease of use and maximum efficiency. Along with the integrated interface and scalability for new machines, SolidCAM also has its patented "iMachining" that powers users to new levels of productivity and profits, through unmatched cycle time reduction and unrivaled tool life.
Product: SolidCAM
Version: 2019 Documents and Training Materials
Supported Architectures: x64
Website Home Page : http://www.solidcam.com
Language: english
System Requirements: PC
Supported Operating Systems: Windows 7even (with latest Service Pack) and above
Software Prerequisites: SolidCAM 2019 or SolidCAD CAM Suite 2019
Size: 4.6 Gb
---
Password/解压密码-0daydown
Download rapidgator
https://rg.to/file/46f40822098716c5400900a713af533a/olSoCM19DcTa.part1.rar.html
https://rg.to/file/611ff86201fbbcc555e8cd96bc30e055/olSoCM19DcTa.part2.rar.html
https://rg.to/file/231d657ab1056dbcacb3de18deb1a087/olSoCM19DcTa.part3.rar.html
https://rg.to/file/397ed900594237f59130acff4083b4ef/olSoCM19DcTa.part4.rar.html
https://rg.to/file/c0fe55d0b716c1f2904862e5631f2e8a/olSoCM19DcTa.part5.rar.html
https://rg.to/file/611104c9760d6781610e4e2b6d3a71ca/olSoCM19DcTa.part6.rar.html
https://rg.to/file/284c18808dffa4022e1e47a95ec95157/olSoCM19DcTa.part7.rar.html
Download nitroflare
http://nitroflare.com/view/416E57783BE4D13/olSoCM19DcTa.part1.rar
http://nitroflare.com/view/D46B0622CB0E054/olSoCM19DcTa.part2.rar
http://nitroflare.com/view/8CC586FFDDABAB9/olSoCM19DcTa.part3.rar
http://nitroflare.com/view/B465E02DE862473/olSoCM19DcTa.part4.rar
http://nitroflare.com/view/2D87310D925EB23/olSoCM19DcTa.part5.rar
http://nitroflare.com/view/5690EA2B0E43932/olSoCM19DcTa.part6.rar
http://nitroflare.com/view/C48E7047CE76C93/olSoCM19DcTa.part7.rar
Download 百度云
转载请注明:0daytown » SolidCAM 2019 Documents and Training Materials