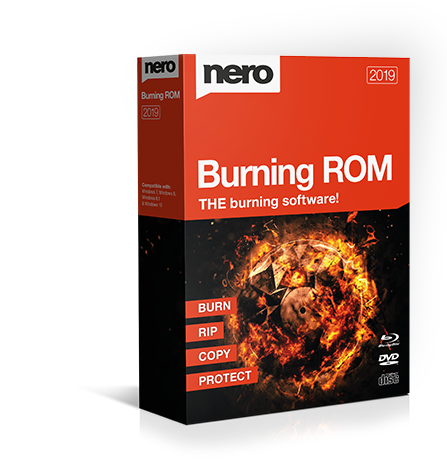 Nero Burning ROM 2019
依靠可靠的刻录技术您可以将数据、视频、照片和音乐烧录和复制到CD、DVD和蓝光光盘™之中。
Nero Burning ROM 2019新功能
您可以通过可靠的 Nero Burning ROM 刻录技术设定新标准!将数据和音乐复制、导入并刻录在首选类型的光盘上?制作安全性最高的光盘?这一切对于最新版本的 Nero Brenn-Profis 都不是问题,其通过 SecurDisc 4.0 和许多其他功能确保了最佳的效果!
翻录
走自己的路: 如果要将您的音频 CD 和单曲以文件形式保存在电脑、智能手机或 MP3 播放器上,那么您可以迅速而准确地将其转换为所需的格式!Nero Burning ROM 堪称万能:从 MP3、MP3 PRO 到 AAC 和 FLAC,直至 APE——包括歌曲名称和专辑信息。从现在起,借助集成的 Gracenote® 技术,甚至可以将原版专辑封面整合到音频文件中。由此您可以方便地浏览播放列表并轻松地播放音乐。
复制
复制您的媒体乐趣:*您想要分享电影并在汽车或客厅里随时欣赏您喜爱的歌曲吗?您可以复制质量和音效毫不逊色于原版的 CD、DVD和蓝光光盘™!还可以快速转载音频 CD——包括所有原版专辑封面的 CD 文本和专辑信息.
刻录
燃起多媒体激情: 对所有光盘类型而言,最佳的刻录专家都是您最好的选择,无论是要将您最美好的回忆永久保存在 CD、DVD 或是蓝光光盘™上。您可以创建 ISO 镜像或者将您的视频光盘结构和光盘镜像刻录到新的数据载体上。所刻录音频 CD 会变得更加悦耳,其不仅自动进行了声音优化,还能够通过音频过滤器和其他调整符合您的品味。借助 Gracenote® 技术,您现在还可以将原版专辑封面添加到您新的车载收音机的 MP3 CD 和 MP3 DVD 上。并且,使用 Nero CoverDesigner 您还可以用您的刻录制品制作出真正的视觉艺术品.
安全
保护您所珍爱的一切: Profis 在安全方面是无与伦比的 – 通过 SecurDisc 4.0 技术,确保您的文件不会落入他人之手。因为具有符合行业标准的 256 位加密功能、数字签名和密码保护,除您之外的任何人都无法访问您刻录的数据归档。而且,Nero 提供了极佳的耐用性和可读性,因为可以对数据冗余进行调整,所以即使是划伤的光盘也仍然可以播放。
---
File size: 177.7 MB
Nero Burning ROM – Set new standards with the proven burning technology of Nero Burning ROM. Want to copy and import data and music and burn them to your preferred type of disc? Want to keep data safe and secure? Want to create discs with maximum reliability? No problem with the latest version of Nero Burning ROM, which uses SecurDisc 4.0 and much more to ensure the best results.
---
Add advanced security options such as password and encryption protection to ensure secure storage and sharing of confidential information.
The software gives you full, customized control of your burning projects. Preserve your photos, videos, music with the most established burning technology in the industry.
Save time with Nero DiscSpan for splitting oversized files to the number of required discs in one go.
Nero Burning ROM Highlights:
High quality disc burning and copying for superior quality playback
Easy drag-and-drop burning to CDs, DVDs and Blu-ray Discs
Split oversized files to burn onto multiple discs at one time
Ensure data readability regardless of scratches, age or deterioration
Burn DVD-Video, BDMV, and AVCHD compilations
Rip audio CDs to your PC and convert audio
Create reliable and secure discs with SecurDisc 4.0 technology included
Nero Burning ROM 2018 lets you even mix any media type – music, photos, videos or data – onto one disc. Easy to use and even easier to share, the robust burning solution comes with powerful security and customizable features that go beyond just burning.
Nero Burning ROM Features:
Burn and Archive Your Life:
Burn High Quality Discs thanks to the advanced burning engine
Wide support for virtually any CD, DVD or Blu-ray Discs writer out there
First class music burning of high quality MP3 Pro, lossless FLAC to CD or DVD and high-quality Audio-CDs
Split oversized files and burn them to multiple discs with Nero DiscSpan SmartFit
Create and burn ISO image
RIP
If you need to save your audio CDs and individual songs as files on your PC, smartphone or MP3 player, just convert them to the required format accurately and at lightning speed. Nero Burning ROM has it all: from MP3, MP3 PRO through AAC and FLAC to APE – including song titles and album details. Now original album art is integrated into the audio file thanks to built-in Gracenote technology, allowing you to easily browse your playlists and play your music in complete comfort.
COPY
Would you like to share your movies and play your favorite songs in the car or living room too? Copy CDs, DVDs and Blu-ray Discs with quality and sound that are in no way inferior to the original. Audio CDs are also quickly reproduced – including CD text and original album details along with original album art.
PROTECT
When it comes to security, you'll be up there with the pros, as with the new SecurDisc 4.0 technology your files are in the best of hands. With industry-standard 256-bit encryption, digital signature and password protection, no one but you can access your burned data archive. And since Nero stands for durability and readability, even scratched discs will still be playable thanks to adjustable data redundancy.
Whats New:
Updates: official site does not provide any info about changes in this version
---
Download rapidgator
https://rg.to/file/df4e02edb370a6d4ee63a8a261236be5/Nero.Burning.ROM.2019.20.0.2012.rar.html
Download nitroflare
http://nitroflare.com/view/5C5B54D72124EEE/Nero.Burning.ROM.2019.20.0.2012.rar
Download 城通网盘
https://u7940988.ctfile.com/fs/7940988-367068487
Download 百度云
链接: https://pan.baidu.com/s/1bNeyB3t8KGIqWjkx-GLlVw 提取码: 6vyh
转载请注明:0daytown » Nero Burning ROM 2019 v20.0.2012 Multilingual