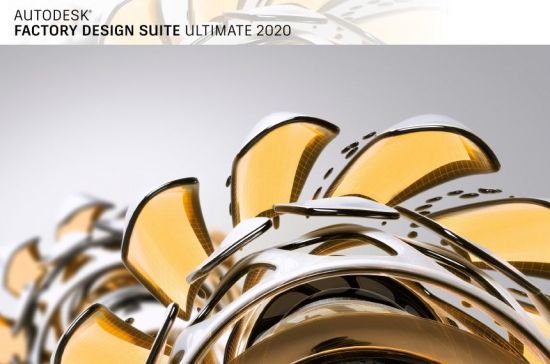 可视化和优化工厂设计
使用 Factory Design Suite(工厂设计套件),可以概念化、规划和验证制造设施,以优化工作流和设备放置。
---
x64 | Languages:English | File Size: 10.5 GB
Description:
Autodesk Factory Design Suite Ultimate offers a design workflow and toolset that enables educators to teach digital layouts and data management to the next generation of factory layout designers, industrial engineers, and facilities managers. The suite, which includes Autodesk Inventor software, provides the same complete set of design, engineering, visualization, and simulation tools used by professionals.
---
Autodesk Factory Design Suite adds factory specific functionality to AutoCAD, Autodesk Inventor, and Autodesk® Navisworks® software and combines them with powerful visualization tools such as Autodesk® 3ds Max® and Autodesk® Showcase® software to help manufacturers improve innovation, collaboration, and flexibility when responding to changing business requirements.
Get benefits of Suites
Suites include powerful tool for every phase of design process without compromises. Decision making is easier when design process is faster and quality is better.Suites are also very aggressively priced. When you select Suite you get all the tools you need and ensure your competitiveness.
Autodesk Factory Design Suite Ultimate 2020 includes:
Factory Design Suite Ultimate 2020:
Autodesk 3DS MAX 2020
Autodesk AutoCAD Mechanical 2020
Autodesk AutoCAD Architecture 2020
Autodesk AutoCAD MEP 2020
Autodesk AutoCAD Raster Desing 2020
Autodesk Factory Desing Utilities for AutoCAD 2020
Autodesk Inventor Professional 2020
Autodesk Factory Desing Utilities for Inventor 2020
Autodesk Naviworks Manage 2020
Autodesk Factory Desing Utilities for Naviworks 2020
Autodesk Factory For Vault pro 2020 ( need Vault pro 2020)
Components:
Autodesk Inventor Content Libraries
Autodesk Recap 2020
Autodesk Recap Photo 2020
System Requirements:
OS:Microsoft® Windows® 10 Semi-Annual Channel / Microsoft® Windows® 7 SP1 with Update KB4019990
CPU: Recommended:3.0 GHz or faster. 4 or more cores / Minimum:2.5 GHz or faster.
RAM: Recommended:20-GB RAM or more with 160-GB free disk space or more / Minimum:8-GB RAM for less than 500 part assemblies. 40-GB free disk space.
GPU:Recommended:4 GB GPU with 106 Gbps Bandwidth and DirectX 11 compliant / Minimum:1 GB GPU with 29 Gbps Bandwidth and DirectX 11 compliant.
Display:Recommended: 3840×2160 (4K) Preferred scaling: 100%, 125%, 150% or 200% / Minimum:1280 x 1024
Third Party Software:
-Full local install of Microsoft® Excel 2010, 2013 or 2016 for iFeatures, iParts, iAssemblies, Global BOM, Parts Lists, Revision Tables, spreadsheet-driven designs and Studio animation of Positional Representations.
-64-bit Microsoft Office is required to export Access 2007, dBase IV, Text and CSV formats.
-Office 365 subscribers must ensure they have a local installation of Microsoft Excel 2016.
-Windows Excel Starter®, OpenOffice®, and browser-based Office 365 applications are not supported.
-Net Framework:NET Framework Version 4.7 or later. Windows Updates enabled for installation.
---
Password/解压密码-0daydown
Download rapidgator
Download nitroflare
Download 百度云
转载请注明:0daytown » Autodesk Factory Design Suite Ultimate 2020 x64