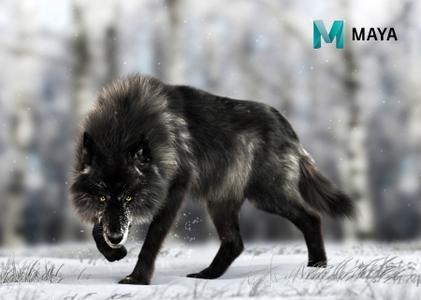 Maya 计算机动画软件助您一臂之力
Maya® 三维动画、建模、仿真和渲染软件提供了一个功能强大的集成工具集。可用于动画、环境、运动图形、虚拟现实和角色创建。
新特性
UV 编辑器工作流、外观

UV 编辑器界面已得到改进,提供了新 UV 工具包,其中包含许多更佳的工具和功能

用于交互式修饰的成束修改器

生成逼真的头发和毛发成束效果,以获得外观更自然的头发和毛发

After Effects 实时链接

在 Maya 和 Adobe® After Effects® 之间创建实时链接,以便同时进行实时更改和查看场景

更多 MASH 节点

MASH 工具集为您提供了许多新节点(曲线、信号、世界、放置器等),并更新了现有节点
---
Autodesk Maya 2018.6 | 3.4 Gb
Autodesk Inc. has announced the release of Maya 2018.6. Bring your imagination to life with Autodesk Maya 3D animation, modeling, simulation, and rendering software. Maya helps artists tell their story with one fast, creative toolset.
Autodesk Maya 2018.6 Update Release Notes:
What's Fixed
Animation
MAYA-95241 Deformed object doesn't update after visibility change
MAYA-96800 Graph Editor hangs when animating cameras
MAYA-95665 deltaMush deformer doesn't respect membership editing
MAYA-97424 Interactive Bind Skin Tool: Unable to shrink, move, or rotate the capsule
MAYA-96550 Using weightBlended skinning zeros all normals on mesh
MAYA-96384 Crash when selecting IK Control
MAYA-95190 TDNwrap crashes on file open when it has 0 influence
MAYA-94293 Limb length scaling fails
MAYA-97066 Crash while playback or scrub when in Parallel Evaluation mode
MAYA-97117 Parallel Evaluation : Maya crashes when rendering frame 1 but not frame 20
MAYA-96645 Graph Editor: Executing getViewportBounds in Stacked/Normalized view mode results in an error
MAYA-97134 A "long long int" attribute doesn't properly keyframe
MAYA-96044 Crashes when deleting nodes from simple rig
Foundation
MAYA-96082 Maya 2018.5 builds incorrect libicu* symlinks on Linux
MAYA-96110 Crash when navigating in File browser
MAYA-96994 Creating node from PyMel fails after first instance
MAYA-97228 Memory corruption & crash when the garbage collector invoked from a thread cleans up widgets
MAYA-95977 File > Open "Selective Preload" broken with Alembic
MAYA-97511 Crash handler doesn't report CER info for access violation crashes on Windows
Modeling
MAYA-96570 When replicating children of LOD_Group with inputConnections set to True, grandchild nodes are not duplicated
MAYA-97473 Long pause when selecting a large number of small meshes with the UV editor open
MAYA-97111 Shape Editor > Rebuild Target on mesh under custom transform crashes Maya
MAYA-97426 polyPlatonic, PolyDisc, polySuperShape, and PolyGear only available in UI
MAYA-97232 Select > Inverse for NURBS CVs broken
MAYA-96986 Maya crashes opening a scene where polyPinUV history was previously deleted
Rendering
MAYA-96721 Crash when importing Maya file with legacy render layers enabled
MAYA-96916 File browser no longer showing preview for EXR and HDR files
Viewport
MAYA-96342 Selection of objects causes continuous memory leak
MAYA-95856 Skin-Delta Deformation incorrect behavior when referenced
MAYA-97019 Geometry corruption with UV Editor in Shaded mode
MAYA-95549 MPxDrawOverride : selection interface to add a list of dagpaths/components/hitpoints (worldSpace)
MAYA-96234 Some UVs are only visible in the editor when you zoom out
MAYA-97391 MHWRender::MIndexBuffer: Linux: wrong number reported by "ogs -gpu" when using custom buffers
MAYA-96711 MPxDrawOverride::userSelect : deleting a node while moving mouse on the object in component selection mode causes crash
MAYA-96375 UV Editor is slow when many other meshes are in the scene
About Autodesk Maya 2018. With new enhancements and an ongoing focus on stability, Autodesk Maya 2018 software helps artists work faster and more efficiently than ever. Over the past few releases, Maya has continued to push the boundaries when it comes to character creation with updates to modeling, animation, and new interactive grooming workflows. In addition to characters, the motion graphics workflow in Maya continues to mature with growing capabilities that now includes rigid-body dynamics. When it comes to rendering, the combination of Render Setup and Arnold provides artists with a powerful rendering solution that can tackle the toughest projects.
Get into a new Way of Learning Maya 2018 by Autodesk. Tutorial for beginners, getting started, basics.
About Autodesk. Autodesk helps people imagine, design and create a better world. Everyone—from design professionals, engineers and architects to digital artists, students and hobbyists—uses Autodesk software to unlock their creativity and solve important challenges.
Product: Autodesk Maya
Version: 2018.6 *
Supported Architectures: x64
Website Home Page : http://www.autodesk.com
Language: english, 日本語, 中文
System Requirements: PC / MacOsx
Supported Operating Systems: Windows 7even SP1 or newer/ Apple MacOSx 10.10.5, 10.11.x, 10.12.x operating system
Size: 3.4 Gb
* This is a full product install. On Windows operating systems, this will update your existing version of Maya 2018 if you already have it installed. Otherwise, it will install Maya for you. On Mac you will need to uninstall your existing Maya 2018 software before installing this update.
---
Password/解压密码-0daydown
Download rapidgator
https://rg.to/file/29757a9fb3828fa98ae0989afa54f99c/SkaUMa18.6_mac.part1.rar.html
https://rg.to/file/7eb3916e6762aff9c381660a811b3205/SkaUMa18.6_mac.part2.rar.html
https://rg.to/file/7689def49da6e5d6955c4ed9a9775fc1/SkaUMa18.6_mac.part3.rar.html
https://rg.to/file/728d02f9a4a0ba39c141df68131a69d4/SkaUMa18.6_win.part1.rar.html
https://rg.to/file/47b043edbe103be85e11b545c1b161ba/SkaUMa18.6_win.part2.rar.html
https://rg.to/file/9c42c06b9d59c3457ec7b9fb439a6012/SkaUMa18.6_win.part3.rar.html
Download nitroflare
http://nitroflare.com/view/073114547EE94DF/SkaUMa18.6_mac.part1.rar
http://nitroflare.com/view/1133CEEFCBD3ABB/SkaUMa18.6_mac.part2.rar
http://nitroflare.com/view/C571AA873629A0F/SkaUMa18.6_mac.part3.rar
http://nitroflare.com/view/0A9D68FBFE6FAAF/SkaUMa18.6_win.part1.rar
http://nitroflare.com/view/B23489D23BC706B/SkaUMa18.6_win.part2.rar
http://nitroflare.com/view/C14A390649B2D35/SkaUMa18.6_win.part3.rar
Download 百度云