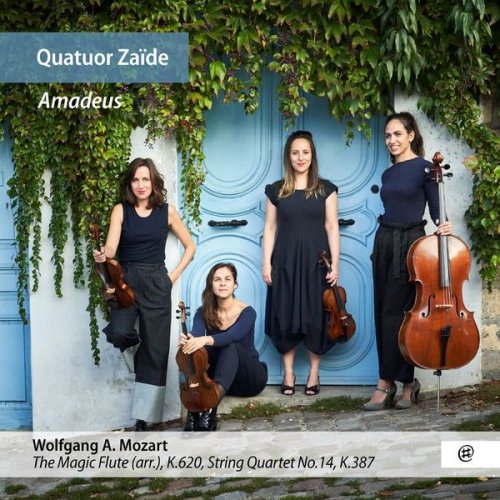 FLAC (tracks +booklet) | Classical | 01:12:03 | 1CD | 358 Mb
A is for "Amadeus," and a recording which marks a return to the source for Quatuor Zaïde, who dedicate their fourth collection to the genius Austrian composer.
Z is for Zaïde, a "Singspiel" by Mozart in the style of The Magic Flute, which historical transcription for string quartet is a world premiere!
Paired with the Quartet in G Major, No.14 K. 387, this miniature version of one of the most famous operas repeatedly casts each instrument of the quartet in a multitude of lyric roles, celebrating the eternal dialogue between singing and playing.
Tracklist:
01. The Magic Flute K. 620, Act I: Overture (Arr. For Sting Quartet)
02. The Magic Flute K. 620, Act I: "Zu Hilfe! Zu Hilfe!" (Arr. For Sting Quartet)
03. The Magic Flute K. 620, Act I: "Der Vogelfänger" (Arr. For Sting Quartet)
04. The Magic Flute K. 620, Act I: "Dies Bildnis ist bezaubernd schön" (Arr. For Sting Quartet)
05. The Magic Flute K. 620, Act I: "Du feines Täubchen, nur heiren" (Arr. For Sting Quartet)
06. The Magic Flute K. 620, Act I: "Bei Männern, welche Liebe fühlen, Fehlt auch ein gutes Herze nicht" (Arr. For Sting Quartet)
07. The Magic Flute K. 620, Act I: "Zum Ziele fürhrt dich diese Bahn" (Arr. For Sting Quartet)
08. The Magic Flute K. 620, Act II: "Wie Stark ist nicht dein Zauberton" (Arr. For Sting Quartet)
09. The Magic Flute K. 620, Act II: "Das klinget so herrlich, das klinget so schön!" (Arr. For Sting Quartet)
10. The Magic Flute K. 620, Act II: "Marsch der Priester" (Arr. For Sting Quartet)
11. The Magic Flute K. 620, Act II: "O Isis und Osiris" (Arr. For Sting Quartet)
12. The Magic Flute K. 620, Act II: "Bewahret euch vor Weibertücken" (Arr. For Sting Quartet)
13. The Magic Flute K. 620, Act II: "Alles fühlt der Liebe Freuden… Zurück!" (Arr. For Sting Quartet)
14. The Magic Flute K. 620, Act II: "Der Hölle Rache kocht in meinem Herzen" (Arr. For Sting Quartet)
15. The Magic Flute K. 620, Act II: "In diesen heil'gen Hallen" (Arr. For Sting Quartet)
16. The Magic Flute K. 620, Act II: "Seid uns zum zweiten Mal willkommen" (Arr. For Sting Quartet)
17. The Magic Flute K. 620, Act II: "Ach, ich fühl's, es ist verschwunden" (Arr. For Sting Quartet)
18. The Magic Flute K. 620, Act II: "Soll ich dich, Teurer, nicht mehr seh'n?" (Arr. For Sting Quartet)
19. The Magic Flute K. 620, Act II: "Ein Mädchen oder Weibchen wünscht Papageno sich"-"Die Strahlen der Sonne vertreiben die Nacht" (Arr. For Sting Quartet)
20. String Quartet in G Major, K. 387: I. Allegro vivace assai
21. String Quartet in G Major, K. 387: II. Minuetto (Allegro)
22. String Quartet in G Major, K. 387: III. Andante cantabile
23. String Quartet in G Major, K. 387: IV. Molto allegro
---
Download nitroflare
http://nitroflare.com/view/E70B04C11A0B8BC/1204Quatuor_Za%25c3%25afde_Amadeus.rar
转载请注明:0daytown » Quatuor Zade – Quatuor Zade Amadeus (2019) FLAC