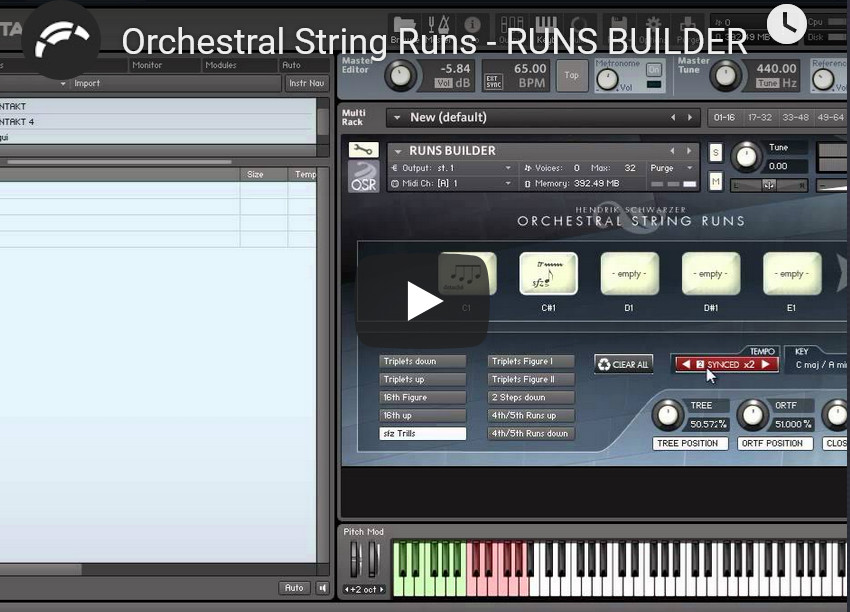 KONTAKT – 13,35 GB
Orchestral String Runs became the industry standard for very fast, agile and quick string lines. Innovative tools like the Runs Builder let you build your own realistic runs out of thousands of tempo-synced run elements. In addition to a huge collection of pre-recorded octave runs, the Runs Transitions Patches let you perform your very own ideas. Orchestral String Runs also comes with basic articulations to enable a better blending with our other collections. The Runs
Builder is consistently sampled to the Runs Builder included in Berlin Woodwinds.
NEW IN OSR 2:
– RUNS BUILDER 2.0: Special scales like whole tone, octatonic and chromatic scales are finally possible! In addition, every slot has its own tempo mode slider, a fine adjustments slider and the possibility to create triplets out of 16th-based figures.
– New Playable Runs patches: completely new recorded samples and two divided groups of musicians per patch will make natural tuning and timing discrepancies possible for realism never seen before. This patch is available for Violins+Violas and Celli+Basses. These patches now have longer final notes than our Runs Transitions Patch 1 (which is based on real legato sampled staccatos.
– Measured Short Tremolos: As an addition to our short trills patch, we have recorded tempo-synced measured short tremolos (doublets and triplets) everything sampled with repetitions! This patch is also available for Celli+Basses.
– Marcatos for Violins+Violas and Celli+Basses
– New sustain-patches with more velocity layers and xfade scripts
– Contains all the content from the original OSR.

– The industry´s first RUNS BUILDER for Violins and Cellos+Basses. (Create your individual runs out of thousands of tempo-synced runs elements)
– RUNS TRANSITION PATCH (playable smeared runs!) based on legato transitions and repetitions for Violins+Violas
– Hundreds of pre-recorded, tempo synced runs
– Tempo-synced looped ostinatos
– Short-Trills Patch (sfz Trills and measured tempo-synced Trills HT/WT)
– Basic articulations (sustain patches, staccatos with repetitions)
– OSR Tempo Script (synchronize OSR to your host-tempo)
– 3 Mic Positions
Works with the Kontakt 5.8.1+
Password/解压密码-0daydown
Download rapidgator
Download nitroflare
Download 百度云
转载请注明:0daytown » Orchestral Tools Orchestral String Runs v3.1 KONTAKT