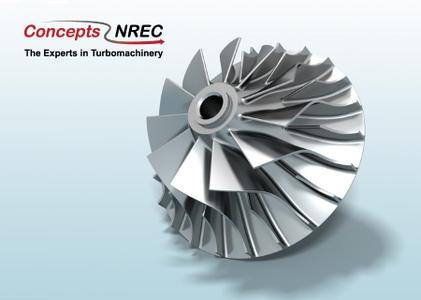 Concepts NREC是世界上著名的叶轮机械专业服务公司;是一家既开发和推广叶轮机械设计/加工专用(CAE/CAM)软件,同时也提供叶轮机械样机开发和性能测试的全方位高端服务公司。
Concepts NREC是世界上唯一一个集设计、分析、加工于一体的研发平台,可用于各种叶轮机械包括压缩机、涡轮增压器、膨胀机、叶片泵等产品。软件集成了Concepts NREC公司50多年的工程设计经验。主要功能包括:
a.总体方案、一维方案设计
b.三维详细设计和全三元流CFD分析
c.有限元应力和振动分析
d.轴承设计和转子动力学分析
e.多学科多目标优化设计软件f.直纹面侧刃加工、自由曲面点加工和闭式叶轮整体铣削专业软件
软件具体模块名称及功能简介如下:
离心/斜流压气机设计点及非设计点平均流线性能预测程序:COMPAL
叶片泵设计点及非设计点平均流线性能预测程序:PUMPAL
风机/风扇设计点及非设计点平均流线性能预测程序:FANPAL
径流涡轮设计及性能预测程序:RITAL
轴流压气机/涡轮设计点及非设计点平均流线性能预测程序:AXIAL
三维流道和叶片几何设计,快速交互式流场分析和通流计算程序:AxCent·
从其它三维CAD软件的叶轮数据输入接口:CADTranslator·
快速设计级CFD程序:PushbuttonCFD
自动FEA前后处理程序及解算程序:PushbuttonFEA
高温涡轮气冷叶片设计分析系统:CTAADS
多学科自动优化接口程序:TurboOptII
转子动力学及轴承分析软件:DyRoBeS·
叶轮零件整体数控加工自动数控编程软件:MAX-PAC
---
Concepts NREC 8.7.x Suite | 469.4 mb
Concepts NREC, the world's leading turbomachinery software, design, development, testing and manufacturing company is proud to announce the release of version 8.7 of its Agile Engineering Design System.
About the Agile Engineering Design System. Concepts NREC's Agile Engineering Design System® is a complementary suite of programs for Computer-Aided Engineering (CAE) and Computer-Aided Manufacturing (CAM) that covers the entire design process — from preliminary sizing through fluid dynamics and mechanical stress and vibration analysis. Final designs can be easily imported into our industry-leading CAM software, MAX-PAC, to create efficient 5-axis machining strategies
About Concepts NREC. For over 60 years, Concepts NREC has been partnering with the world's leading OEMs to improve the performance and manufacturability of their turbomachines. Our in-house capabilities span the entire process – from conceptual design through manufacturing, testing, and installation. This unique perspective creates powerful synergies that drive innovation across our entire offering. Our clients benefit from having a trusted partner who can see the big picture and provide valuable insights that save them time and money.
About NUMECA International's Software. Based on the most advanced technology, NUMECA software is largely recognized for its application-driven simulation software, optimal solutions, multi-physics models, high accuracy, speed and general user friendliness.
Product: Concepts NREC
Version: 8.7.X Suite *
Supported Architectures: 32bit / 64bit
Website Home Page : http://www.conceptsnrec.com
Language: english
System Requirements: PC
Supported Operating Systems: Windows 7even or newer
Size: 1.0 Gb
* included:
AXCENT64 8.7.16.0 64-bit
AXIAL 8.7.12.0 32-bit
COMPAL 8.7.13.0 32-bit
FANPAL 8.7.12.0 32-bit
PUMPAL 8.7.12.0 32-bit
RITAL 8.7.14.0 32-bit
---
Password/解压密码-0daydown
Download rapidgator
https://rg.to/file/f84290c82437459472182168ae1165b0/cepNRe87x.rar.html
Download nitroflare
http://nitroflare.com/view/A2E69761E20461E/cepNRe87x.rar
Download 百度云
转载请注明:0daytown » Concepts NREC 8.7.x Suite