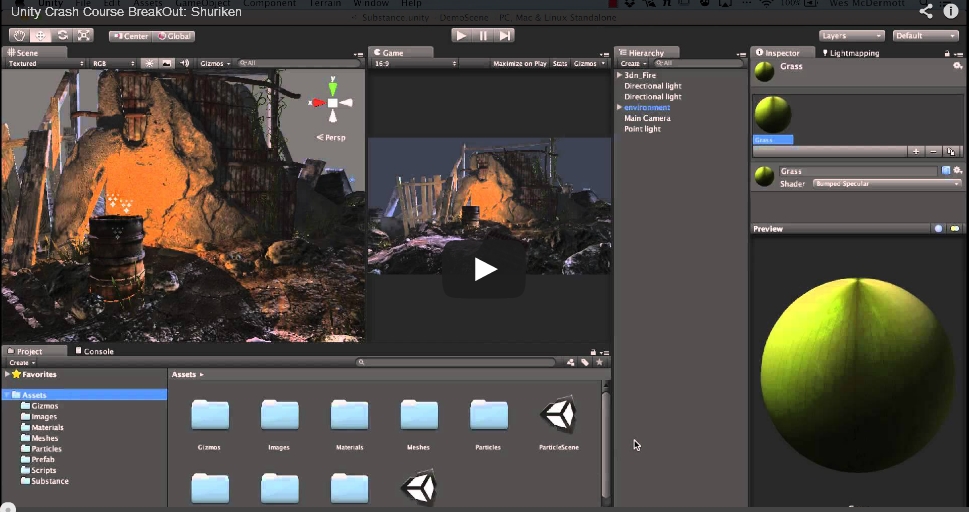 Unity粒子系统制作视频教程,UnityCookie Crash Course Breakout Particles Mini Course,大小:457 MB,格式:MP4视频格式,附工程源文件,教程使用软件:Unity,作者:Wes McDermott,语言:英语。
---
In this Crash Course Breakout we are going to discuss using Unitys Shuriken Particle System. This Breakout is divided into 3 videos.

Video One : Fundamentals
In the first video we will take a look a the fundamentals of Shuriken. We will establish a solid base to build upon in the subsequent videos.
Video Two: Creating Fire
In this video we start creating the fire system and further establish basic workflows with Shuriken
Video Three: Creating Smoke and Embers
In the final video we will complete the fire by adding smoke and burning embers.
http://cgcookie.com/unity/cgc-courses/crash-course-breakout-particles-mini-course/
---
Download uploaded
http://uploaded.net/file/0w6dvx8g/UnityCookie.Crash_Course_Breakout.Particles_Mini_Course.part1.rar
http://uploaded.net/file/ui4hbwu7/UnityCookie.Crash_Course_Breakout.Particles_Mini_Course.part2.rar
http://uploaded.net/file/p6cqu8v1/UnityCookie.Crash_Course_Breakout.Particles_Mini_Course.part3.rar
http://uploaded.net/file/1p3u08qh/UnityCookie.Crash_Course_Breakout.Particles_Mini_Course.part4.rar
http://uploaded.net/file/tu5vcauo/UnityCookie.Crash_Course_Breakout.Particles_Mini_Course.part5.rar
Download Firedrive and 百度云
转载请注明:0daytown » Unity Cookie – Crash Course Breakout – Particles Mini Course