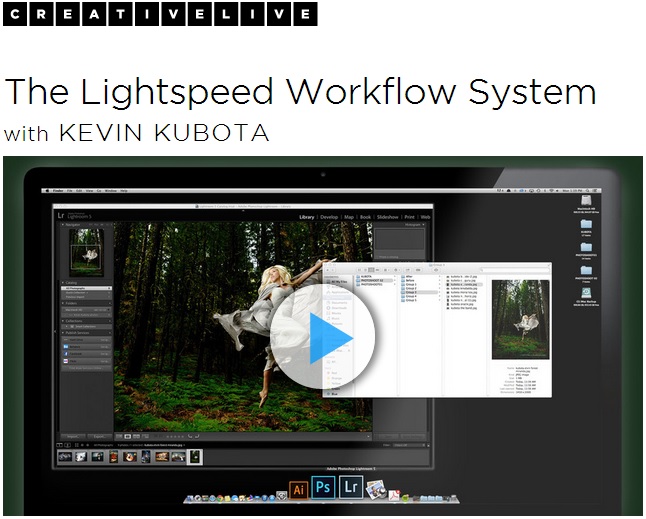 CreativeLIVE – The Lightspeed Workflow System
WEB-Rip | AVI | H.264 @ 1.5 Mbit/s | 1216×684 | MP3 Stereo @ 128 Kbit/s 48 KHz | 12 Hours | 4.43 GB
Genre: Photography, Lightroom, Photoshop | Language: English
The Lightspeed Workflow System with KEVIN KUBOTAefficient is important
When you consider what separates good photographers from great photographers, words like "artistry" and "versatile" might come to mind — but "efficient" is just as important. Join Kevin Kubota for a course that will equip you with a seamless, productive Lightroom and Photoshop workflow.
Kevin will take the stress and frustration out of capturing, saving, and editing images. You'll learn about creating and protecting an image database that allows you to find the image you need when you need it. You'll build strategies for working efficiently without sacrificing your creativity or the quality of your images. You'll leave this course with concrete, step-by-step instructions that will help you be more productive in every step of your process, from image capture to output.
Kevin Kubota
American Photo Magazine named Kevin Kubota one of the "Top 10 Wedding Photographers in the World". His photos have been featured on the covers and within the pages of countless popular magazines and photography books. Kevin has been a featured presenter for Nikon and Adobe, and his work with the Nikon digital camera earned him a spot as a Nikon "Legend Behind the Lens".
Kubota is an internationally recognized speaker, having presented for every major photographic convention in the USA. He created the popular "Digital Photography Bootcamp®" workshop which has been running successfully since 2002. He authored the book under the same name, now in it's second edition, published by Amherst Media. Kevin shares over 2 decades of commercial and portrait lighting experience in his latest book, The Lighting Notebook, published by Wiley. The companion iApp, is available in the iTunes store.
Kubota Image Tools products have won multiple Hot One Awards as well as the Readers Choice Award. Kevin was personally awarded the 2009 Monte Zucker Memorial Humanitarian Award for social service through photography.
More Info:
http://www.creativelive.com/courses/lightspeed-workflow-system-kevin-kubota