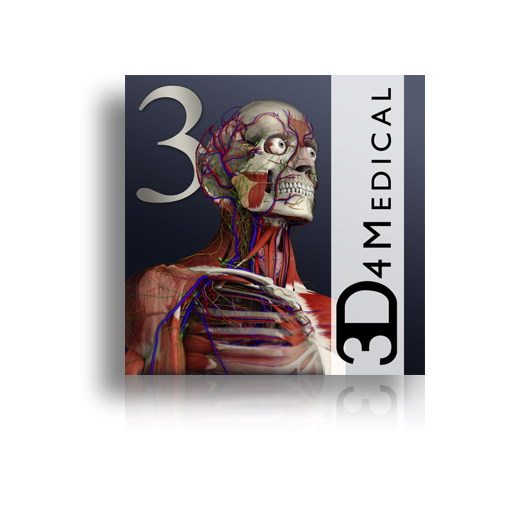 Essential Anatomy 是一款Mac平台上强大的3D解剖图学习参考工具,也是一款难得的学习解剖学的工具,完全3D的画面,包含了人体的骨骼、肌肉、结缔组织、静脉、动脉、神经、淋巴、大脑和心脏等等,由于画面过于立体和真实,笔者看着有些不适应…总之,学医的Mac网友这款软件可以说是非常有价值.
---
Essential Anatomy 3.0 Mac OS X | 600 MB
Essential Anatomy 3 represents the latest in groundbreaking 3D technology and innovative design. A cutting edge 3D graphics engine, custom built by 3D4Medical from the ground up, powers a highly-detailed anatomical model and delivers outstanding quality graphics that no other competitor can achieve.
The app represents a unique approach to learning general anatomy. The graphics are unparalleled and make learning, through the use of informative content and innovative features, a rich and engaging experience.
This app includes essential anatomy for 10 systems:
Skeletal
Muscles
Connective Tissue
Veins
Arteries
Nerves
Respiratory
Digestive
Urinary
Lymphatic
also includes the Brain and Heart

NEW 3D TECHNOLOGY
Essential Anatomy 3 is responsive, visually stunning and effortless. The app is fully 3D, meaning that you can view any anatomic structure in isolation, as well as from any angle. Our new Multiple Selection Mode allows you to select multiple bones and isolate, hide or fade them.

EFFORTLESS NAVIGATION & FUNCTIONALITY
Clever functionality found within the app allows the user to strip away layers of muscle via the 'scalpel' tool. This app provides users with the ability to turn on/off systems without the need to deselect individual structures or muddle through a multitude of predefined regional tabs, like other apps.

PREMIUM INTERFACE DESIGN
Essential Anatomy 3 is designed with the user in mind – the body itself becomes the interface. Unlike other 3D apps, which rely on predefined anatomic arrangements and regional dissections to guide the user, 3D4Medical's Essential Anatomy 3 lets you find what you are looking for without complication.
—- New 3D technology via 3D4Medical's latest graphics engine
—- Over 4,000 highly detailed anatomical structures
—- Simple navigation and user friendly, intuitive interface
—- Correct audio pronunciation, Latin nomenclature and description for each structure
—- Multiple Selection Mode – Hide/Fade/Isolate individual or multiple structures
—- Create and save custom views with Bookmarks
—- Multiple search options
—- Dynamic quiz function – Drag and Drop and Multi-choice
—- Custom search modes
—- Extensive social media tools and sharing capability

What's New in Version 3.0
Brand new next generation models specifically developed for increased performance.
New models should eliminate crash issues reported on some Macs
New models allow more systems to be "on" at the same time.
New models have 23% more structures with a greater level of anatomical detail.
New models include the Lymphatic System.
Compatibility: OS X 10.7 or later, 64-bit processor
---
Download uploaded
http://uploaded.net/file/z95j4wtu/Essen_Anatom_3osx.part1.rar
http://uploaded.net/file/9x60dfe6/Essen_Anatom_3osx.part2.rar
http://uploaded.net/file/72s7yj3r/Essen_Anatom_3osx.part3.rar
Download rapidgator
http://rg.to/file/0b33acb515cc9a4e5c515ac2cb1da9f7/Essen_Anatom_3osx.part1.rar.html
http://rg.to/file/1fc8a6f3ca91437402b4d8468f40629b/Essen_Anatom_3osx.part2.rar.html
http://rg.to/file/0271bf44343c8b741e7e40d7f357fa61/Essen_Anatom_3osx.part3.rar.html
Download 城通网盘
http://www.t00y.com/file/63833463
http://www.t00y.com/file/63833464
http://www.t00y.com/file/63833465
Download 百度云
你是VIP 1个月(1 month)赞助会员,