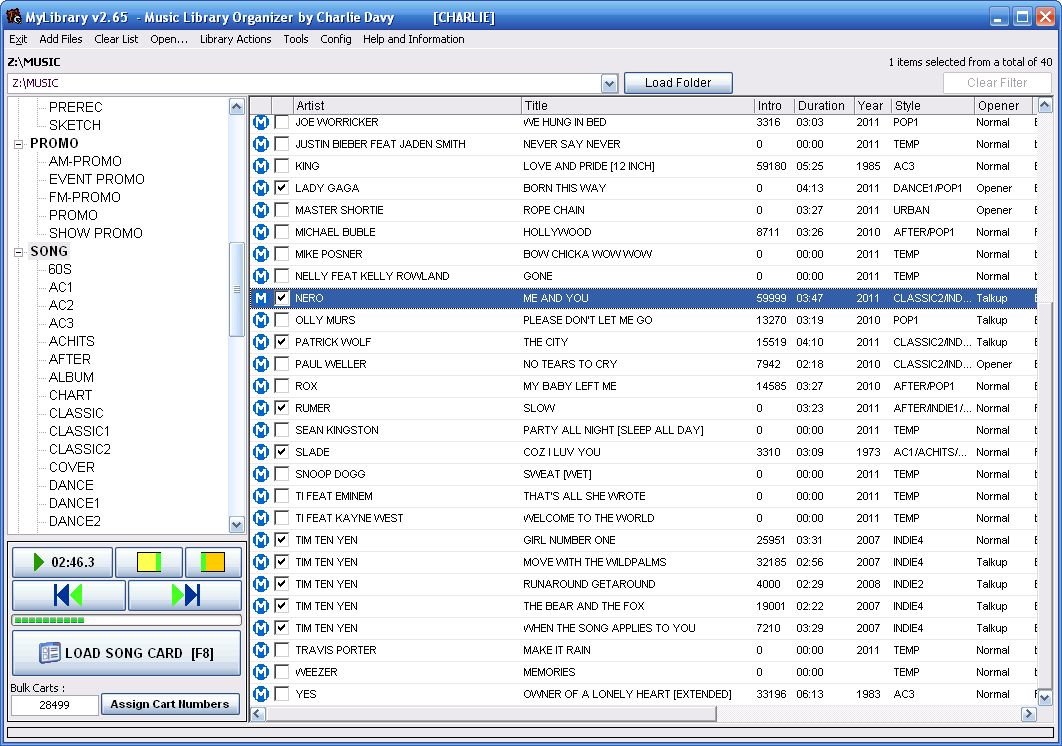 MyLibrary Pro 2.86 Revision 120 | 10.5 MB
MyLibrary is an intelligent file tagger and library application – You can manage your audio files on a "per folder" basis or via M3U/tab-delimited files that can contain details of your music library. You can then edit extra details like Intro/Segue times, EndType, Opener and Category. To save re-reading large folders, you can save the data to a single character/tabbed text-file. 

MyLibrary supports TEN Playout Systems!
Do you want to import meta-data (artist, title, year, cue-points etc) into the following systems from ONE place (without having to enter the same data over and over again) ? AudioEnhanceDPS, AutoTrack, BCX3, Dalet (via the ACE converter), EncoDAD, Genesys, mAirList v3, Natural Music, Powergold, PSquared AutoTrack/Myriad, RCS NexGen/Selector/Master Control, StationPlaylist Creator/Studio – No other application currently handles this many playout systems!

– Want to automatically detect cue points for quickly getting a "playout ready" library imported ?
– Want to edit cue points (intro, hook, segue etc) from your EncoDAD library but don't like their hard-to-use editor ?
– Want to import songs into RCS Selector using the XML format AND have all the cue (intro, hook, segue) points set ?
– Want to save Cart Chunk tags for direct import into EncoDAD, Genesys, Myriad or RCS Master Control ?
– Need a quick and simple audio editor that allows you to see the cue points and perform basic edits ?
– Do you need to import your tag data into Powergold ?
– Want to scan your music for BPMs ?
– Or do you just want a simple audio tagger that allows you to sort and export according to Genre, Duration, Year etc ?

It's probably better to ask "What can't MyLibrary do?" – It does a fair amount, that's for sure. In short, if you want to manage your audio library and/or export to various playout systems/schedulers whilst keeping Cart/CutIDs identical then MyLibrary is probably the tool you need! It supports popular tag formats such as APE, ID3v1+2, plus the broadcast-industry CartChunk format as well as FLAC, MP2, MP3, OGG, WAV (PCM) file formats. It can help you manage a home music library as well as export cue-data and other information to a broadcast playout system and/or scheduler.

In response to requests from both sides of the pond, there is now a fair amount of support for professional playout systems such as Dalet, Enco's DAD, mAirList, PSquared's AutoTrack/Myriad and StationPlaylist Creator/Studio. Exporting your "domestic" library to a playout system and/or scheduler is now just a single click away. It's also being used in Holland to import into the Dalet playout system!

Using / delimited styles, you can export a particular genre/style (as well as other properties like EndType, Opener, Style, Year etc) to a simple text file (ie: M3U format) which you can then load into a scheduler (such as StationPlaylist Creator) – this enables you to be a bit more picky about what files are contained in your Creator Categories.

OS : Windows 8, 7, Vista or XP
Language : English

Home Page – http://www.charliedavy.co.uk
MyLibrary Pro 2.86 Revision 120
Download uploaded
http://uploaded.net/file/eim3euro/MyLibrary.2.86.Revision.120.rar
Download rapidgator
http://rg.to/file/d39237159c506300621d71fc569db249/MyLibrary.2.86.Revision.120.rar.html
Download firedrive
http://www.firedrive.com/file/7C336BB835420718
Download 百度云
http://pan.baidu.com/s/1gdxIMQJ
MyLibrary Pro 2.86 Revision 115
Download uploaded
http://uploaded.net/file/aoihjcwg/MyLibrary.2.86.Revision.115.rar
Download rapidgator
http://rg.to/file/d8859476e7a2f30489a7c5632867a0b4/MyLibrary.2.86.Revision.115.rar.html
Download firedrive
http://www.firedrive.com/file/C5455F0622DF297D
Download 城通网盘
http://www.400gb.com/file/63670594
Download 百度云
http://pan.baidu.com/s/1c0EdC4K