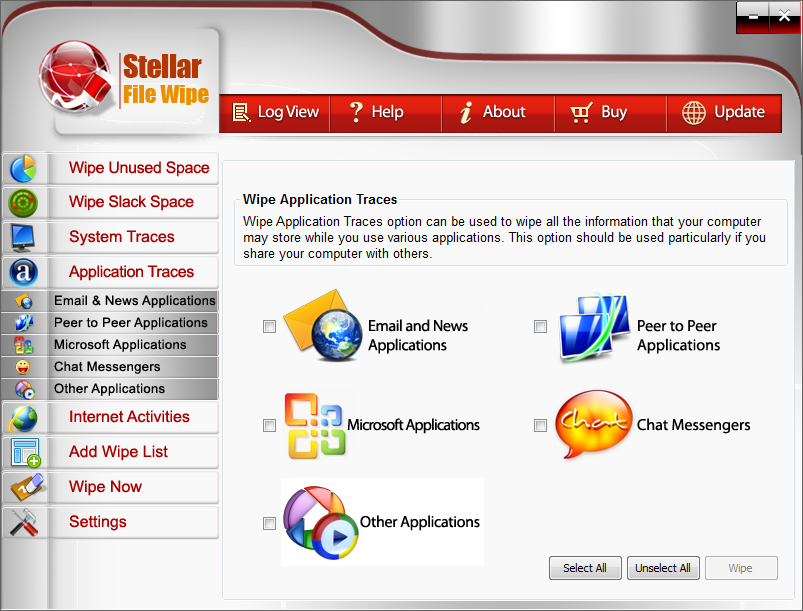 Efficiently wipes能有效地擦除基于Windows的驱动器存在的所有敏感信息。本软件采用先进的覆盖算法来有效地清除您的硬盘驱动器的内容来保证数据的完全清除。该软件可以很容易地擦除文件、文件夹、整个驱动器、可用空间,活动的系统、应用程序的痕迹,等等。
本软件多次用随机无意义的序列覆盖您的机密数据来删除保留在硬盘上的所有证据。
---
Stellar File Wipe 4.1.1.0 | 5 MB
Efficiently wipes all sensitive information present on Windows based drives. File Wipe software that uses advanced overwriting algorithms to effectively erase the contents of your hard drive for securing a complete data destruction. The software can easily wipe files, folders, entire drives, free space, system activity, application traces, etc.
This File Eraser software overwrites your confidential data with random meaningless sequence of bits multiple times to remove all evidences of data remains on your hard disk. Mentioned below are some salient features of this tool:
Delete Files Permanently
The conventional methods of file deletion used in Windows usually delete a reference to the file, leaving all the data of that file on the disk intact. This File wipe utility permanently wipes all files and folders on the selected drive to eliminate the chances of a possible data security leak.
Wipes Unused and Slack Space
The software easily wipes all your unused or free hard drive space and completely erases all slack space found in the last clusters allocated to files. This helps to remove all the traces of previously existing files in your system.
Wipes Internet/Application/System Traces
The File Eraser software irrevocably wipes all the records of your Internet activity (Temporary Internet files), Application traces (MS applications, Peer-to-Peer, Email and News, Chat), and System traces (user data, memory dump, event logs, error reports) present on your drive. This significantly improves your performance and ensures privacy.
'Wipe Now' Option
The File Wipe software allows you to select files, folders, or entire drives for wiping. You can use this feature to quickly wipe a selected drive or specific files and folders present on that drive. The 'Wipe Now' module uses the 'Zeroes' wiping algorithm.
Creates and Maintains Wipe Lists
This File Eraser utility enables you to create and manage 'Wipe lists' containing a group of files to be wiped instantaneously in a single go. You can choose from the saved lists and use the software to wipe them at any convenient time.
Option to Set Wipe schedules
You can use the File Eraser software to schedule the wiping process for a later point in time. You need to specify the wiping tasks to be performed and different parameters, such as frequency of the process, start time, and date.
Supports Range of Wipe Algorithms
This file eraser software uses a variety of advanced, indigenous algorithms to perform the wiping task. Either you can select algorithms in the 'Disk Settings' section to wipe unused/slack space or in 'File Settings' for wiping System traces, Application traces, and Internet activities.
Home Page – http://www.stellarinfo.com/
Stellar File Wipe 4.1.1.0
Download rapidgator
http://rg.to/file/3419550febef7f580f50ec39e29a1d2c/Stellar_FileWipe_v4.1.1.0.rar.html
Download uploaded
http://ul.to/z9dl0rdr
Download firedrive
http://www.firedrive.com/file/768EEC37A249FF0E
Download 城通网盘
http://www.400gb.com/file/65266232
Download 百度云
http://pan.baidu.com/s/1eXnbS
Stellar File Wipe 4.1.0.0
Download uploaded
http://uploaded.net/file/q33cfbpl/Stellar_File_Wipe_4.1.0.0.rar
Download rapidgator
http://rg.to/file/b57348dfd64b786bc239239220409b25/Stellar_File_Wipe_4.1.0.0.rar.html
Download 城通
http://www.t00y.com/file/57707251
Download 百度云
http://pan.baidu.com/s/1rLbzw
转载请注明:0daytown » Stellar File Wipe 4.1.1.0