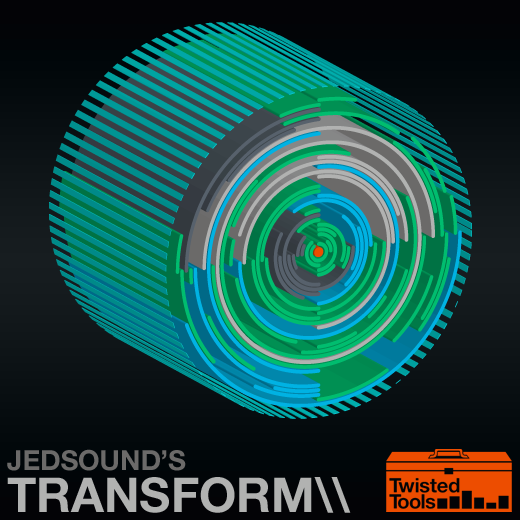 Twisted Tools TRANSFORM MULTiFORMAT | 1.8 Gb
TRANSFORM is an extensive collection of field recordings, sound effects and designed sounds developed by sound designer Jean-Edouard Miclot (a.k.a. JEDSOUND). Bundled with sample mappings for many popular formats, TRANSFORM's painstakingly recorded and processed sounds will find their home in the arsenals of sound designers, editors and music producers alike.
TRANSFORM features over 1.6 Gigabytes of 24-bit/96khz audio, all meticulously embedded with Soundminer enriched metadata and processed using a plethora of sound design tools, such as Symbolic Sound's Kyma. Whether you're a sound designer needing a massive Hollywood impact, an editor looking for a radio stinger or a musician wanting to add some ice crunch to a snare…or bass wobbles made from a processed moose, TRANSFORM has something for you.
To increase productivity and speed up workflow, Transform comes with sampler presets for the EXS24MKII, Kontakt, Battery, Maschine and Reaktor as well as the all new MP16c sampler for *Reaktor. To top it off, we've included MP16c templates for Maschine MK1, Kore and TouchOSC for the iPad, as well as bonus material by Richard Devine.
Samplepack Features:
• Over 1.64 gigabytes of field recordings, sound effects and designed sounds
• 24bit/96khz WAV audio embedded with Soundminer enriched metadata
• 46 sampler instruments for a variety of popular *formats
*Ableton Simpler/Sampler, Battery 3, EXS24 MKII, Kontakt 3, Maschine and Reaktor 5
• A brand new version of Twisted Tools' MP16, called MP16c
• Kore and Maschine MK1 templates for MP16c
• TouchOSC MIDI and OSC template for MP16c 
• Kyma Instrument
• Bonus kit by Richard Devine
• Additional content by Twisted Tools and Jedsound
MP16c Sampler Features:
• 16 Voice Polyphonic Sampler
• Pad style layout
• Unique parameter and modulation settings for per voice
• EQ, VERB and SPREAD FX per Voice
• Note repeat effect per voice
• Two LFOs per voice
• Kore and Maschine MK1 Templates
• BPM Sync
• Presets
• Kore and Maschine MK1 Templates
• TouchOSC Template by h3xl3r and Twisted Tools
• Reaktor Maps for Transform
System Requirements
• Approx. 2.09 GB of disc space
• At least 1 gig of RAM for most sampler instruments
• Internet connection for product download
• Any Mac or PC program that can read .WAV files
• Native Instruments Reaktor 5.8 for PC or MAC if using the included MP16c Sampler. Reaktor Player is NOT supported.
• Native Instruments Kore 2.1.2 (if using included Kore 2 template)
• Native Instruments Battery 3 (if using Battery kits)
• Native Instruments Kontakt 3 (If using Kontakt kits)
• Logic 9 (if using the Logic Kits)
• Kyma (if using Kyma Instrument)
Twisted.Tools.TRANSFORM.MULTiFORMAT.MERRY.XMAS-SYNTHiC4TE
Home Page – http://twistedtools.com/
---
Download uploaded
http://uploaded.net/file/4pl6070s/syn-tttrtf.part01.rar
http://uploaded.net/file/x1loheuy/syn-tttrtf.part02.rar
http://uploaded.net/file/r04bj855/syn-tttrtf.part03.rar
http://uploaded.net/file/6k7jn2qy/syn-tttrtf.part04.rar
http://uploaded.net/file/ek3etfqo/syn-tttrtf.part05.rar
http://uploaded.net/file/em83csda/syn-tttrtf.part06.rar
http://uploaded.net/file/6scj01p0/syn-tttrtf.part07.rar
http://uploaded.net/file/7s1djhu0/syn-tttrtf.part08.rar
http://uploaded.net/file/t7ugmix1/syn-tttrtf.part09.rar
Download filefactory
http://www.filefactory.com/file/6kzswma9twhb/n/syn-tttrtf.part01.rar
http://www.filefactory.com/file/2upbaqltcz3h/n/syn-tttrtf.part02.rar
http://www.filefactory.com/file/2bkno7nel2t5/n/syn-tttrtf.part03.rar
http://www.filefactory.com/file/60r9obws8ge1/n/syn-tttrtf.part04.rar
http://www.filefactory.com/file/6pdfss4663jx/n/syn-tttrtf.part05.rar
http://www.filefactory.com/file/19wwbomrxe8n/n/syn-tttrtf.part06.rar
http://www.filefactory.com/file/7djntnqt3go9/n/syn-tttrtf.part07.rar
http://www.filefactory.com/file/1kbk66w835f9/n/syn-tttrtf.part08.rar
http://www.filefactory.com/file/2q5ursq54n2n/n/syn-tttrtf.part09.rar
Download 百度云