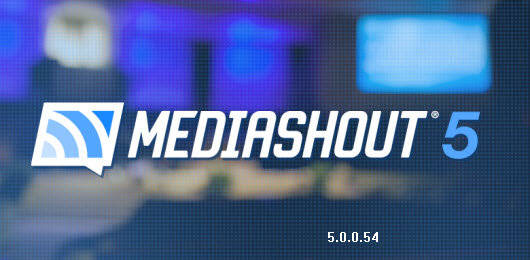 MediaComplete MediaShout 5.0.0.54 | 72 MB
We are pleased to introduce the newest member of the MediaShout family, MediaShout 5. Our latest version is the culmination of nearly 13 years of development, and it is without a doubt the most powerful and user-friendly MediaShout ever released.
MediaShout 5 is our most advanced software ever. We've listened to our customers, and have added features based on their requests. Long-term and first-time users alike will love our new features like multiple objects per slide, a redesigned user interface, Announcement Manager and more.
MediaShout 5 is the perfect combination of power and ease. Your volunteers will love the simplicity of drag-and-drop script creation, and seasoned media professionals will love the advanced features included. No matter the size or type of your ministry, MediaShout 5 will make a difference.
New Features for MediaShout 5
Multiple Objects Per Slide
With MediaShout 5, you can have multiple text boxes, images and videos all on the same slide. Creating powerful presentations has never been easier. 
New User Interface
We've redesigned the entire user experience. MediaShout 5 is elegant and user-friendly, putting the tools you need right at your fingertips. 
Announcement Deck
MediaShout 5 has the all new Announcement Deck. With this tool, MediaShout will automatically display the announcements you want in a given week, and skip the ones you don't want. 
New Video Engine
Dissolve, wipe, fly and more. WIth our overhauled video engine, MediaShout 5 can control object transitions down to the 10th of a second. You can also take full advantage of video files with Alpha channels. (Alpha Channel functionality requires an AMD graphics card) 
Stage Mirroring
You can now mirror your main display on a cue-by-cue basis to the stage monitor, expanding the capacity of the Stage Display for your platform team.
Content
Add Scripture from 65 Bible Versions (Included)
While other church presentation software charges you per version, we include 65 versions of the Bible absolutely free. 
Include Song Lyrics From a Variety of Sources
We've included lyrics to 600 songs, plus you can connect with CCLI's SongSelect to import any of their over 100,000 songs. 
Include Sermon Points To Help Illustrate Your Point
Sermon points and notes can be displayed on the screen easily and over virtually any still or moving image. With a confidence or stage monitor, points and notes can also be displayed so those on stage are the only ones who see them. 
Include Virtually Any Media Type
MediaShout plays video, DVDs, mp3s, CDs, aiff files, wav files, PowerPoint files, still images, YouTube clips, website, and games.
Integration
Integration with Planning Center
MediaShout works with Planning Center, an online worship planning and volunteer management site at get.planningcenteronline.com. 
Integration with CCLI's SongSelect
We're fully integrated with CCLI's SongSelect, so you can easily import any song in their database directly into your presentation.
Ease of Use
The Ease of Drag And Drop
We designed MediaShout to give you quick access to what we call cues. To insert a song, announcement, video, sermon point, or other cue into your worship presentation, just drag and drop. 
Fast Folders & File Deck
Have access to files and folders on your computer, then drag and drop them into your script. FastFolders gives you an easy way to keep track of your favorite places. 
Customize Text & Create Templates
Create multiple templates, then apply formatting, effects, background, and any other settings with one click. Drag and drop margins and standard formatting tools also let you make simple edits fast and play text from the Text Deck.
Flexibility
Edit & Create On The Fly
Make changes, add new files, revise, and update while the presentation is running. And do it all seamlessly, without distracting the audience. 
Home Page – http://www.mediashout.com/
---
Download uploaded
http://uploaded.net/file/il28re4y/MediaComplete.MediaShout.v5.0.0.54.Incl.Keymaker-CORE.rar
Download rapidgator
http://rapidgator.net/file/bc63f581ff6ef62190b8385b52dc4eaf/MediaComplete.MediaShout.v5.0.0.54.Incl.Keymaker-CORE.rar.html
Download filefactory
http://www.filefactory.com/file/19hl1rh00vij/n/MediaComplete.MediaShout.v5.0.0.54.Incl.Keymaker-CORE.rar
Download 城通网盘
http://www.400gb.com/file/48999928
Download 百度云
http://pan.baidu.com/s/1qW4O9tU