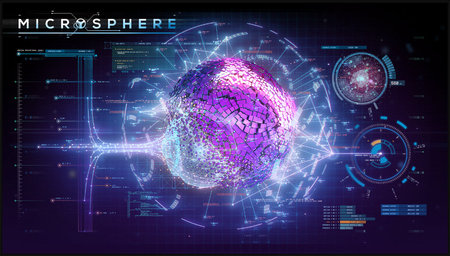 Glitchmachines Microsphere KONTAKT | 2.33 Gb
Microsphere is a new sci-fi sample library by sound designer Ivo Ivanov, focused on the analysis of a hidden sonic universe. Whether you are building hi-tech weapon effects for a blockbuster sci-fi shooter, designing robotic articulations for a futuristic animated feature film, working on ultra modern interface sounds for a new tablet commercial, or creating complex layered transitions for a cutting edge electronic music project, Microsphere delivers an extraordinary palette of sound that will take your productions into uncharted territory.
You will find an extensive selection of expertly crafted sound effects, including abstract interface tones, detailed scientific computations, hyper-dimensional holographic grids, precision motion gesture signals and intricate interference bursts, to name just a few. Designed to be equally geared toward game audio, multimedia and music production applications, this sample library is brought to you in the highest possible definition and developed with some of the most sophisticated audio manipulation tools in existence.
By recording electromagnetic fields with special equipment, we have captured an exotic collection of hidden sounds, including audible data transmissions, noise-beds, code sequences, noise bursts and other aural artifacts normally concealed from our sensory perception. Every imaginable source was captured, including scanners, cameras, toys, modems, hard drives, tools, appliances, motors and much more.
To reinforce the library's unique aesthetic and maximize its vast sonic potential, Microsphere also includes a distinctive ensemble of synthetic tones and textures. This content was sourced from an assortment of boutique hardware devices, synthesizer modules and hybrid soft synths, and processed using an eclectic variety of specialized software and unconventional production techniques.
Microsphere comes with 3GB of high quality audio content, which has been meticulously tagged with Soundminer metadata to facilitate optimized searching and professional database integration. Kontakt 5 sampler presets are included for instant playability.
The true potential of this library lies in the possibilities presented by layering sounds from the various sound effects clusters. Discover the powerful scope of Microsphere's sonic arsenal and reveal a hidden world of infinite sonic possibilities!
CONTENT & FORMATTING:
• 3GB of 24bit/96khz .wav audio files
• All audio files are embedded with Soundminer metadata*
• Sampler instruments for NI Kontakt
• Content split into logical categorical groups
SYSTEM REQUIREMENTS:
• Broadband Internet connection for product download
• Approximately 3GB of hard drive space
• Minimum 1GB RAM for most sampler kits
• Native Instruments Kontakt 5 (for Kontakt kits)*
Glitchmachines.Microsphere.KONTAKT.MERRY.XMAS-DISCOVER
Home Page – http://www.glitchmachines.com/products/microsphere/
---
Download uploaded
http://uploaded.net/file/sgvkl558/dis-gmmk.part01.rar
http://uploaded.net/file/f60mte30/dis-gmmk.part02.rar
http://uploaded.net/file/222v2n6u/dis-gmmk.part03.rar
http://uploaded.net/file/8vtf9ccg/dis-gmmk.part04.rar
http://uploaded.net/file/zw0vz4tc/dis-gmmk.part05.rar
http://uploaded.net/file/wx2skjl0/dis-gmmk.part06.rar
http://uploaded.net/file/yhxf944g/dis-gmmk.part07.rar
http://uploaded.net/file/ej4zdl6l/dis-gmmk.part08.rar
http://uploaded.net/file/ldfwougc/dis-gmmk.part09.rar
http://uploaded.net/file/tgd5v7sk/dis-gmmk.part10.rar
Download filefactory
http://www.filefactory.com/file/7litd8y92lj/n/dis-gmmk.part01.rar
http://www.filefactory.com/file/4456wt2rrdph/n/dis-gmmk.part02.rar
http://www.filefactory.com/file/27qscgb5wr7x/n/dis-gmmk.part03.rar
http://www.filefactory.com/file/6h3oasegy7od/n/dis-gmmk.part04.rar
http://www.filefactory.com/file/5vve76uxqk0n/n/dis-gmmk.part05.rar
http://www.filefactory.com/file/7hhg8gngmn97/n/dis-gmmk.part06.rar
http://www.filefactory.com/file/1g0yvt8blecj/n/dis-gmmk.part07.rar
http://www.filefactory.com/file/42n0frxr8vu1/n/dis-gmmk.part08.rar
http://www.filefactory.com/file/6as0c9n3tspd/n/dis-gmmk.part09.rar
http://www.filefactory.com/file/5d4i8880oib9/n/dis-gmmk.part10.rar
Download 百度云