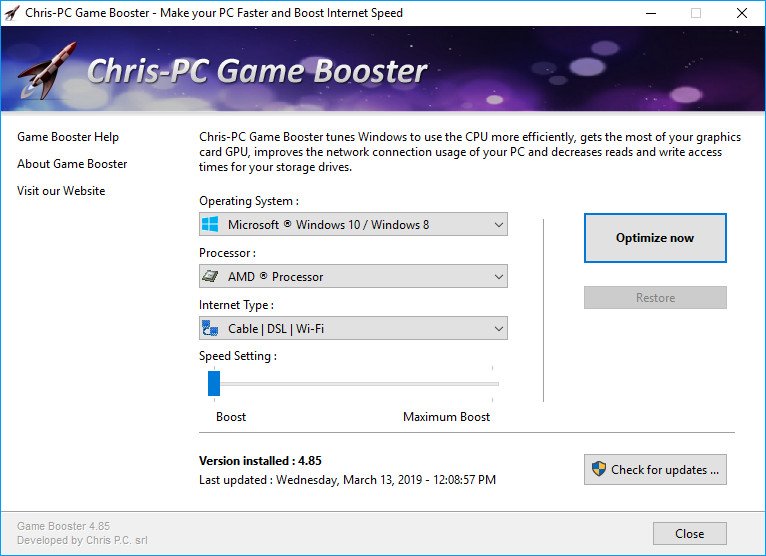 Chris-PC Game Booster是一个轻量级的和用户友好的程序,其主要目的是为您提供完善系统的游戏性能的能力,这样你就可以从中受益发挥到淋漓尽致,而无需购买新的硬件。
该实用程序是安装非常简单,不会构成不寻常的问题,无需额外的软件。它具有一个直观的界面,是相当平易近人,即使是没有经验的多。
Chris-PC Game Booster增压泵使您可以选择首选的操作系统,处理器和网络类型,虽然当你启动它它可以自动检测这些细节。此外,还可以调整滑块来获得首选速度设定(加速和最大提升'之间不等) ,最后点击立即优化按钮。
应用程序将然后开始执行一系列的系统配置,调整中,你的CPU是被游戏过程中使用的方法,以及你的显卡,显示器的刷新率,以及其他内存调整;此操作可能需要几分钟
此外,克里斯 – 电脑游戏助推器也将调整部分互联网设置,这是特别有用的,如果你玩网络游戏,需要提供最佳的响应,这样你就可以在游戏中避免滞后,这可能会导致你输了比赛。
为了完成配置,让新的设置变得活跃,你将需要重新启动计算机。与此同时,如果你不满意Chris-PC Game Booster助推器所做的修改,您可以随时按下恢复按钮,它会撤消它所做的任何更改,将其运送至原来的推荐值。
最后,Chris-PC Game Booster是一个有趣的软件,有望通过调整几个相关的系统和网络设置,为您提供更好的反应速度,一切只用一个鼠标,以提高您的计算机的游戏性能单击。
---
File Size: 6.36 MB
Chris-PC Game Booster is a an outstanding product of Chris P.C. srl that will rocket your PC and get its full hardware potential. Many of us relax by reading books, listening to music and most of us by playing games. And yes, Chris-PC Game Booster is a software tool meant for those who want to get the utmost from their PC hardware in order to play their favorite games. Windows is built for generic usage and therefore has average to poor performance for specific programs like games that use intensively specific parts of the hardware.
---
Chris-PC Game Booster goes in action setting different Windows parameters in registry and configurations files in such a way that it allows faster access to RAM memory, CPU/GPU, storage disks and cache memory. Furthermore it tunes the Windows network parameters in such a way as to obtain the slim setup needed for an online gamer profile.
Chris-PC Game Booster has many key features like:
Improved graphical user experience in games without the need of upgrading to expensive new hardware (CPU/GPU/RAM): higher display frame rates, smoother graphics animations and better read/write access times to storage drives;
Better online multiplayer games experience, without network lags.
No game patching: Anti-cheat mechanisms of games will not treat Chris-PC Game Booster as a cheating software.
Restore option to previous Windows settings: Convenient for keeping compatibility with other programs that you use frequently.
Increases the speed of all internet connection types such as Cable, DSL, U-Verse, Fios and dial-up.
Advanced software based over-clocking feature which enhances memory speed, CPU prioritization of full screen applications and internet speed for games.
Optimizes your computer hardware with 1 click to allow games to run faster and increases the speed of your internet connection for faster downloads and speed.
Simple and intuitive interface.
Homepage