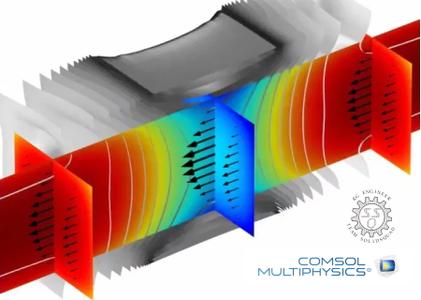 新版本5.x的 COMSOL Multiphysics® 引入了多项新功能与产品,包括有望为仿真行业带来彻底变革的 App 开发器。
COMSOL Multiphysics®
App 开发器可以通过 COMSOL 模型创建专业的 App 应用程序,提供给您机构中的所有工程和设计人员使用
极大地扩展了预定义的多物理场耦合
新的求解器算法可以对复杂 CAD 装配体实现快速网格剖分和仿真,并支持带有悬挂节点的非一致性网格
通过额外维度支持多尺度仿真
根据导入的网格创建几何,而后可以通过实体操作进行编辑
接口 & 多功能
通过新增的放样、圆角、倒角、中型面,以及加厚等功能,新增的设计模块扩展了现有的 CAD 操作工具箱
LiveLink™ for Revit® 模块可帮助 COMSOL Multiphysics® 用户接入建筑信息模拟软件Autodesk® Revit®
可通过不同求解类型的组合进行多元分析优化
粒子追踪模块现已支持对粒子累积、侵蚀和刻蚀的仿真
电气
新增射线光学模块使用光线表述电磁波,可用于分析电磁波长远小于模型中最小几何尺寸的系统
由频率和材料控制的一键式网格剖分,可对无限元、完美匹配层(PML)以及周期性边界进行快速智能的网格剖分
等离子体模块新增了多个用于仿真平衡放电的接口
可通过半导体模块和波动光学模块进行光电元件仿真
力学
声学模块新增了两个用于模拟高频声波或几何声学的方法:射线声学和声扩散
传热模块新增模拟薄层、薄膜、杆和裂隙的功能,有效地减少对计算资源的需求
可通过结构力学相关模块模拟几何非线性梁、非线性弹性材料以及关节中的弹性
流体 & 化工
新增的代数湍流模型可以帮助实现更快的仿真:代数 y+ 和 L-VEL
支持栅板和风扇中的湍流分析
新增使用额外维度功能的反应颗粒床接口
新增化学接口,并对反应工程接口进行升级
---
Comsol Multiphysics 5.5 Update 3 | 4.5 Gb
The Comsol product team is pleased to announce the availability of COMSOL Multiphysics 5.5 Update 3. This update contains performance and stability improvements to COMSOL Multiphysics, COMSOL Server, and COMSOL Client.
COMSOL Software version 5.5 Update 3 – Released February 25, 2020
All COMSOL software products undergo stability improvements that are introduced as updates. The following list contains the most important improvements in COMSOL version 5.5 update 3 (including those of update 1 and update 2).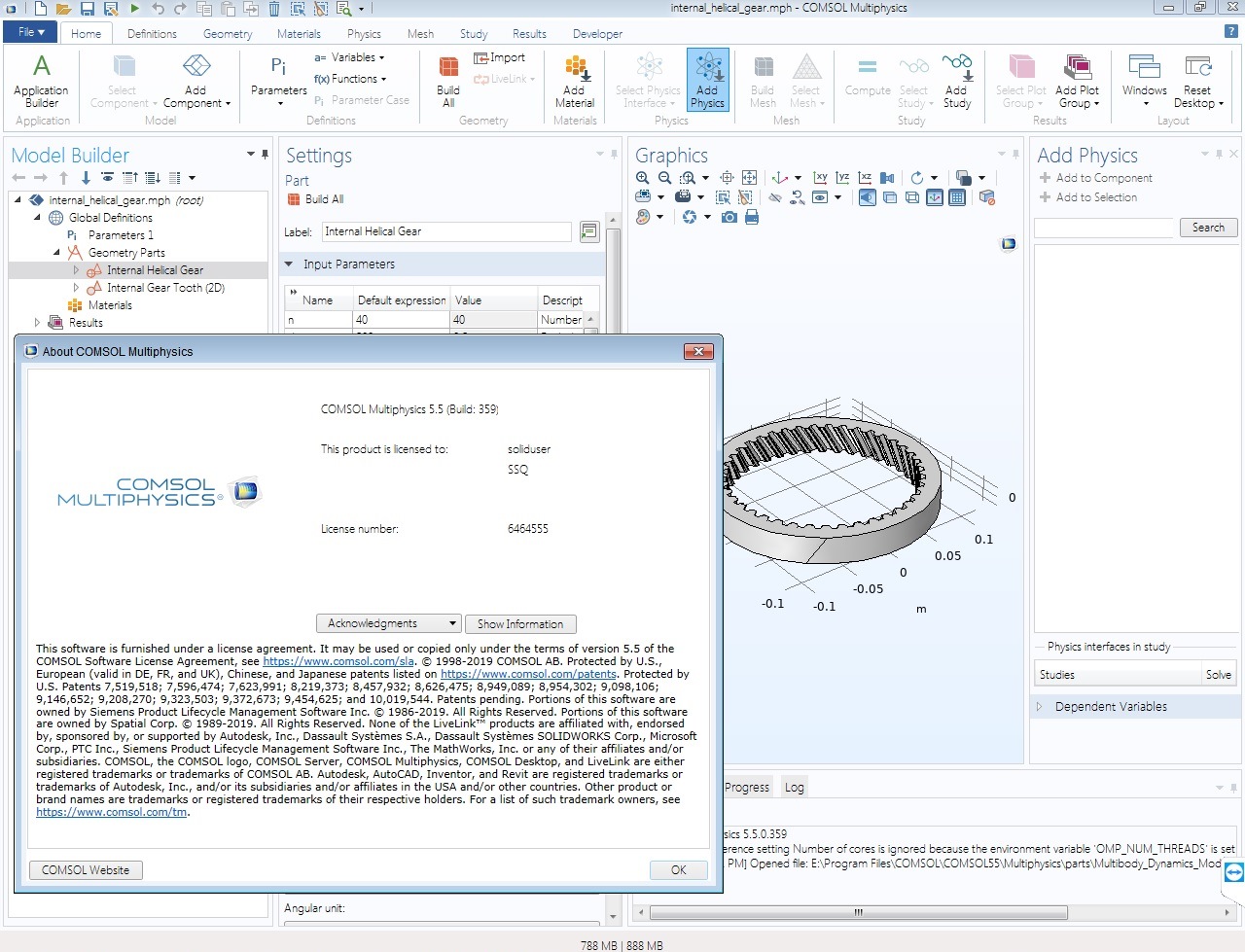 BURLINGTON, MA, Nov 18, 2019 – COMSOL, the leading provider of software solutions for multiphysics modeling, simulation, and application design and deployment, announces the latest version of its COMSOL Multiphysics software. In version 5.5, the Design Module provides an entirely new sketching tool for easier creation and more versatile parametric control of geometry models. New and updated solvers speed up a wide range of simulations. Two new add-on products, the Porous Media Flow Module and the Metal Processing Module, further expand the product suite's multiphysics modeling power.
A multifaceted and collaborative development process leads to success at Samsung. The COMSOL team visited the Samsung Audio Lab to hear from Allan Devantier and Andri Bezzola about how simulation helps them develop optimized products faster, and even design innovative products. Simulation is an important part of loudspeaker design, as it allows you to account for the inherent nonlinearities involved in acoustics and to examine all of the physical effects simultaneously. To get accurate and reliable results, it's crucial to validate simulation results with testing. At Samsung, the simulation engineer develops an optimized design. The loudspeaker is then tested in anechoic chambers and through blind listening tests. Another unique aspect of the Samsung Audio Lab is that simulation, development, and testing all take place under one roof. In addition, simulation applications help the team collaborate effort effectively. That's why Samsung uses COMSOL Multiphysics® to develop loudspeaker designs.
COMSOL Inc. is a global provider of simulation software for product design and research to technical enterprises, research labs, and universities. Its COMSOL Multiphysics product is an integrated software environment for creating physics-based models and simulation applications. A particular strength is its ability to account for coupled or multiphysics phenomena. Add-on products expand the simulation platform for electromagnetics, structural, acoustics, fluid flow, heat transfer, and chemical applications. Interfacing tools enable the integration of COMSOL Multiphysics simulations with all major technical computing and CAD tools on the CAE market. Simulation experts rely on COMSOL Server to deploy applications to their design teams, manufacturing departments, test laboratories, and customers throughout the world. Founded in 1986, COMSOL has 19 offices worldwide and extends its reach with a network of distributors.
Product: Comsol Multiphysics
Version: 5.5.0 Update 3 (Build 359)
Supported Architectures: x64
Website Home Page : http://www.comsol.com
Language: multilanguage
System Requirements: Win / Linux *
Supported Operating Systems: *
Size: 4.5 Gb
---
Password/解压密码-0daydown
Download rapidgator
https://rg.to/file/c4379845995aa53cb0c57da3e683de0f/solCoMy550359.part1.rar.html
https://rg.to/file/0cbb1e24118ffc84e4e5eac32471874f/solCoMy550359.part2.rar.html
https://rg.to/file/2e7fc123492bc3e622af49ac9b4dcf0e/solCoMy550359.part3.rar.html
https://rg.to/file/94032caa952a5741465be70ddd717968/solCoMy550359.part4.rar.html
https://rg.to/file/fe7d85d610d9aae705c0e701df9a94ff/solCoMy550359.part5.rar.html
https://rg.to/file/a2b5f9e1e21c056af6f2b7ca600a2981/solCoMy550359.part6.rar.html
https://rg.to/file/b1d9740db7b6613a5939e6a5199134ec/solCoMy550359.part7.rar.html
Download nitroflare
https://nitroflare.com/view/6D872182D60E703/solCoMy550359.part1.rar
https://nitroflare.com/view/8A6C5148E67BED5/solCoMy550359.part2.rar
https://nitroflare.com/view/30FD1692A72B07F/solCoMy550359.part3.rar
https://nitroflare.com/view/C2762399476D32A/solCoMy550359.part4.rar
https://nitroflare.com/view/A6E4FA6D7FC1362/solCoMy550359.part5.rar
https://nitroflare.com/view/EC4109C259F2237/solCoMy550359.part6.rar
https://nitroflare.com/view/A7397CA5343C53C/solCoMy550359.part7.rar