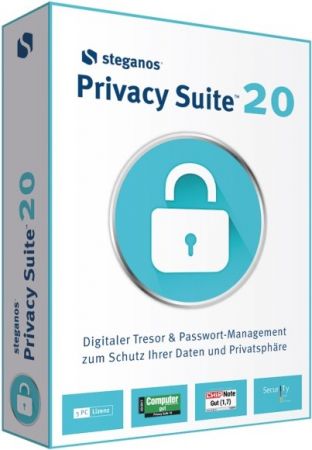 Steganos Privacy Suite 是一套功能非常强大而且简单易用的加密工具包,也就是一款一站式数据安全保护软件,使用Steganos加密技术可以把敏感数据隐藏到不易引人注意的图片、声音文件中;高度敏感数据则能够存储到安全硬盘中,然后按一下按钮就可以在操作系统中消失无踪。Steganos Privacy Suite可以保护电脑隐私,如创建安全密码、创建安全磁碟或快闪随身碟、加密文件、彻底删除电脑中重要资料等。
---
File size: 60 MB
Steganos Privacy Suite 20 is the all-in-one carefree data protection package. It combines the Steganos Safe and Steganos Password Manager with added features that are only available in the Privacy Suite. This encryption software enables users to securely store data and hide it from public view. It also allows them to send encrypted e-mails that require a password for the recipient to open it. Private data can also be hidden behind a picture or sound file.
---
Steganos Privacy Suite 20 locks and encrypts documents, photos and your e-mail post office in a virtual data safe. Secures USB sticks, CDs, DVDs and Blu-Rays when on the go. Organizes and manages all of your passwords and access information. All securely encrypted, of course.
Steganos Privacy Suite 20 supports Drag and Drop, or fills out website forms automatically. Shreds unwanted data permanently – cannot be reconstructed by data recovery applications.
Additionally, Steganos Security Suite 20 helps users manage their vast number of passwords and pin numbers and eliminate ones that might easily be found out. Finally, it deletes traces of PC and Internet usage and eliminates unwanted remnants of data from the hard drive.
Steganos Privacy Suite 20 Features:
Two-factor authentication for your Safes and keychains (supports Authy, Google Authenticator and more)
Transform whole hard disk partitions into Safes
Directly access your Private Favorites through the browser plugins in Chrome and Firefox
Backup Assistent to support you in case of keychain problems
Extended Privacy functionality: Blocks even more ads und trackers
Mobile keychain access with your fingerprint – now on Android too
Convenient password import from Google Chrome
Automatically expanding Safes that save you precious Flash Drive space
Safe size up to 2TB (2,048 GB)
Protects your online privacy by stopping tracking as well as advertising and anonymizes your browser
Optimized Steganos Shredder for secure, irretrievable data removal
Webcam protection
More Features:
Easily configure safes in your home network
Supports data encryption in Dropbox, Microsoft OneDrive, Google Drive and MagentaCLOUD
Safes are now simple to move and delete
AES-XEX encryption with 384 bits (IEEE P1619) with AES-NI Hardware acceleration for optimal protection against thieves, snoops, and intelligence services
The unlocked safe seamlessly integrates itself in Windows as a disk drive and can be used from within any application
Steganos Safe not only encrypts your data, but also inconspicuously hides it in a picture, piece of music or a video if desired
USB stick as safe key: once ejected, the virtual vault closes and the sensitive data is protected
PicPass (picture passwords), Steganos Shredder (permanently destroys files)
Whats New:
NEW Steganos Mobile Privacy apps can now be used to create and edit keychains
NEW Full synchronization between Mobile Privacy Apps and Steganos Password Manager 20 via OneDrive, Google Drive, Dropbox or MagentaCLOUD
NEW Full synchronization also between multiple installations of Steganos Password Manager 20
NEW Completely revised user interface
NEW Improved brute force protection for master passwords
NEW Improved shredder and backup integration
Homepage
转载请注明:0daytown » Steganos Privacy Suite 20.0.13 Multilingual