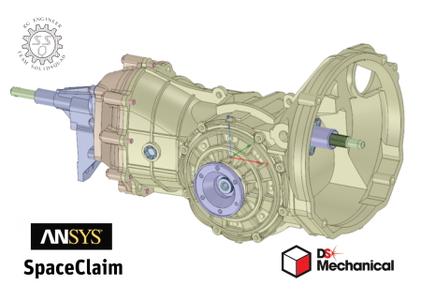 SpaceClaim 是世界首个自然方式3D 设计系统 – 用户可以比以往任何时候更快的速度进行模型的创建和编辑。不同于基于特征的参数化CAD系统,SpaceClaim 能够让用户以最直观的方式对模型直接编辑,自然流畅地进行模型操作而无需关注模型的建立过程。
SpaceClaim 作为富有创意的3D建模解决方案,日前推出了其第四代产品,SpaceClaim Engineer 和 SpaceClaim Style。这些直接建模工具象征了这10多年来3D工程领域最显著的技术进步,从简单发展到能够专供工程师和工业设计师自由灵活操作,快速捕捉灵感,可以随意编辑实体模型而不用考虑坐标原点,并为分析,原型,制造做设计准备。
SpaceClaim使得设计和工程团队能更好的协同工作,能降低项目成本并加速产品上市周期。SpaceClaim让您按自己的意图修改已有设计,不用在意它的创建过程,也无需深入了解它的设计意图,更不会困扰于复杂的参数和限制条件。
ANSYS SpaceClaim的性能提升了十倍以上,其能为您节约大量时间,并为您提供更多进行快速几何图形创作和编辑的工具,同时还提高文件导入和编辑的能力。总而言之,ANSYSSpaceClaim可以在整个工作流程中提升您的工作效率。
---
ANSYS SpaceClaim 2020 R1 SP0 | 1.4 Gb
ANSYS has announced the release of SpaceClaim 2020 R0, is a fast and intuitive 3-D modeling software solution that enables any analyst or engineer to create, edit and repair geometry no matter where they are in the workflow.
ANSYS SpaceClaim enables anyone to work with 3D geometry, faster and with an ease of use not available in other solutions. Built on direct modelling technology, ANSYS SpaceClaim provides market-leading capabilities for concept modelling, design, manufacturing, 3D printing, reverse engineering, and simulation/CAE.
ANSYS SpaceClaim is a CAD neutral tool that enables you to quickly and easily manipulate geometry yourself, instead of sending it back to the CAD department. Using SpaceClaim, CAE drives product innovation and development from the start of the design process to accelerate time to analysis and increase efficiencies in product design/production.
With DesignSpark Mechanical we aim to give every engineer the power to quickly design and change product concepts in 3D without having to learn complex traditional CAD software. Results include faster turnaround times, zero investment on procuring/training with new CAD software and true innovation.
With SpaceClaim, engineers can collaborate in the design and manufacture of mechanical products across a broad range of industries. The software provides a highly flexible design environment coupled with a modern user experience.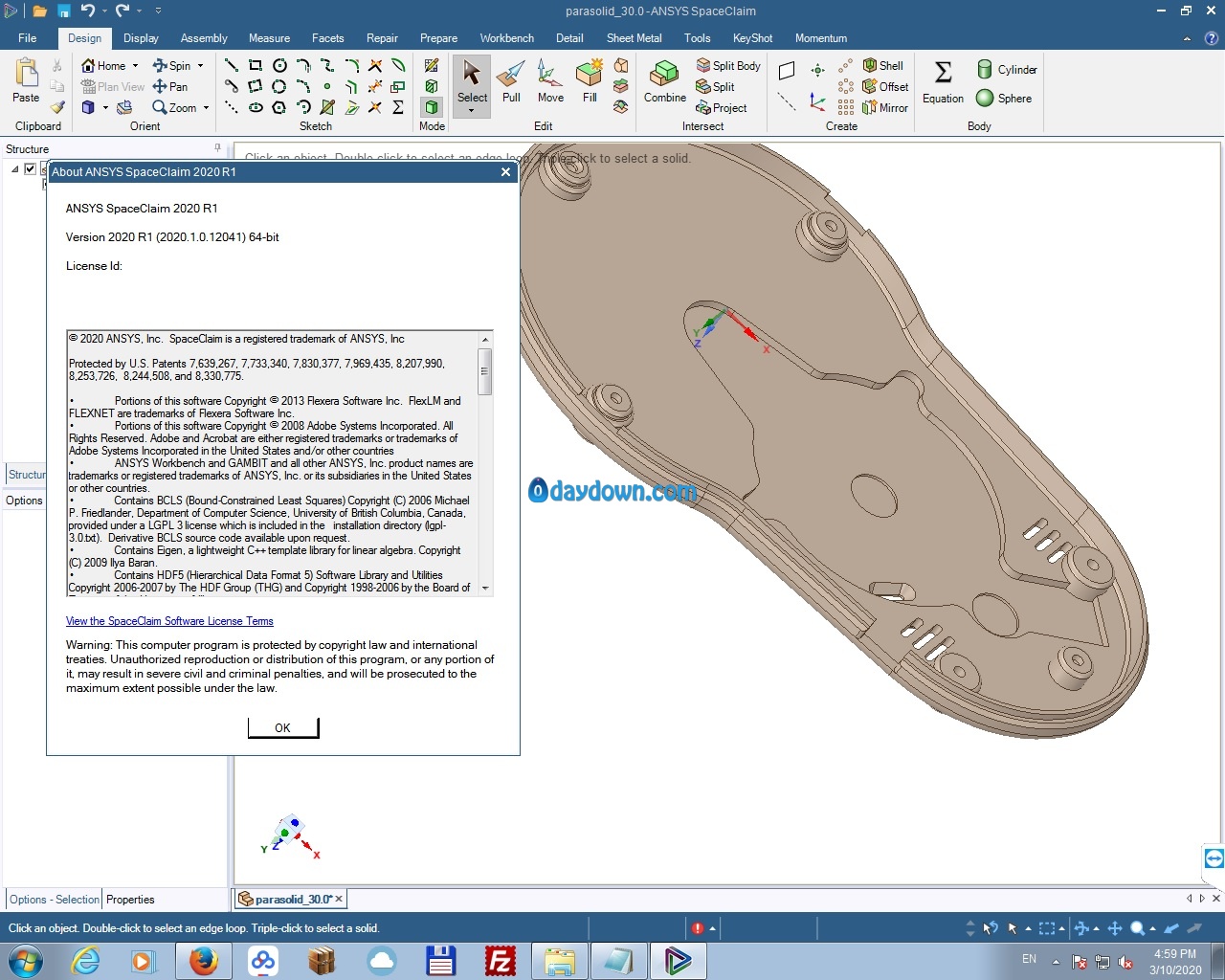 SpaceClaim Corporation develops 3D modeling software for engineering and manufacturing sectors. It provides 3D modeling software solutions for design, manufacturing, modeling and simulation, and reverse engineering. The company enables engineers and other manufacturing professionals to create new designs or manipulate and edit existing 2D and 3D geometry. It markets and sells its products through authorized resellers in the United States and internationally. The company was founded in 2005 and is based in Concord, Massachusetts with additional offices in the United Kingdom, France, Germany, and Japan. As of April 30, 2014, SpaceClaim Corporation operates as a subsidiary of Ansys, Inc.
Product: ANSYS SpaceClaim
Version: 2020 R1 build 2020.1.0.12041 with DesignSpark Mechanical
Supported Architectures: x64
Website Home Page : http://www.spaceclaim.com
Language: multilanguage
System Requirements: PC *
Supported Operating Systems: *
Size: 1.4 Gb
---
Password/解压密码-0daydown
Download rapidgator
https://rg.to/file/2a6503ef8e2a314f8fe2ae98fa2812ac/YsPaSmaI20R0.part1.rar.html
https://rg.to/file/e472ee0f6f1cb7460bd4dae94c06a4a3/YsPaSmaI20R0.part2.rar.html
https://rg.to/file/7b5d9a8b62c116c143211cfd6968c9bf/YsPaSmaI20R0.part3.rar.html
Download nitroflare
https://nitroflare.com/view/12513B5C2D5A84F/YsPaSmaI20R0.part1.rar
https://nitroflare.com/view/F5D8F7ED52DD79A/YsPaSmaI20R0.part2.rar
https://nitroflare.com/view/3BA4C09EC934B94/YsPaSmaI20R0.part3.rar
转载请注明:0daytown » ANSYS SpaceClaim 2020 R1 SP0