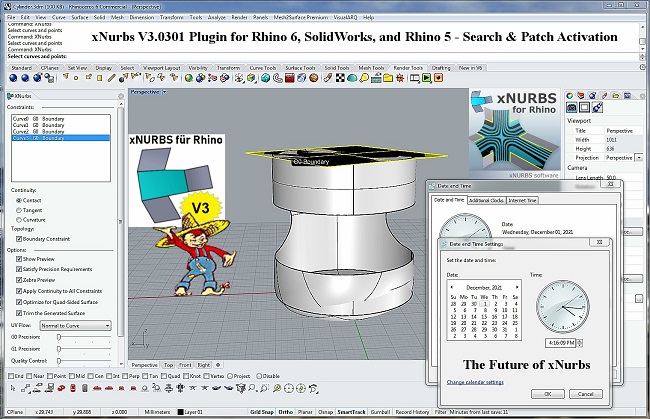 xNurbs V3.0301 Plugin for Rhino and SolidWorks Win
Info:
xNurbs V3.0301 Plugin for Rhino 6, SolidWorks, and Rhino 5
XNurbs uses one simple UI to solve all kinds of issues for NURBS creations – It virtually has an unlimited capacity for solving NURBS and generating high-quality surfaces based on energy-minimization method. Its energy-minimization algorithm produces high-quality surfaces that are analogous to a physical model: when a wooden batten bends, it always assumes a shape that minimizes its bending energy to form a smooth curve.
Key Features: Unlimited capacity for solving NURBS: Its optimization algorithm can solve virtually any NURBS surface in a matter of milliseconds (regardless of how complex the constraints are).
High-quality surfaces: For a given set of constraints, XNurbs' optimization algorithm uses energy-minimization method to generate the smoothest NURBS surface among all possible solutions. The generated surface quality is outstanding.
Easy-to-use: It uses one simple UI for all kinds of NURBS modeling. Super robust: XNurbs is rock solid and works flawlessly.
Native CAD surfaces: XNurbs generates native CAD surfaces, i.e., trimmed/untrimmed NURBS surfaces, which can be directly used for any CAD modeling operations.
There are numerous operations or scenarios how XNurbs could be used. Since it is impossible to demonstrate all of them. From users' viewpoint, all operations or scenarios are the same: users just select curves or points, XNurbs will generate the smoothest NURBS surfaces that satisfy all the inputted constraints.
XNurbs is powered by our own kernel, and is currently integrated with Rhino and SolidWorks. (The kernel is only available to ISV and not available to end-users.)
XNurbs plugin defines a set of simple rules. Once users understand these rules, the possibility of using XNurbs is unlimited, and you can use it in thousands of different scenarios/applications. Except for special cases, e.g., analytical surfaces, XNurbs is superior to traditional surfacing methods. To use XNurbs efficiently: First use XNurbs with a small number of constraints for the rapid concept design, i.e., form finding or generating a draft surface, then extract curves from the draft or concept surface, edit the curves and/or split the surface into two or more patches, then run XNurbs again to generate the refined surfaces. In terms of surface creation capacities, generated surface quality and performance, it is difficult for traditional tools to challenge XNurbs' surfacing, and using XNurbs to replace other tools produces better surfaces.
---
Password/解压密码-0daydown
Download rapidgator
https://rg.to/file/e856e1a6bea75adbd8e929e65cfa8cb4/xNurbsV3.0301PluginforRhinoandSolidWorksWin.rar.html
Download nitroflare
https://nitroflare.com/view/A87AD8243AE4448/xNurbsV3.0301PluginforRhinoandSolidWorksWin.rar
转载请注明:0daytown » xNurbs V3.0301 Plugin for Rhino and SolidWorks Win