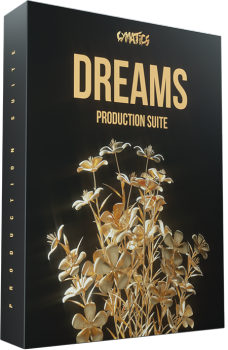 FANTASTiC | 12 March 2020 | 3.95 GB
DREAMS is by far the most unique and revolutionary sound collection that we have released to date.
The production crew spent countless hours experimenting with rare techniques/equipment to focus on bringing a truly special feeling to every single sound, and to give you a library of sounds that you can use to create years worth of music.
DREAMS contains 4,000+ high quality vintage loops & compositions, as well as tons of incredible bonus samples, MIDI, synth patches, drum frameworks, and much more!
Remember, there are only a total of 1,500 licenses available for DREAMS so you'll want to get yours before they sell out and we close it down!
A Timeless Collection of Vintage Sounds
We spent extra time crafting top quality drum samples, all processed through our vintage gear to give them each their own unique sound and warmth that you hear from classic hit 90's producers such as J Dilla & Alchemist.
This is one of our largest drum sample libraries to date, and each sound has been crafted with a special approach that easily sets them apart from any kit we've ever released.
Drum sounds can be the make or break when it comes to creating a track, and you often hear so many recycled drums that don't have their own identity.
That is why for DREAMS, we spent extra time to make sure that each sample is nothing short of unique, to supply you with a vast variety of sounds to choose from when approaching every track you create.
Am I able to sell beats & get placements using sounds from DREAMS?
With DREAMS, you'll receive a full license to use anything in the collection at will… So you have 100% rights to sell anything you create with the pack.
Aside from the pure value of quality with these sounds, the most valuable part is, if you land a placement with a beat or have a track posted to streaming networks, you will keep 100% of the streaming earnings if it gets distributed.
…Cymatics does NOT make money from anything you create using DREAMS.
This also means you will not have to deal with the process of trying to clear a sample. (Which can be a NIGHTMARE for producers)
That is why we believe DREAMS is such a great investment for your career as a producer, and only having a limited number of licenses available gives you a HUGE advantage over the hundreds of thousands who won't have access to this one.
Premium 808s, Synth Bass, & Live Bass Guitar Samples
The bass is always the glue to your mix, and with these samples we've created for DREAMS you will find no shortage of options to play around with.
We sat down and put a lot of thought into how we could take a special approach with these bass sounds. From processing live recordings of vintage bass guitars through tape decks, to crafting 808 synths that sound like they were created 30 plus years ago.
We wanted to make sure each bass had tons of character to the sound while still hitting hard for today's standards.
Overall, this huge selection of bass samples is so next level when it comes to sound design, and whether you make lofi, house, trap, hip hop, r&b, etc… you will easily find a perfect bass sound for any genre you're looking to create.
BONUS
Dusk – Guitar Collection
There's a reason that guitars have dominated the music industry for decades. It's an instrument that when played by a top level musician, can bring so much life to your tracks.
So with DREAMS being the most timeless sound library we've ever put together… We decided to include an additional guitar pack, because it's easily one of the most timeless instruments ever.
home page
---
Password/解压密码-0daydown
Download rapidgator
https://rg.to/file/30e9c93d2039c835f8b8d489d44305fa/Dreams.part01.rar.html
https://rg.to/file/e4a88683d80eb440c3e538510512c195/Dreams.part02.rar.html
https://rg.to/file/55f46a3e30f8f1a34541548a3e061e07/Dreams.part03.rar.html
https://rg.to/file/f1cf063a9a076dfc81eccb49acbe19d7/Dreams.part04.rar.html
https://rg.to/file/73da292e8b45f7b3406c726dd1e3c06d/Dreams.part05.rar.html
https://rg.to/file/2fe7395269780bda680daf8682131d15/Dreams.part06.rar.html
https://rg.to/file/61ff2ab145b678efc1348d7cd6197a78/Dreams.part07.rar.html
https://rg.to/file/b8f58255c1afdf9570d864d60a830a50/Dreams.part08.rar.html
https://rg.to/file/ed694f3f538adaf92c5055e5096fbf43/Dreams.part09.rar.html
https://rg.to/file/d05f061870ccc87e241d55d4f9e855da/Dreams.part10.rar.html
https://rg.to/file/877c652f396206d5ca22e3e52f752d2d/Dreams.part11.rar.html
Download nitroflare
https://nitroflare.com/view/70CA490DC8CAE3E/Dreams.part01.rar
https://nitroflare.com/view/CF4978A228F7904/Dreams.part02.rar
https://nitroflare.com/view/0092F1A8F0D8EE5/Dreams.part03.rar
https://nitroflare.com/view/ACCA5660E273FAF/Dreams.part04.rar
https://nitroflare.com/view/F24E6187DAB6A24/Dreams.part05.rar
https://nitroflare.com/view/E3E3699FA6ED2F9/Dreams.part06.rar
https://nitroflare.com/view/A47F882BB8909FF/Dreams.part07.rar
https://nitroflare.com/view/8AE6D42524AC034/Dreams.part08.rar
https://nitroflare.com/view/63D72517F632105/Dreams.part09.rar
https://nitroflare.com/view/75B8FB94D7162AD/Dreams.part10.rar
https://nitroflare.com/view/95109AC35841861/Dreams.part11.rar
转载请注明:0daytown » Cymatics Dreams WAV MiDi