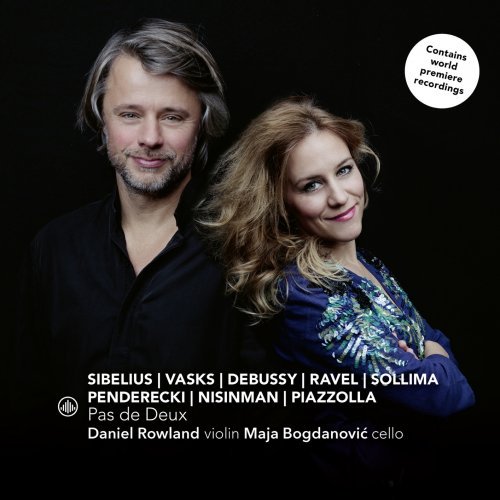 FLAC (tracks), Lossless | Classical, Instrumental | 01:12:55 | 265 Mb
Maja and Daniel: We are overjoyed to be presenting this new recording "Pas de deux", with many new pieces by composer friends – it's a project that's very close to our hearts. The great Sonata by Ravel is in a way our kaleidoscope, a looking glass that takes us both back and forward in time, and both of those simultaneously.
Our journey begins with the slightest of pieces. 'Raindrops' is a charming vignette by the 10 year old Sibelius, whose love of nature would a decade or so later of course give us some of the greatest works in the symphonic repertoire.
Deeply moved by the death of Pope John Paul II Penderecki in 2005 wrote the Ciaconna in memoriam Giovanni Paulo II Ciaconna, for string orchestra. His transcription of the piece is a self-contained, independent artistic statement: subtle and virtuosic, filled with emotions of a genuinely Romantic kind.
Tracklist:
01. Vattendroppar, JS 216 (1:48)
02. Ciaccona in memoriam Giovanni Paolo II (7:00)
03. Castillo interior (12:41)
04. Préludes, Livre 1, L. 117: IX. La sérénade interrompue (3:13)
05. Sonate "A la mémoire de Claude Debussy", M. 73: I. Allegro (4:56)
06. Sonate "A la mémoire de Claude Debussy", M. 73: II. Très vif (3:24)
07. Sonate "A la mémoire de Claude Debussy", M. 73: III. Lent (6:11)
08. Sonate "A la mémoire de Claude Debussy", M. 73: IV. Vif, avec entrain (5:58)
09. Heimat Terra (6:30)
10. Die Albträume des Todes (11:47)
11. Three Tangos: I. S.V.P. (2:49)
12. Three Tangos: II. Tzigane tango (3:12)
13. Three Tangos: III. Prepárense (3:37)
转载请注明:0daytown » Daniel Rowland Maja Bogdanovi – Pas de deux (2020)