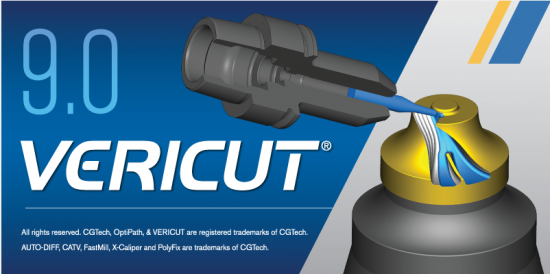 VERICUT软件可以模拟CNC加工,用来检测错误、潜在的碰撞以及低效的加工区域。在把程序传入机床之前,VERICUT可以让数控编程人员发现并纠正错误,这样可以避免工件的试切。VERICUT也可以优化数控程序的切削速度,获得更高的加工效率——甚至在高速铣削上!
1)VERICUT能够精确模拟仿真各种数控铣床、数控车床、车铣复合加工中心、线切割、电火花等机床的程序。VERICUT的机床库、优化库、刀具库数据可以共享,重复使用,进行加工参数优化,减少人工调节,提高加工效率。
2)VERICUT能够支持各类数控系统的指令,支持手工编写的程序如:支持西门子840D、海德汉控制系统高级手工编程(Tran/Rotate/ MIRROR )、G-M码程序、宏程序、各种变量间的运算、手工直接编制的G代码、子程序循环、以及用户自己定义的各种特殊指令;
3)VERICUT方便各个层次的工程技术人员使用,并且提供中、英文等最少两种使用界面供用户切换使用;
4)VERICUT具有一定的灵活性,对于软件使用过程中用到的文件名称,VERICUT支持各种自定义的文件名及其扩展名,以及支持中文路径;
5)VERICUT支持Windows 和UNIX操作系统,能够在用户局域网上跨网段浮动运行。
---
x64 | Languages:Multilanguage | File Size: 2.91 GB
Description:
VERICUT is a 3D solids-based software program that interactively simulates the material removal process of an NC program. The program depicts multi-axis milling/drilling as well as multi-axis turning and combination mill/turn machining. It enables you to verify the accuracy and quality of your NC program. Inefficient motion or programming errors that could potentially ruin a part, damage the fixture, or break the cutting tool can be corrected before the program is run on an CNC machine tool.
---
Verification is the foundation of the VERICUT product line and is required to run any of the other add-on modules. Superior Performance: VERICUT's unique algorithm provides fast, accurate results. Performance does not degrade with increased cuts, so VERICUT can process programs with millions of cuts and virtually any type of material removal technique.
Base Verification verifies 3-axis milling and 2-axis turning (including multiple setup positions). The Multi-Axis module is required to detect collisions between the tool, stock and fixture for rotary 4 & 5-axis positioning/indexing motion. Add Multi-Axis to detect collisions during positioning and to remove material during continuous four and five axis milling, drilling, turning, and combination mill/turn operations.
Verification detects errors such as:
Incorrect or misread blueprints
Inaccurate programming
Incorrect tool path motions
Rapid motion contact
Collisions with fixtures and clamps
Tool shank and holder collisions
CAD/CAM and post-processor bugs
System Requirements:
OS:Windows 7 or 10 64-bit Professional
CPU:AMD Ryzen Threadripper, Intel i7 or Xeon
Memory:32 GB or higher
GPU:AMD Radeon Pro WX with 4 GB GPU RAM or higher / NVIDIA Quadro with 4 GB GPU RAM or higher
Display:1920 x 1080 (or higher) resolution, dual monitor
Storage:Solid State Drive (SSD) or NVMe drive with at least 75 GB free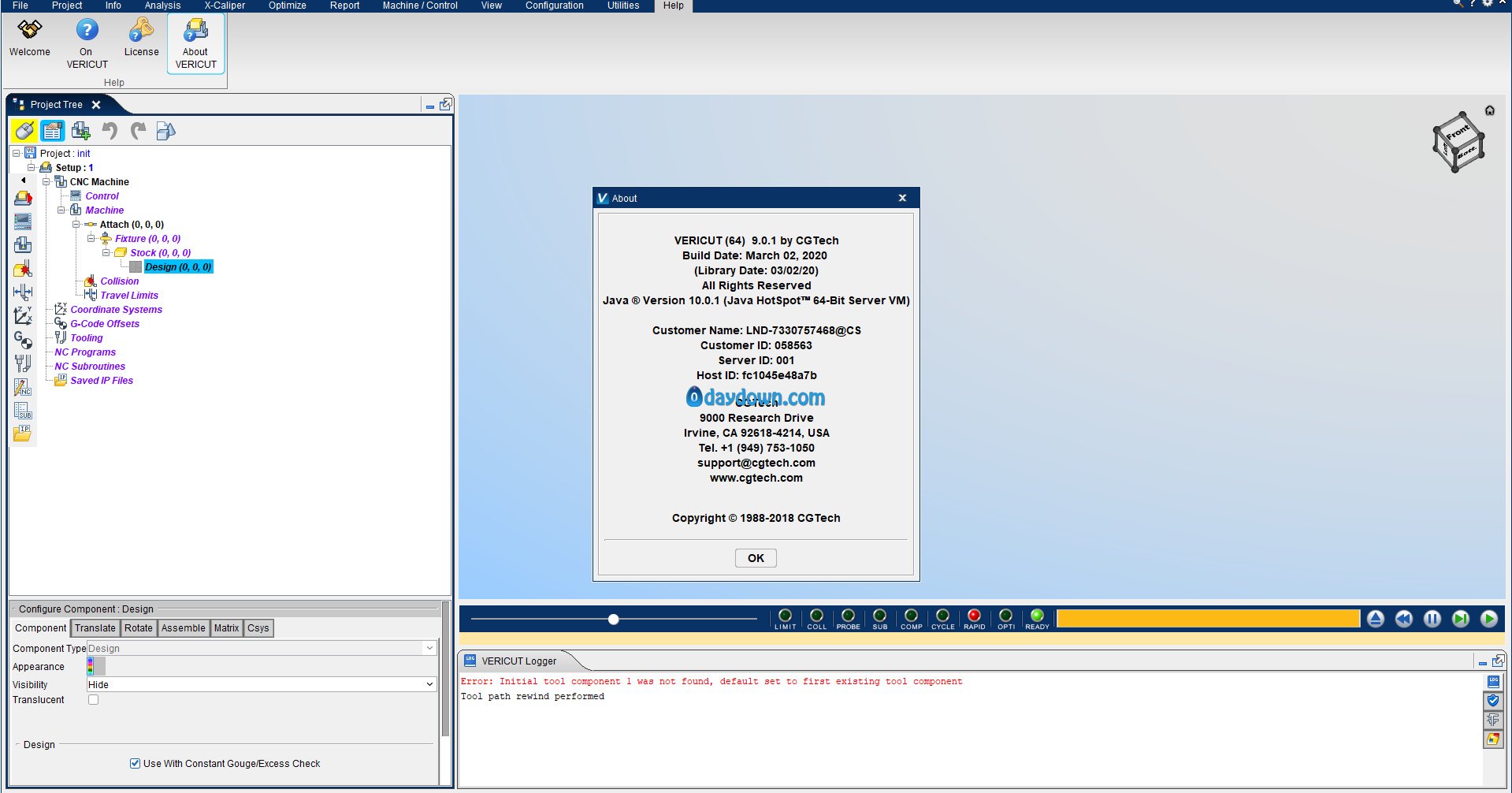 Password/解压密码-0daydown
Download rapidgator
https://rg.to/file/2f08e75264e0d3b495ad8fb115afbae6/CGTECH.VERICUT.V9.0.1-MAGNiTUDE.part1.rar.html
https://rg.to/file/3ea562b9df2d469a6684abd3a30834a2/CGTECH.VERICUT.V9.0.1-MAGNiTUDE.part2.rar.html
https://rg.to/file/324419c75e9897e51025d6d966264947/CGTECH.VERICUT.V9.0.1-MAGNiTUDE.part3.rar.html
https://rg.to/file/408aeccb44869d7e0fb14d1316cf9845/CGTECH.VERICUT.V9.0.1-MAGNiTUDE.part4.rar.html
Download nitroflare
https://nitroflare.com/view/26FCCDAA1FDBC31/CGTECH.VERICUT.V9.0.1-MAGNiTUDE.part1.rar
https://nitroflare.com/view/5DEEB5FFB76BFCD/CGTECH.VERICUT.V9.0.1-MAGNiTUDE.part2.rar
https://nitroflare.com/view/7817918542D77D4/CGTECH.VERICUT.V9.0.1-MAGNiTUDE.part3.rar
https://nitroflare.com/view/1D576D8FDCA0B95/CGTECH.VERICUT.V9.0.1-MAGNiTUDE.part4.rar
转载请注明:0daytown » CGTech VERICUT 9.0.1 x64