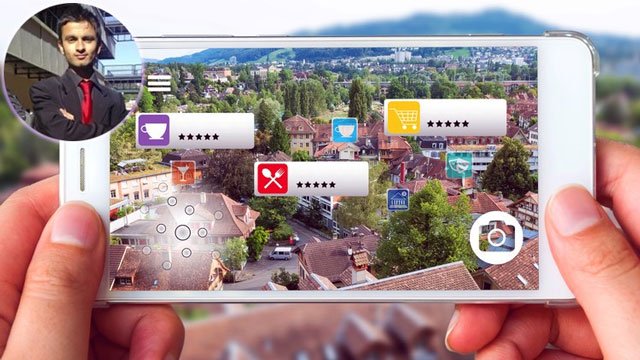 MP4 | Video: h264, 1280×720 | Audio: AAC, 48 KHz, 2 Ch
Genre: eLearning | Language: English + .srt | Duration: 42 lectures (4 hour, 16 mins) | Size: 3.41 GB
The Compact Guide on How to Develop Augmented Reality (AR) Apps using Vuforia 8 and Unity 2020.1!
What you'll learn
*Update your AR Apps to Vuforia 8 in Unity 2020!
How to Develop Simple Augmented Reality Apps in Vuforia (Unity) in under 4 hours!
How to Levitate a Cube in Augmented Reality
An easy guide on how to detect multiple marker targets and Overlay 3D Monsters from Unity Asset Store
How to use Virtual Buttons Effectively within your AR app
How to us your Hands to Draw in Mid-Air using a Leap Motion Controller
Why Vuforia's Smart Terrain is so powerful and How to Implement it
Detect Cylindrical Targets and overlay some particle effects on them
How to get ARCore-like experience using Ground Plane Technology
3 Steps to Export your AR App to Android!
Requirements
Enthusiasm for Augmented Reality
PC/ Laptop that meets Unity SDK minimum requirements
Unity 3D and Vuforia SDK (I show you how to install both for free)
A Webcam (Can use an Android Phone as a webcam)
Printer or Phone/Tablet to print out or display the AR marker
A Leap Motion Controller (Only Required for one of the Lectures)
Very Basic Unity Experience
Description
***Updated for Vuforia 8 and Unity 2020.1 ***
The Fastest Way to Learn Vuforia 8 and Develop 16 Augmented Reality Apps using Unity SDK in under 3 hours!
Why should I take this course?
There are plenty of courses on Augmented Reality, with courses that run over 10 hours. When I got started in AR, I wanted to learn the Vuforia as quick as possible, because for obvious reasons, time is money. The company I was working for at the time, didn't have the luxury of time to spend on long training courses. So we had to learn learn Vuforia in our own time outside work hours, can you believe it!
After watching tons of courses and reading through Vuforia documentation, I realized that this SDK is really quite simple and the key concepts to started with developing apps can really be learnt in just a few hours.
That is why I developed this course, to teach you all the fundamentals of the Augmented Reality in the shortest time; so that you can get started developing your own Augmented Reality Apps and decrease your time to market. Being compact does not mean that we compromise on content, we cover the exact same content as courses that run over 10 hours.
Who is my lecturer? And what makes you qualified to teach me?
My Name is Ritesh Kanjee and I host the popular YouTube Channel called Augmented Startups with over 60 000 subscribers. I am an AR/AI Developer with a Masters Degree in Electronic Engineering, teaching over 43 000 students on Udemy. With over 7 years of AR and Unity experience, you can trust that you are in the right hands.
Okay so your qualified! What will I learn in this course?
This course is designed to help you understand the fundamentals of Augmented Reality using the Vuforia SDK in Unity through practical and easy to understand labs.
This class covers these capabilities, including getting started, simple and multiple target detection, smart terrain as well as leap motion integration. You will learn all the fundamentals through practice as you follow along with the training.
Together we will build a strong foundation in AR in Unity SDK with this training for beginners. This course will enable you to:
Get started in Unity and how to download the Vuforia SDK
Create a simple AR app with a floating cube
Once you have mastered the basics we go ahead and create multiple targets in Augmented Reality
Create virtual buttons to add interactivity to your AR apps.
Display Video on a physical wall.
Leverage the Leap Motion Controller to create a pinch drawing app in AR. (Really Cool!)
Implement Vuforia's smart terrain algorithm to detection objects in Real Time!
Detect Cylindrical Target Objects and animate markers
Vuforia 7 and Unity 2017.3
[NEW] Vuforia 7 Ground Plane (Similar to Googles ARCore)
[NEW] Vuforia 8 and Unity 2020.1
[NEW] Vuforia 8 Video Playback
[NEW] Vuforia 8 VI-SLAM Fundamentals
[BONUS] Vuforia 8 Export to Android Device
[HUGE BONUS] Build your own AI Smart Glasses Project E.D.I.T.H. Glasses (Spiderman Far From Home)
What if I'm not happy with this course?
We also offer a full Udemy 30 Day Money Back Guarantee if you are not happy with this course, so you can learn with no risk to you.
Personal help within the course?
I want you to succeed. If you have any questions or need help, leave a question in the QnA section. You can also send me a message on Udemy. You will also receive a verifiable certificate of completion upon finishing the course.
Let me help you develop 16 Augmented Reality app in 3 hours. Click the button and enroll now.
=============================================================================================
Some of the reviews
"Excellent course! The instructor responded quickly to questions and provided feedback which allowed me to further enhance my understanding of the topics discussed in the unit." – James Exantus
"I appreciate the fact that these videos begin with an industry overview to contextualize the work ahead." — Les Struck
"simple and effective into to AR with vuforia" – Bhawana Nathawat
"So far the course is very interesting. I found good the section where is explained what errors may occure and how to solve them(this helps me a lot). " – Svilen Radichkov
"Excellent course" – León Felipe Guevara Chávez
"very clear to follow pace" – Wayne Williamson
"It's explained in a simple way that's easy to understand." – Lloyd Richardson
"this course was awesome . Really I feel it" – Samrat Chapagain
"it's so simple and amazing i really like it . thank you very much you are amazing" — Tumenjargal Altanginj
Who this course is for:
This course is for those who want to learn Augmented Reality
This course is not for people who are not willing to practice along. You won't learn by watching but rather by implementing the labs that I provide in this course.
Beginners in Augmented Reality or Mixed Reality
Leap motion developers
This course is implemented in Unity on Windows. Android or iOS deployment is NOT part of the scope of this course. However you can easily find tutorials on how to export your AR app to mobile Operating Systems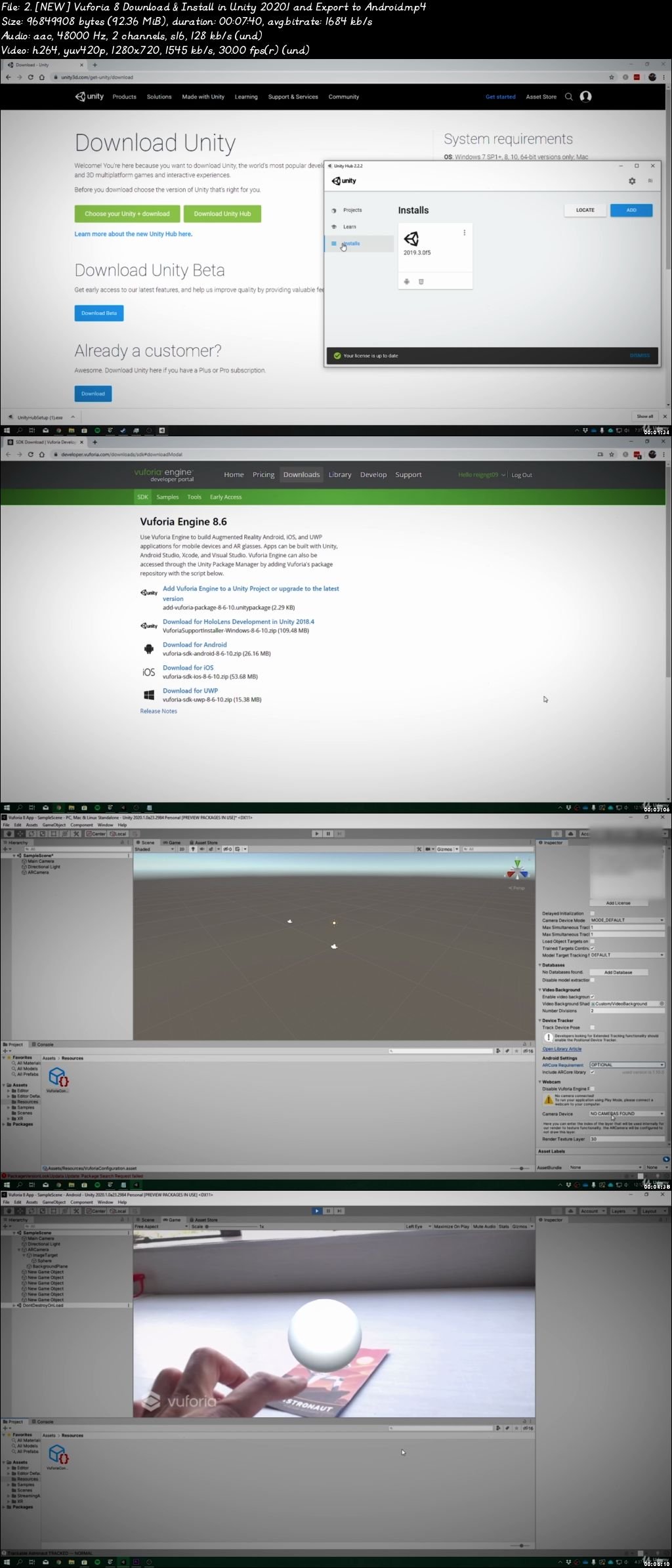 Password/解压密码-0daydown
Download rapidgator
https://rg.to/file/c5a640a7091b93fc5fd2fa79bd6b7788/Develop_16_Augmented_Reality_Apps_in_Vuforia_8_in_Unity_2020.part1.rar.html
https://rg.to/file/8d6c6877d406028cd867def584aefe09/Develop_16_Augmented_Reality_Apps_in_Vuforia_8_in_Unity_2020.part2.rar.html
https://rg.to/file/5ef912a938466a06ab3aa9633213f855/Develop_16_Augmented_Reality_Apps_in_Vuforia_8_in_Unity_2020.part3.rar.html
https://rg.to/file/c6b3282f4ff5ae9172eede8519c91738/Develop_16_Augmented_Reality_Apps_in_Vuforia_8_in_Unity_2020.part4.rar.html
https://rg.to/file/1219291ba3a3a1f367bd2c5517afb872/Develop_16_Augmented_Reality_Apps_in_Vuforia_8_in_Unity_2020.part5.rar.html
https://rg.to/file/6cebb769714c1646d861ac6e4a63308e/Develop_16_Augmented_Reality_Apps_in_Vuforia_8_in_Unity_2020.part6.rar.html
Download nitroflare
https://nitroflare.com/view/97E9EBFE260B609/Develop_16_Augmented_Reality_Apps_in_Vuforia_8_in_Unity_2020.part1.rar
https://nitroflare.com/view/C82FE88BE8650C9/Develop_16_Augmented_Reality_Apps_in_Vuforia_8_in_Unity_2020.part2.rar
https://nitroflare.com/view/390988FB0DC7AD7/Develop_16_Augmented_Reality_Apps_in_Vuforia_8_in_Unity_2020.part3.rar
https://nitroflare.com/view/8BF599C110FA4DF/Develop_16_Augmented_Reality_Apps_in_Vuforia_8_in_Unity_2020.part4.rar
https://nitroflare.com/view/CDE1DC4C9694617/Develop_16_Augmented_Reality_Apps_in_Vuforia_8_in_Unity_2020.part5.rar
https://nitroflare.com/view/865A835B0475DD1/Develop_16_Augmented_Reality_Apps_in_Vuforia_8_in_Unity_2020.part6.rar
转载请注明:0daytown » Develop 16 Augmented Reality Apps in Vuforia 8 in Unity 2020