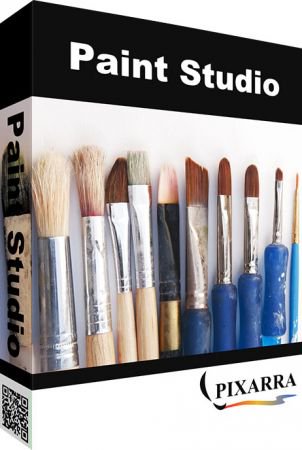 TwistedBrush Paint Studio是从TwistedBrush Pro Studio诞生的产品,但专注于自然媒体绘画和绘图,界面更简单,流线型。内部使用相同的TwistedBrush画笔引擎。TwistedBrush Pro Studio具有功能丰富的功能,但是如果您希望使用精简版的绘画界面使用新的光滑界面进行绘画,则Paint Studio是您的理想选择。TwistedBrush Paint Studio消除了复杂性,剩下的就是可用的最佳自然媒体画笔,以及使TwistedBrush始终保持出色性能的关键功能。
---
Languages: English | File Size: 35.94 MB
TwistedBrush Paint Studio is a product born from TwistedBrush Pro Studio but with a focus on natural media painting and drawing with a simpler, streamlined interface. Internally the same great TwistedBrush brush engine is used. TwistedBrush Pro Studio is feature packed but if you want a stripped down version for painting and drawing with a new slick interface then Paint Studio is for you. TwistedBrush Paint Studio strips away complexity and what remains is the very best natural media brushes available as well as the key features that have always made TwistedBrush great.
---
NATURAL MEDIA PAINT BRUSHES
Paint Studio includes a selection of the best natural media brush from Pro Studio package for easy access for the digital fine artist. Below is just small sampling of some the brush strokes. The first image shows simple strokes the second shows white paint strokes overlaid on red paint strokes.
CLEAN USER INTERFACE
​Paint Studio, as all of Pixarra's focused Studio products, has a clean interface, designed for an easy, quick work flow. Shown is the dark theme but lighter color themes are also available.
QUICK ACCESS PANELS
On the right are two panels you will use a lot. The Color Management panel and the Brush Shortcut Panel. All the panels in Paint Studio will automatically hide if they get in your way while painting. Manually hiding all panels is also possible with the F3 hotkey.
QUICK COMMAND PANEL
The Quick Command panel gives you a configurable array of buttons you can keep close at hand while working. Resize and reshape the panel to your needs. Add, remove and move buttons to create the layout that works best for you. Quickly show or hide the panel with the [F4] hotkey. Right click to edit a button or add one to an empty slot. [Ctrl] + click to drag a button to a new location. As an added bonus there is some functionality exposed in the Quick Command panel that isn't available anywhere else in Paint Studio.
POWERFUL BRUSH EFFECTS SYSTEM
Since User ArtSets are available you might be thinking where will you get new brushes from. There are a number of ways, user shared brushes in the Pixarra forum, brushes imported from Pro Studio, OR now you can edit brushes right in Luminance Studio with the powerful Brush Effects system from Pro Studio. First an IMPORTANT NOTE: Editing brushes is NOT an easy task. There are over 500 different effects that can be combined in 28 effect layers with each effect processed with 100's of modifiers. I think it's safe to say the Pixarra brush effects system makes for the most powerful brush engine in existence. Evidenced in the ability with the same engine to draw simple lines or fully detailed tree with a single stroke as can be seen in Tree Studio.
LAYERS
Easy access support for layers are in Paint Studio. The idea is to keep your work flow simple and fast. A simple single click to create a layer with no scrolling. Right click a layer for additional options. Drag layers to rearrange them.
OTHER FEATURES
Above are just some of the features in Paint Studio, there is much, much more.
– 64 bit color painting system for the smoothest blends available anywhere.
– Worlds most powerful and flexible brush engine with the Pixarra brush effects system
– Automatic saving multiple copies of your work in progress.
– Brush compatibility with other Pixarra Studio products.
– Tracing paper to use as a guide.
– Up to 9 floating reference Image panels to hold reference photos when working on your art.
– Sketchbook system that automatically saves your work to your sketchbook.
– Switching pages in your book with a single key press (Page Up or Page Down)
– Saving your work to a range of standard image formats.
– And many more features!
* Added – Brush Control Panel now available!! Allows for easier brush adjustments on par with Pro Studio.
* Added – Paint Bucket tool added.
* Added – Gradient tool added.
* Added – Rectangle Mask tool added.
* Added – Ellipse Mask tool added.
* Added – Polygone Mask tool added.
* Added – Lasso Mask tool added.
* Added – Magic Wand Mask tool added.
* Added – Warp tool added.
* Added – Clips panel added.
* Added – 4 more levels of brush effects added. Now 32 levels of brush effects are possible!
* Added – Menu Bar added.
* Added – Tool Bar added.
* Added – Tool options added for all tools.
* Added – Auto Mask Fine Tolerance brush effect added with 100x the sensitivity of the original.
* Added – Brush effects 3D Highlight Color and 3D Shadow Color added.
* Added – Hotkey Ctrl + Spacebar to zoom in added.
* Added – Hotkey Shift + Spacebar to zoom out added.
* Added – Copy Page and Paste Page added to the Edit menu.
* Added – Slate Light theme added.
* Improved – Complex brushes and particle brushes are up to 2x faster!
* Improved – Page Up, Page Down, Arrow Up, Arrow Down will scroll the thumbnails in the Page Explorer. Must mouse click on a thumbnail first.
* Improved – Brush Effect panel updated to use the selected color theme.
* Changed – Page Explorer hotkey is now F10.
* Fixed – The Quick Commands, Lum + 1, Lum + 3, Lum -1 and Lum – 3 were not working.
* Fixed – Crash if showing Windows desktop when the Select Brush panel was active.
* Fixed – The Zoom to Center option was not working correctly.
System Requirements:
– Windows /XP / Vista / Windows 7/ Windows 8 / Windows 10
– 500MB disk space
– 1024×768 minimum display resolution
– 4GB RAM (8GB or more recommended)