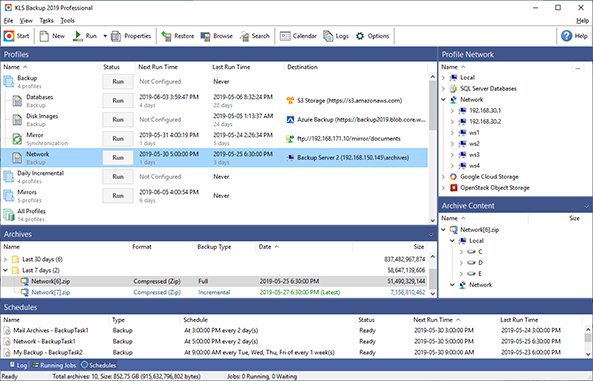 KLS Backup 是一款可以帮助用户备份文件的工具,用户可以将数据备份到指定的本地硬盘、网络系统硬盘、CD/DVD刻录盘或者远程FTP服务器上。用户可以不要压缩数据备份,也可以采用标准的zip、7z或者SQX存储。另外,该文件同步备份软件还有比较目录内容的功能,可以很容易的实现归档版本控制。
---
(x86/x64) English | File size: (33.1/25.5) MB
KLS Backup is a powerful backup and synchronization program that allows you to backup or synchronize your data to local and network drives or cloud storage. The backup files can be stored uncompressed or compressed in standard Zip or 7z format. KLS Backup 2019 can backup: files and folders from local drives, network locations or cloud storage, databases, mail boxes and other application specific data (profiles). Advanced version management, makes possible to find and restore any backup version within seconds. The synchronization feature allows you to easily synchronize the contents of two different folders.
---
Features:
Easy-to-use but powerful integrated workspace
Backup data from local and network drives, cloud storage, SFTP, FTP and WebDAV servers
Backup of databases (Microsoft SQL Server, MySQL) and application data (Outlook, Thunderbird)
Backup to local and network drives, SFTP, FTP and WebDAV servers, CD/DVD media
Backup to cloud: Microsoft Azure, Amazon S3, Google Cloud Storage, OpenStack, OneDrive, Google Drive
Full, incremental and differential backups
Backup of open files and NTFS permissions
Highly configurable backup profiles and plugins
Standard Zip compression, Zip64 support, 7z and a custom encryption format
Powerful archive management and search functions
Selective restore of files and folders to original or custom locations
Secure archives with AES encryption, SSL/TLS support for remote transfers
Two-way file synchronization engine with version support
Automated backups with the built-in scheduler service
Detailed backup logs and email notifications
Web Interface (Monitor)
Command Line Interface (Console)
Compatible with Windows 7, 10 and Windows Server 2019
System requirements
Windows 10/8.1/8/7 32/64bit (all editions)
Windows Server 2019/2016/2012R2/2012/2008R2 (all editions)
Hard drive with at least 200MB free disk space for installation
Whats new:
Updates: official site does not provide any info about changes in this version.
转载请注明:0daytown » KLS Backup Professional 2019 10.0.2.1 x86/x64