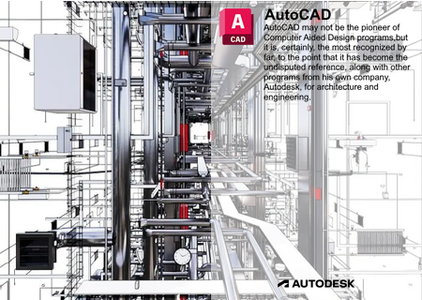 Autodesk AutoCAD 2024 with Offline Help | 11.2 Gb
Languages Supported: English, Português-Brasil, Čeština, Français, Deutsch, Magyar, Italiano,
日本語, 한국어, Polski, Русский, 简体中文, Español, 繁體中文
The AutoCAD Team is pleased to announce the availability of AutoCAD 2024. This release introduces new machine learning capabilities to push the boundaries of productivity and speed up our customer's workflows, whether it's by saving them time in their common tasks or bringing them new ways to work and create.
Welcome AutoCAD 2024: Quickly Collaborate, Enhance Your Productivity, and Experience New Machine Learning Features.
New AutoCAD 2024 features and assistive machine learning technology pave the way for teams to unlock insights and leverage automations—all with the power of the software trusted by millions to draft, engineer, and automate design workflows anywhere, anytime. Tailor AutoCAD for your business needs and your specific industry through customizations—including APIs, thousands of third-party apps, and seven specialized toolsets with over 750,000 symbols, parts, and detail components. Autodesk continues to create industry-leading design software—including Revit, Civil 3D, Inventor, and Autodesk Docs— to create a truly connected design experience with AutoCAD 2024.AutoCAD for Mac 2024 and AutoCAD LT for Mac 2024
Autodesk AutoCAD is computer-aided design software that allows you to efficiently create and document 2D and 3D designs. Industry-specific Autodesk tools, such as architecture, plant 3D, map 3D, MEP, electrical, mechanical and grid design, make Autodesk AutoCAD the number one software for architects, engineers and construction professionals.
AutoCAD 2024 is built to accelerate workflows and seamlessly share your vision with innovations designed to unlock your creative potential. The AutoCAD Portfolio is flexible to meet your design needs with AutoCAD, AutoCAD LT, and our newest offering, AutoCAD Web. From complex designs to making markups in the field, AutoCAD 2024 has something for everyone.
Trusted by millions. Built to accelerate creativity. Autodesk AutoCAD unlocks insights and automations in 2D and 3D design workflows. Save time as you collaborate with DWG files using the latest machine learning features included in Markup Import, Markup Assist, Smart Blocks, and specialized industry toolsets. Start designing for the challenges of today, and tomorrow, with the power of AutoCAD.
Autodesk helps people imagine, design and create a better world. Everyone—from design professionals, engineers and architects to digital artists, students and hobbyists—uses Autodesk software to unlock their creativity and solve important challenges.
Product: Autodesk AutoCAD
Version: 2024 with Offline Help *
Supported Architectures: x64
Website Home Page : www,autodesk.com
Languages Supported: multilanguage
System Requirements: Windows & macOs **
Size: 11.2 Gb
* included:
Autodesk AutoCAD 2024 Multilanguage with Offline Help
Autodesk AutoCAD 2024 macOs English
Autodesk AutoCAD LT 2024 macOs English
---
Password/解压密码www.tbtos.com