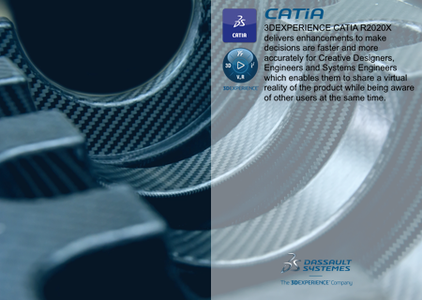 CATIA是法国达索公司的产品开发旗舰解决方案。作为PLM协同解决方案的一个重要组成部分,它可以帮助制造厂商设计他们未来的产品,并支持从项目前阶段、具体的设计、分析、模拟、组装到维护在内的全部工业设计流程。
---
DS CATIA P3 V5-6R2020 (V5R30) SP6 HF8 | 4.8 Gb
Languages Supported: English, Français, Deutsch, Italiano, 日本語, 한국어, Русский, 中文
The software developer Dassault Systemes is pleased to announce the availability of CATIA P3 V5-6R2020 (V5R30) SP6 HF8. This release delivers multiple enhancements for Designers, Engineers, Systems Engineers, and Construction Professionals as well as new functionality for 3D Generative Innovator and 3DPlay for everyone.
3DEXPERIENCE platform is the business platform edited by Dassault Systèmes providing knowledge and software solutions (Apps) for multi-disciplinary purposes, all based and accessible from a single and shareable environment.
Dassault Systèmes CATIA is one of the premiere software suites used for product development and product lifecycle management (PLM). It has been one of the the CAD leaders in automotive and aerospace in particular. Dassault Systèmes was one of the pioneers of computer-aided design (CAD), and its software has been used to design everything from passenger cars to military jets over the years. The modern iterations of CATIA, and a host of many other design and simulation tools such as SIMULIA and DELMIA, are all rolled into Dassault Systèmes' 3DEXPERIENCE platform. These applications have complete interoperability with each other, enabling powerful end-to-end digital continuity and collaborative PLM solutions.
Dassault Systèmes CATIA V5-6R2020 release delivers improvements and enhancements across the design and collaboration portfolio.
Dassault Systèmes, the 3DEXPERIENCE Company, is a catalyst for human progress. We provide business and people with collaborative 3D virtual environments to imagine sustainable innovations. By creating virtual experience twins of the real world with our 3DEXPERIENCE platform and applications, our customers push the boundaries of innovation, learning and production. Dassault Systèmes brings value to more than 270,000 customers of all sizes, in all industries, in more than 140 countries.


Product: DS CATIA
Version: P3 V5-6R2020 (V5R30) SP6 HF8
Supported Architectures: x64
Website Home Page : http://www.3ds.com
Languages Supported: multilanguage
System Requirements: Windows *
Size: 4.8 Gb
---
Password/解压密码www.tbtos.com