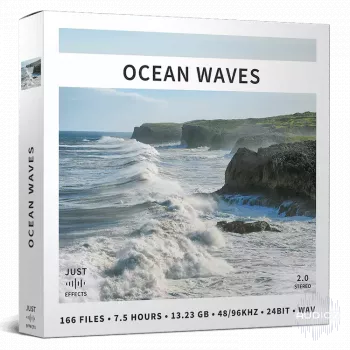 WAV | 24-bit / 48/96 kHz
2023 FULL Pack – 11,51 GB
DYNAMIC SOUNDS OF THE OCEAN
This collection of ocean sound effects is truly one of a kind, offering a wide range of detailed nature field recordings for your projects. From gentle waves splashing onto sandy beaches and the light lapping of water between rocks, stones and clacking pebbles, to storm-driven surf and the powerful crashing against solid cliffs, you'll find every kind of sound that you need to bring the ocean to life.
All of the recordings are seamlessly loopable, making it easy and fast to craft your own soundscapes. Whether you're looking to design the sound of a raging storm at sea, the quiet rippling of water in a harbor, or the peaceful and rhythmic atmosphere of a beach, OCEAN WAVES has it all.
RECORDED ALL OVER THE WORLD
The waves of this library were meticulously recorded on the coasts and beaches of some of the world's most beautiful bodies of water – the Atlantic Ocean, the Mediterranean Sea, the North Sea and the South China Sea. We've spent countless hours capturing the perfect wave sound, and this extensive effort has resulted in an exceptional and varied selection of recordings, ready to be used to create the perfect ocean-inspired atmosphere.
RICH METADATA
Well-organized sound libraries improve your workflow and save a lot of time. That's why our sound effects are categorized according to the Universal Category System and embedded with rich descriptive metadata.
The UCS aims at a consistent categorization of sound effects, a uniform file name structure and easier maintenance of a sound effects library.
转载请注明:0daytown » Just Sound Effects Ocean Waves WAV (2023 Updated Pack)