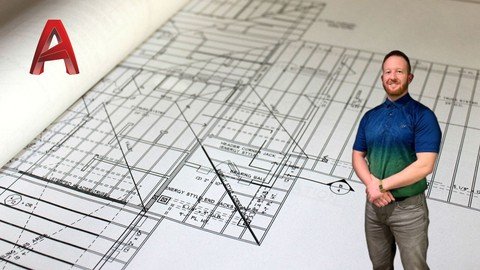 Published 3/2023
MP4 | Video: h264, 1280×720 | Audio: AAC, 44.1 KHz
Language: English | Size: 3.43 GB | Duration: 3h 53m
Go from zero experience to AutoCad proficiency in just three hours!!
What you'll learn
Easily navigate the AutoCad workspace
Use basic design/modify tools to draft plans
Understand layers and properties
Understand external references
Set up the AutoCad workspace to fit the user's specific needs
Understand the difference between model space and paper space
Create viewports
Understand coordinate systems
Create drawings/plans
Requirements
No prior AutoCad experience required. Basic computer skills are beneficial.
Description
AutoCad Basics for Beginners is the perfect course for those with little to no prior experience with AutoCad. I teach my students the basics of the software, from how to navigate the AutoCad workspace to how to create their own drawings! And the best part is – the entire course takes just 3.5 hours! You'll be drafting on your own in no time!Upon completion of this course, students will be able to do all of the following and then some:Easily navigate the AutoCad workspace to draft efficientlyUse the design and modify tools Navigate and understand the properties dialogue boxNavigate and understand the layer properties managerNavigate and understand external references Understand annotation and dimensioning Understand the difference between model space and paper spaceSet up a titleblock for drawingsSet up viewports for drawingsCreate your very own drawings!This is the best beginner AutoCad course available online today!This is the best starting point for those with no (or little) prior experience with AutoCad. Whether you are an engineering student, an engineer/surveyor/construction professional, or want to be able to draft your own floorplans for your dream house – this course is for you! I believe this course is the best course for complete beginners because it is very easily digestible, being just 3.5 hours long. This is all the time it takes to get a solid grasp on the basics of AutoCad. After completing this course, students are very well prepared to take more in-depth courses. Diving into more advanced courses without having first taken this course could lead students to feeling overwhelmed and overloaded with too much information. As a beginner, you just need the basics taught in a simple, straightforward manner. That is exactly what you get in this course. This course is easy to follow along with, and includes several practice DWG files for students to practice with as we progress through each lesson. I provide several great resource files for students to use as they hone their AutoCad skills. Other highlights of this courseTaught by a real engineer with years of experience with AutoCad.Taught using the latest version of AutoCad (2023) but applies to all versions.Practice drawing files are available for student use and students are encouraged to use them to follow along.I welcome all of my students to reach out to me with any questions they may have. I will get back to each and every one of them. Example of real world application included at the end of this course. We create a construction drawing together, step-by-step!Thank you all! I look forward to teaching you and I hope you find immense value in this course as a beginner!!
Overview
Section 1: Course Introduction
Lecture 1 Course Overview
Section 2: Lessons 1 through 10: Foundational Knowledge
Lecture 2 Lesson 1 – How to Download AutoCad if You Don't Have It
Lecture 3 Lesson 2 – Navigating the Workspace
Lecture 4 Lesson 3 – Customizing the Workspace
Lecture 5 Lesson 4 – Basic Draw Tools
Lecture 6 Lesson 5 – Editing/Modification Tools
Lecture 7 Lesson 6 – Annotation and Dimensions
Lecture 8 Lesson 7 – Overview of Object Properties
Lecture 9 Lesson 8 – Overview of Layers
Lecture 10 Lesson 9 – External References
Lecture 11 Lesson 10 – Working in Paper Space
Section 3: Lesson 11 – Project!
Lecture 12 Lesson 11 – Project!
Beginner AutoCad users,Engineers,Surveyors,Construction professionals
---
Password/解压密码www.tbtos.com
转载请注明:0daytown » Autocad Basics For Beginners