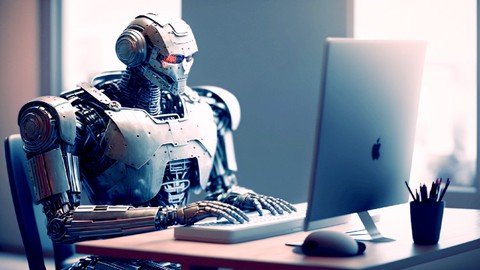 Published 3/2023
MP4 | Video: h264, 1280×720 | Audio: AAC, 44.1 KHz
Language: English | Size: 1.80 GB | Duration: 2h 28m
Master Prompt Engineering with ChatGPT: SEO, Copywriting, and Promotions – All-in-One Course!
What you'll learn
Conduct advanced keyword research using ChatGPT and other free tools to uncover valuable search terms for their content and optimize it for search engines.
Apply the AIDA and PAS copywriting frameworks to prompt engineer sales copy and articles that convert readers into customers.
Utilize SurferSEO and YoastSEO to write top-tier, high-ranking content that attracts organic traffic and increases engagement.
Craft effective cold emails and Facebook ads using AI-generated copy that drives conversions and boosts business growth.
Develop a successful content strategy that is tailored to their target audience and aligned with their business goals, using ChatGPT prompt engineering.
Requirements
There are no specific requirements or prerequisites for taking this course. However, learners who have some familiarity with SEO and content marketing may find it easier to follow along with the concepts and strategies discussed in the course. Additionally, learners will need a reliable internet connection and a computer or mobile device to access the course materials and tools. With that said, beginners are welcome to take this course and learn the fundamentals of ChatGPT prompt engineering and content strategy.
Description
Are you tired of struggling to create content that ranks high in search engines and drives traffic to your website? Do you find it challenging to come up with compelling article prompts and engaging promotional content? Look no further than ChatGPT Prompt Engineering: Top Ranking Content the Easy Way.In this comprehensive course, you'll learn how to leverage the power of AI-powered tools like ChatGPT to optimize your content strategy, from conducting effective keyword research to crafting compelling article prompts and improving your SEO rankings. You'll discover how to use proven copywriting frameworks like AIDA and PAS to create content that not only attracts visitors but also leads to conversions.Throughout the course, you'll explore the essential tools and techniques you need to master ChatGPT prompt engineering, including optimizing your content for SEO with popular tools like SurferSEO and YoastSEO. You'll also learn how to craft effective cold emails and Facebook ads that drive conversions and increase your ROI.With ChatGPT Prompt Engineering, you'll be able to take your content strategy to the next level, no matter your skill level or experience. Whether you're a blogger, marketer, or business owner, this course will provide you with the knowledge and tools needed to boost your online presence and build a successful content strategy that drives traffic, engages your audience, and boosts your bottom line. So why wait? Enroll now and start building top-ranking content the easy way with ChatGPT Prompt Engineering!
Overview
Section 1: Introduction
Lecture 1 Introduction
Lecture 2 The Art of Strategic Content Creation: Mastering Your Content Strategy
Lecture 3 The Power of User Intent: Building Successful Content Strategies
Lecture 4 Keyword Research 101: How to Uncover Valuable Search Terms for Free
Lecture 5 Next-Level Keyword Research with ChatGPT: Maximizing Your SEO Potential
Section 2: Writing with AI: Easily Create High Ranking Content and High Converting Copy
Lecture 6 Outlining for Success: Create Winning Article Outlines with ChatGPT
Lecture 7 Writing an Easy How-To Article Prompt for High Rankings with ChatGPT
Lecture 8 Write Top Tier, High Ranking Content Using ChatGPT and SurferSEO (Game-Changing)
Lecture 9 High Ranking Blog Articles for Free with ChatGPT and YoastSEO
Lecture 10 AIDA and PAS: The Proven Copywriting Frameworks for Conversions
Lecture 11 AI Sales Copy Made Easy: Writing Powerful Copy from Scratch
Lecture 12 Facebook Ad Mastery: Writing High-Converting Ad Copy with AI
Lecture 13 Crafting Effective Cold Emails: A Full Walkthrough
Section 3: Advanced Prompt Engineering
Lecture 14 Prompt Engineering: Crafting an Advanced "Top 5" Article Prompt
This course is ideal for content creators, marketers, bloggers, or business owners who want to improve their content strategy and drive traffic to their website using AI-powered tools. It is also suitable for individuals who want to learn how to optimize their content for SEO, create compelling article prompts, and craft effective promotional content like cold emails and Facebook ads. Whether you're a beginner or an experienced marketer, ChatGPT Prompt Engineering will provide you with the knowledge and skills needed to build a successful content strategy and boost your online presence.
---
Password/解压密码www.tbtos.com
转载请注明:0daytown » Chatgpt Prompt Engineering: Top Ranking Content The Easy Way