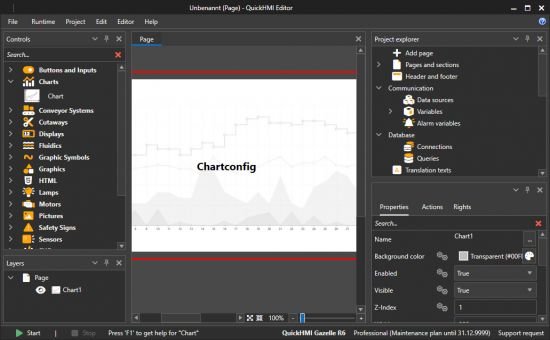 QuickHMI 是一个 100% 基于网络的 SCADA / HMI 系统。 得益于 HTML5、SVG 和 Javascript 等现代网络技术,可视化可以在任何当前浏览器和设备中显示。 作为浏览器的替代品,可以使用"独立查看器"和移动应用程序。
---
File size: 2.3 GB
QuickHMI is a 100% web-based SCADA / HMI system. Thanks to modern web technologies such as HTML5, SVG and Javascript the visualization can be shown in any current browser and device. As an alternative to the browser, a "standalone viewer" and a mobile app are available.
QuickHMI is very easy scalable from small projects with the Raspberry Pi up to visualization of large industrial areas.
The ninth version of the visualization software includes not only further workflow optimization and internal fine-tuning.
It also offers powerful new tools that allow you to visualize it more independently, more individually and faster.
Visualize what you want
If the extensive controls and functions provided are not sufficient for you, you can create your own graphic elements based on SVG according to your requirements and bind the objects to your data. If necessary custom functions can be implemented using JavaScript.
Uncomplicated data provision
Another feature is the creation and editing of your variables in text format. Due to the csv format used, the variable lists can also be easily edited using Excel.
Include
QuickHMI Editor
QuickHMI Standalone Runtime
QuickHMI Viewer
Password/解压密码www.tbtos.com
转载请注明:0daytown » QuickHMI 10.3.1