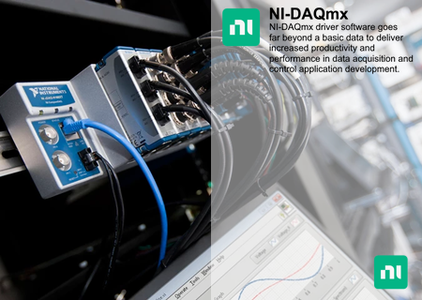 NI-DAQmx 2023 Q1 | 2.2 Gb
Languages Supported: English, Deutsch, 한국어, 中文, 日本語, Français
The National Instruments development team is pleased to announce the availability of NI-DAQmx 2023 Q1 is an NI instrument driver that controls every aspect of your DAQ system, including signal conditioning, from configuration to programming in LabVIEW to low-level OS and device control.
NI-DAQmx is the driver software you use to communicate with and control your NI data acquisition (DAQ) devices. It includes an extensive library of functions and VIs you can call from your application software, such as LabVIEW or LabWindows/CVI, to program your devices.
Measure, graph, and save data from multiple channels on a NI-DAQmx physical device.
Since 1976, National Instruments has equipped engineers and scientists with tools that accelerate productivity, innovation and discovery. NI's graphical system design approach to engineering provides an integrated software and hardware platform that speeds the development of any system needing measurement and control. The company's long-term vision and focus on improving society through its technology supports the success of its customers, employees, suppliers and shareholders.
Product: NI-DAQmx
Version: 2023 Q1
Supported Architectures: x64
Website Home Page : http://www.ni.com
Languages Supported: multilanguage
System Requirements: Windows *
Size: 2.2 Gb
---
Password/解压密码www.tbtos.com
转载请注明:0daytown » NI-DAQmx 2023 Q1