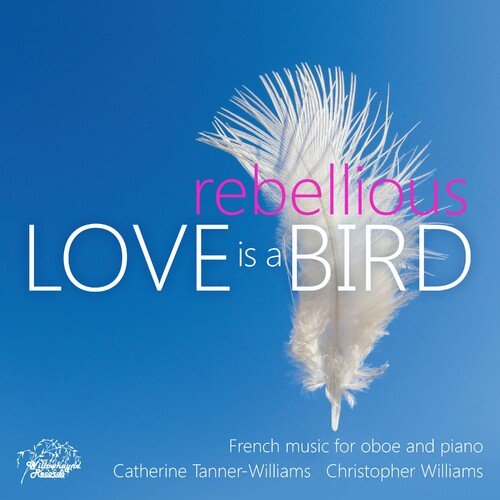 FLAC (tracks), Lossless  | 1:19:53 | 279 Mb
Classical, Instrumental
French music for oboe and piano lies at the heart of the oboe repertoire. In this their third album, Catherine Tanner-Williams and Christopher Williams present the famous oboe sonatas of Saint-Saëns, Poulenc and Dutilleux alongside their own brand-new transcriptions of well-known arias from Bizet's Carmen, including the Habanera 'L'amour est us oiseau rebelle' – Love is a rebellious bird. The oboe's vocal quality also shines in Brod's Fantasie on the Mad Scene from Donizetti's Lucia di Lammermoor and Ravel's Pièce en forme d'Habanera. The disc includes the neglected Fantasies of Henri Dallier and Blai (Blas) Maria Colomer, and world premiere recordings of the Nocturne and Impromptu by Louise-Marie Simon, (who wrote under the pseudonym Claude Arrieu).
Tracklist
01. Carmen, WD 31 (Excerpts Arr. for Oboe & Piano): Habanera
02. Carmen, WD 31 (Excerpts Arr. for Oboe & Piano): Seguidilla and Duet
03. Carmen, WD 31 (Excerpts Arr. for Oboe & Piano): Micaëla Aria
04. Fantasie on the Mad Scene from "Lucia di Lammermoor", Op. 57
05. Fantaisie pour hautbois (Version for Oboe & Piano)
06. Fantaisie Caprice for Oboe & Piano
07. Oboe Sonata (1947): I. Aria. Grave
08. Oboe Sonata (1947): II. Scherzo. Vif
09. Oboe Sonata (1947): III. Final. Assez allant
10. Oboe Sonata, FP 185: I. Élégie
11. Oboe Sonata, FP 185: II. Scherzo
12. Oboe Sonata, FP 185: II. Déploration
13. Vocalise-étude en forme de Habanera, M. 51 (Arr. for Oboe & Piano)
14. Oboe Sonata in D Major, Op. 166: I. Andantino
15. Oboe Sonata in D Major, Op. 166: II. Allegretto
16. Oboe Sonata in D Major, Op. 166: III. Molto allegro
17. Nocturne for Oboe & Piano
18. Impromptu for Oboe & Piano
转载请注明:0daytown » Catherine Tanner-Williams, Christopher Williams – Love is a Rebellious Bird: French Music for Oboe and Piano (2023)