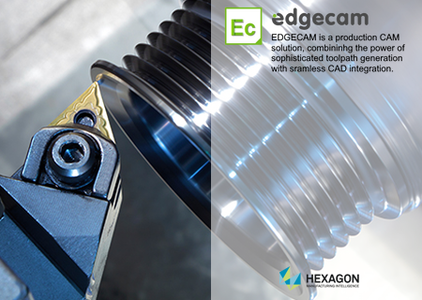 EDGECAM 是市场领先的用于计算机辅助制造 (CAM) 系统,它为铣削、车削和铣削/车削编程提供了完整的解决方案,具有无与伦比的易用性和复杂的刀具路径生成功能。 Edgecam 极大地简化了从生产铣削和工具制造到铣削/车削多任务加工的所有加工应用程序的编程。 凭借一系列 2 到 6 轴铣削循环和完整的车削功能,它与 CAD 集成和复杂的自动化工具无缝结合。
为了应对不断变化的机床制造商世界的需求, EDGECAM 2022.0 现在为使用六轴机床的客户提供支持。
---
The Vero Software, a part of Hexagon development team, is pleased to announce the availability of EDGECAM 2022.0 is a market-leading computer aided manufacturing (CAM) system for NC part programming.
EDGECAM 2022.0 what's new
Hexagon's Edgecam 2022 software features added support for 6-axis milling and turning machines. Horizontal machine tools with two programable axis in the head can been synchronized with a rotary table. This enables users to program the cutter head into positions previously out of reach in one setup, which in the past required a series of sequences.
The software also supports 3+2 machining and complex 5-axis simultaneous milling in all configurations.. A Select Rotary Axes command enables the user to activate the preferable axis to machine. Regardless if users are machining wireframe or solid models, the software is said to produce toolpaths 2-3 times faster than previous versions.
The updated software is also designed to reduce calculation time by enhancing Edgecam's multithreading processing capability, which gives a productivity boost when working with the roughing cycle.
Users who formerly possessed the standard 5-axis milling license (EN050-S) will now find that the advanced 5-axis milling cycle (EN050-A) has been automatically added to the configuration. This affects both 4-axis and 5-axis cycles. As the name implies, the advanced cycle is said to offer more functionality and gives users improved toolpath control.
Also integrated with Edegcam is a component called NCSIMUL Essential, which is said to provide full simulation of 3-axis milling parts. NCSIMUL is Hexagon's high-end CNC simulation software for G-code verification. Users can dynamically interact with a toolpath and pinpoint exactly which line of code is being simulated. Multiple cross-section planes can be created to interrogate the resultant workpiece. Once simulated, the workpiece can be measured in a variety of different styles, including arc, thickness, hole center distance and more. Critical dimensions and stock analysis can be generated through the comparison tool.
EDGECAM, a market leading Computer-Aided Manufacturing (CAM) system for NC part programming, offers a complete solution for milling, turning and mill/turn programming with unparalleled ease of use and sophisticated toolpath generation. Edgecam dramatically simplifies programming for all machining applications from production milling and tool making to mill/turn multi-task machining. With a range of 2 through 6-Axis milling cycles and full turning capability, it combines seamlessly with CAD integration and sophisticated automation tools.
Reacting to the demands of the every changing machine tool builder world, EDGECAM 2022.0 now offer support for customer working with six axis machines tool. Specifically, Horizontal machine tools with 2 programable axis in the 'head' can been synchronised with a rotary table. Simple 3+2 machining is supported as well complex 5-Axis simultaneous milling can be supported in all configurations. Users will discover a new "Select Rotary Axes" command which intelligent allows the user to active the preferable axis to machine with.
Headquartered in England, Vero Software develops and distributes CAD CAM software radically enhancing the efficiency of design and manufacturing processes. The company's world-renowned brands include Alphacam, Cabinet Vision, Edgecam, Machining STRATEGIST, PEPS, Radan, SMIRT, SURFCAM, WorkNC and VISI, along with the production control ERP/MRP system Javelin and WorkPLAN. Vero has direct offices in the UK, Germany, Italy, France, Japan, USA, Brazil, Netherlands, China, South Korea, Spain and India supplying products to more than 45 countries through its wholly-owned subsidiaries and reseller network. Vero is part of Hexagon (Nordic exchange: HEXA B), a leading global provider of design, measurement and visualization technologies that enable customers to design, measure and position objects, and process and present data.
Product: Hexagon Vero EDGECAM
Version: 2022.02132.34737
Supported Architectures: x64
Website Home Page : http://www.edgecam.com
Languages Supported: english
System Requirements: Windows *
Size: 5.5 Gb
---
Password/解压密码www.tbtos.com
转载请注明:0daytown » Hexagon Vero Edgecam 2022.0