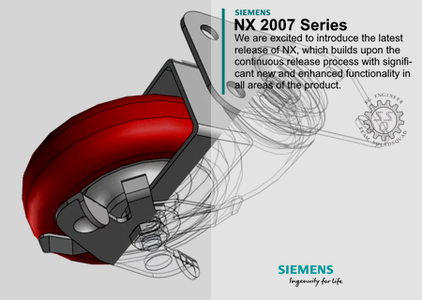 Siemens公司正式发布 2027 Build 4041
NX 建立在现代软件架构之上,开发时的业务重点是提供新功能,同时保护客户数据。 新方法将使西门子的NX客户能够:接收功能更快地增强,以帮助提高生产力
制定可预测的更新计划,以更好地规划采用新技术
响应新的想法和趋势
降低部署成本
NX开发与依赖于发行版的修补程序的响应更快,更一致
继续关注发布质量和部署
Siemens NX 软件是一款既灵活又功能强大的集成式解决方案,有助于您更快更高效地提供更优质的产品。 NX 提供了下一代的设计、仿真和制造解决方案,支持公司实现数字孪生的价值。NX 支持产品开发中从概念设计到工程和制造的各个方面,为您提供了一套集成的工具集,用于协调不同学科、保持数据完整性和设计意图以及简化整个流程。
---
Siemens NX 2027 Build 4041 (NX 2007 Series) | 13.6 Gb
Languages Supported: English, 中文, Čeština, Español, Français, Deutsch, Italiano,
日本語, 한국어, Polski, Português, Русский
The Siemens Digital Industries Software development team is pleased to announce the availability of NX 2027 Build 4041 (NX 2007 Series). The base release, builds upon the continuous release process, introduces significant new and enhanced functionality in all areas of the product, as well as several new design tools, to help you work more productively and efficiently to build your 3D digital twin.
Siemens NX Continuous Release
Siemens is the first CAD/CAM/CAE software company to offer a continuous release model. With NX Continuous Release, upgrading is fast, automated, and seamless. Upgrades with NX Continuous Release is independent of your current version while preserving your existing data – even data back from 1984. Siemens PLM customers in the Continuous Release main channel will see functional improvements every six months with monthly updates. The software updates themselves are smaller, so you no longer need to make large jumps between significant releases.
Siemens Digital Industries Software is a leading global provider of product life cycle management (PLM) software and services with 7 million licensed seats and 71,000 customers worldwide. Headquartered in Plano, Texas, Siemens Digital Industries Software works collaboratively with companies to deliver open solutions that help them turn more ideas into successful products.
Product: Siemens NX Continuous Release
Version: NX 2027 Build 4041 (NX 2007 Series)
Supported Architectures: x64
Website Home Page : http://www.plm.automation.siemens.com
Languages Supported: multilanguage
System Requirements: Windows *
Size: 13.6 Gb
* System Requirements:
NX version designation table after NX-12
NX-1847 Series: 1847-1851-1855-1859-1863-1867.xxxx
NX-1872 Series: 1872-1876-1880-1884-1888-1892.xxxx
NX-1899 Series: 1899-1903-1907-1911-1915-1919.xxxx
NX-1926 Series: 1926-1930-1934-1938-1942-1946.xxxx
NX-1953 Series: 1953-1957-1961-1965-1969-1973.xxxx
NX-1980 Series: 1980-1984-1988-1992-1996-2000.xxxx
NX-2007 Series: 2007-2008-2011-2015-2019-2023-2027.xxxx
NX-2206 Series: 2206.xxxx
NX-2212 Series: 2212.xxxx
Password/解压密码www.tbtos.com
转载请注明:0daytown » Siemens NX 2027 Build 4041 (NX 2007 Series)